Dubai, UAE, May 04, 2022, ZEXPRWIRE, CropBytes, one of the most popular and premier web3 games, celebrated four-years of its existence on April 28, 2022. This remarkable achievement has been made possible only due to strong and sustainable in-game economics.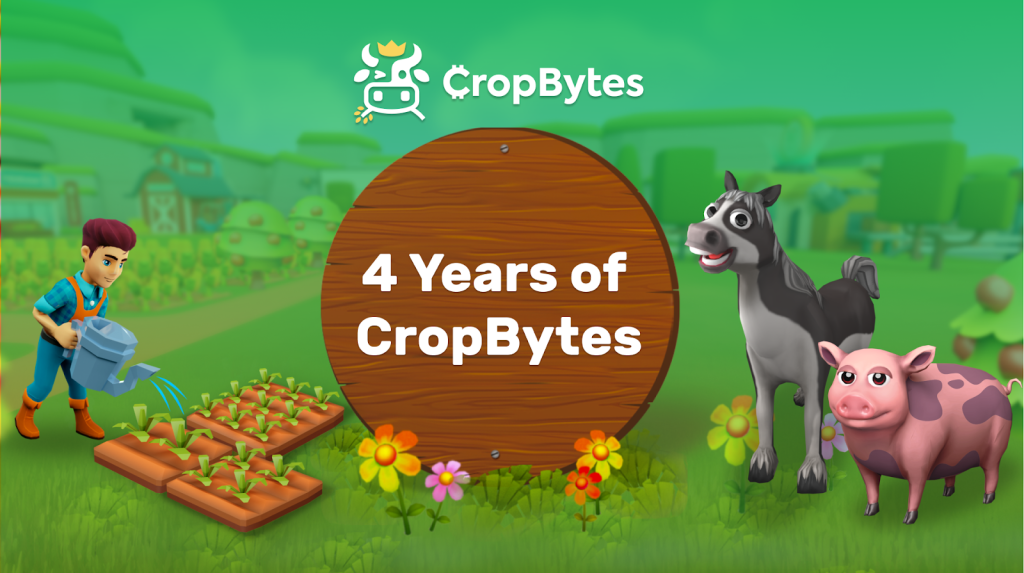 An innovative blockchain-based game
The farm simulation game CropBytes was launched in 2018 and has quickly become one of the most immersive web3 platforms providing users the opportunity to play and earn crypto.
CropBytes has been able to maintain a market dominance with over 400,000 gamers globally due to its excellent and sustainable game economics. This is unlike other gaming platforms that have questionable gaming economics.

CropBytes has maintained a fine balance between fungible and non-fungible tokens (NFTs) ensuring that the in-game market is highly liquid at all times. This is more evident during the recent bearish market where several popular NFT games have struggled due to liquidity constraints.
CropBytes meanwhile has been unaffected by the market due to strong economics over hype-based marketing. It has been able to achieve a balanced economy that includes real ownership, open-market trading and utility-based gaming amongst other features.
Furthermore players are given full ownership of in-game assets within a fair ecosystem to thrive. Unsurprisingly these have led to lucrative revenue for early asset owners and holders from 2018 have seen their portfolio grow over 100x which is higher than other GameFi ecosystems.
Providing income opportunities for players
CropBytes has been able to develop into a gaming hub where players can make a living from earnings on CropBytes. Several gamers have released success stories of how they were able to earn steady income from playing regularly on CropBytes.
Some of the major stories include that of a player that sold their physical farm in 2018 to build their farm on the metaverse which is worth over $700,000 today. Another gamer who started his journey in 2020 was able to gather enough assets which he sold to purchase a physical land worth around $51,000 in India.
These success stories are just a few from what players have been able to achieve in the past four years. It is therefore unsurprising that CropBytes has seen over 450,000 downloads on both Playstore and iOS store.
Players have also remarked about the impressive gameplay with the game holding an impressive 4.3 star rating on both stores.
An exciting future ahead for CropBytes
CropBytes continues to make new innovations and add new use cases for its native token CBX. The gaming metaverse expects to launch a number of features in the coming months which includes a service economy on the metaverse which will be free to play and enable users to work in its metaverse. Also it intends to release an asset mining feature and a multiplayer fishing game using CBX.
Furthermore, CropBytes CEO, Sandeep Kumar will be speaking at the first Blockchain Games edition of the India Gaming Developer Conference in Bangalore on May 5, 2022. These developments are sure to attract new users and foster the adoption of CropBytes globally.
More about CropBytes and CBX
CBX is the native token of the CropBytes ecosystem and serves as a mode of payment. Medium of exchange and access to participate in exclusive events and trade earnings on top exchanges. Holders can trade CBX on several exchanges including ProBit and more exchanges are set to follow.
Some of CBX token use cases also includes
Buy assets in the CropBytes metaverse!
Buy packs and seeds or NFTs
Trade game assets and extracts for CBX
Players can trade their generated extracts for CBX
Trade CBX on major exchanges.
Earn CBX in the game and trade on top exchanges
Participate in exclusive events
CBX burn
Mint new assets by burning CBX

To learn more about the project;
Discord: https://discord.gg/wRwyGpnmNa
Twitter: https://twitter.com/CropBytes
Website: https://www.cropbytes.com/
Marketplace: https://www.cropbytes.com/exchange
CoinMarketCap: https://coinmarketcap.com/currencies/cropbytes/
Coingecko: https://www.coingecko.com/en/coins/cropbytes
Telegram (Channel): https://t.me/ccropbytes
Telegram (Community): https://t.me/cropbytes
Media Contact:
Name: Sandeep Kumar
Email: [email protected]