Aether Games Secures $4.5M in Token and Equity Funding to Revolutionize the Gaming Landscape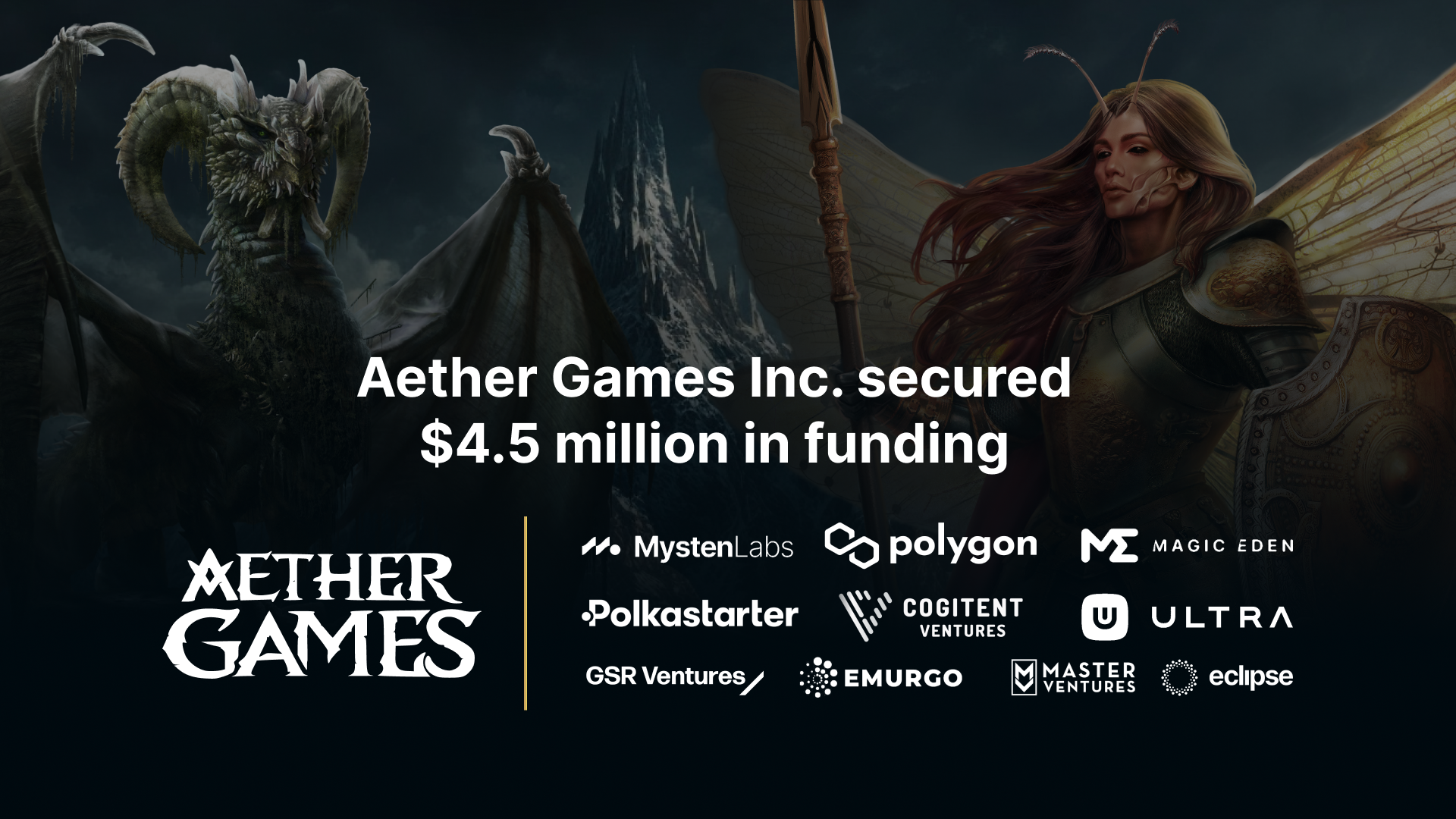 Sheridan, WY, 7th May 2023, ZEX PR WIRE, Aether Games, a pioneering transmedia studio, announced today that it has raised $4.5 million in token and equity funding from a group of prominent investors, including Mystenlabs, Polygon, Magic Eden, Polkastarter, Cogitent, Ultra, GSR, EMURGO, Master Ventures, and Eclipse. The funds will be utilized to support the development of the Aether world-building project, which includes Cards of Ethernity, Gates of Ethernity, Augmented Reality, and AI technology.
Cards of Ethernity, a multichain game available on both Polygon and Sui, has already become the #1 TCG on the Sui blockchain. With over 5,000 players in its early access/open beta phase, it demonstrates Aether Games's potential to significantly impact the gaming industry. The company's focus on blending traditional gaming with blockchain technology and captivating narratives across various media formats sets it apart from other game developers.
Jens Peeters, CEO of Aether Games, said, "This investment will propel us forward in our mission to create a rich, immersive universe that integrates gaming, blockchain, and multimedia content. We're excited to bring our vision to life and redefine the gaming landscape for both gamers and investors."
Aether Games' transmedia approach includes the development of the highly anticipated Gates of Ethernity, a strategic autobattler set to launch in late 2023, as well as an augmented reality mobile app and an engaging CGI series titled "Aether" to captivate audiences on major streaming platforms.
The team at Aether Games has an impressive background, having worked on notable IPs such as Hearthstone, Love, Death & Robots, Legends of Runeterra, and God of War. With the support of their strategic partners and investors, Aether Games is well-positioned to disrupt the gaming industry and provide a unique and unparalleled experience for gamers worldwide.
About Aether Games
Aether Games is a transmedia development studio that aims to set a new standard in the gaming industry by weaving together traditional gaming, blockchain technology, and captivating narratives across various media formats. Founded by Jens Peeters, an Esports celebrity manager and former highest-rated World of Warcraft player, Aether Games boasts a highly skilled team with experience working on notable projects in both game development, AR, and CGI.