Arbitpad: A Multi-Asset IDO Launchpad With Unique Features Set To Launch On Arbitrum Network
Dublin, Ireland, 29th March 2023, ZEXPRWIRE, Arbitpad, the revolutionary multi-asset IDO launchpad with distinctive features, is all set to make its debut on the Arbitrum network. The launchpad will offer a range of advanced features that are tailored to meet the needs of modern-day investors.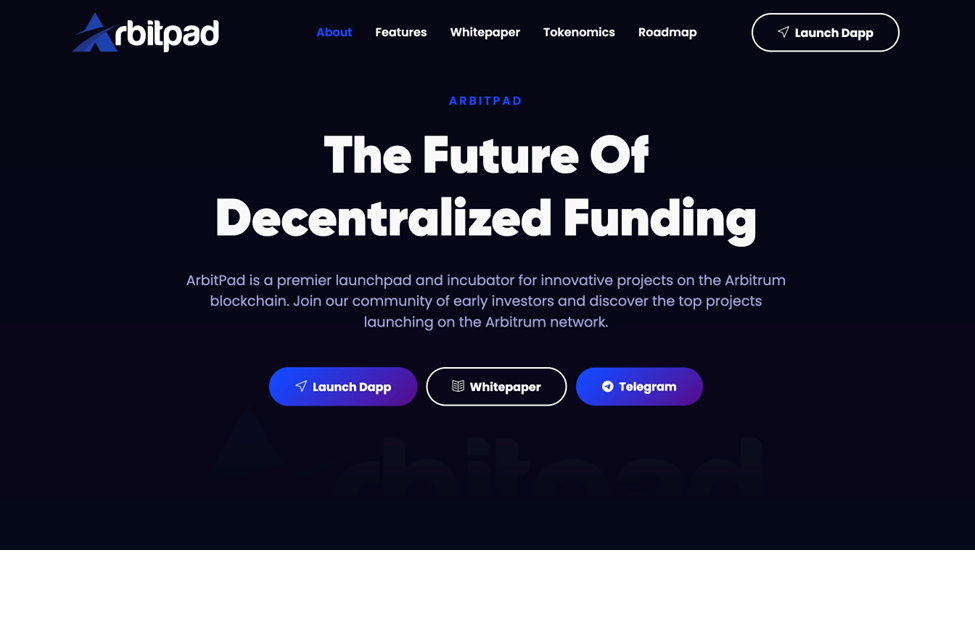 Blockchain technology is gradually expanding its application to other fields such as finance, logistics, sports, auditing, and telecommunications as more and more crypto-related projects appear in order to solve problems in everyday life. Clearly, this is good for users, but also a massive opportunity for investors.
Arbitpad Launchpad is an intuitive platform that will provide early-stage projects access to crowdfunding and also allowing the arbitrum community to become an early investor in innovative early stage projects.
Arbitpad is designed to make the process of finding promising projects accessible for all levels of participants while also opening new fundraising opportunities for everyone in the DeFi space.
One of the unique features of Arbitpad is that users can participate in IDOs launching on the platform with either ETH (Ethereum on Arbitrum) or ARB (Arbitrum Token), which is a first in the industry. This gives more flexibility for users to participate in projects that they believe in and want to support. With strong security guarantees provided by a combination of cryptographic techniques and game theoretic incentives, users can be confident in the platform's integrity and resistance to attacks.
Arbitpad Utility Token
According to the whitepaper, the Arbitpad launchpad will be powered by the $APD token, with a strict monetary policy of 100,000,000 tokens. to make it more decentralized, 60% of the token supply has been allocated to the community through two sale rounds with the presale giving the lowest entry price for early investors.
Holding $APD, the Arbitpad utility token is necessary to fully enjoy the features of Arbitpad launchpad which includes Tiered IDO allocations, staking rewards, whitelist competitions and airdrops.
The APD utility token will be utilized across the Arbitpad ecosystem in Governance proposals and also users will need to hold the Arbitpad utility token to be eligible to participate in IDO campaigns and can also stake it to earn more rewards.
The Arbitpad team is excited to announce the upcoming presale for its native token, which will take place on 30th march, 2023. The presale will be open to early supporters and will offer a unique opportunity to join the Arbitpad community and get involved in the platform's growth from the ground up.
To learn more about Arbitpad and the upcoming presale, please arbitpad website at https://arbitpad.com/ and join the telegram community at https://t.me/arbitpad
About Arbitpad:
Arbitpad is a completely decentralized multi-asset launchpad built on the Arbitrum network. Arbitpad offers a seamless user experience for launching IDOs and participating in them. The platform's unique features, including the ability to participate in IDOs with either ETH or ARB and its interoperability with other blockchains, make it an attractive platform for developers and users alike. The Arbitpad team is excited to be at the forefront of the blockchain industry and looks forward to building a vibrant community of supporters and developers.
Website: https://arbitpad.com
Twitter: https://twitter.com/arbitpad/
Telegram: https://t.me/arbitpad