Aurora Finance Introduces The Major Auto-Compounding Protocol
London, UK, Apr 1 2022, ZEXPRWIRE, The team at Aurora Finance, an auto-compounding protocol, is pleased to announce the introduction of its protocol. Aurora Finance offers the highest fixed APY in cryptos (up to 383,025.81%) and low risk with Aurora Insurance Fund (AIF). The interest is paid every 15 minutes, which means, users are paid 96 times daily. Aurora Finance has an anti-dump daily limit to prevent price depreciation.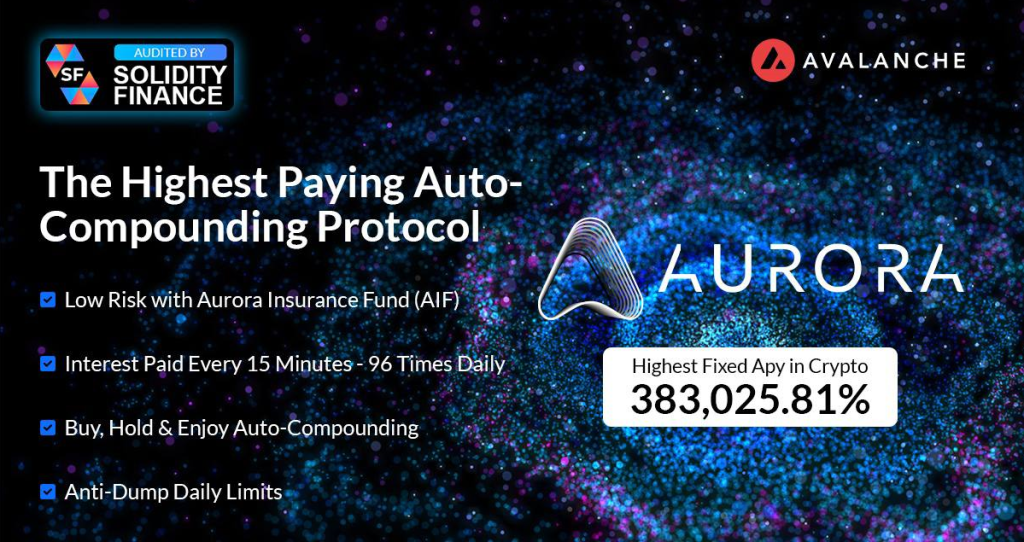 The $AURA Token
$AURA is the platform's native token that supports the operation of the ecosystem. The token provides benefits and value to token holders, as rewards are automatically paid to every eligible participant every 15 minutes. In other words, all token holders are automatically rewarded with high compound interest every 15 minutes as long as the tokens are still in your wallet.
$AURA has other use cases, including:
Interest is auto compounded instead of continually re-staking your assets to generate revenue.
Since $AURA is in your wallet, there are no third-party interferences. Plus, any complicated staking procedures are eliminated.
Aurora Insurance Fund (AIF)
Aurora Insurance Fund is a special wallet within the project's ecosystem. This wallet backs the reflection rewards that are distributed to token holders every 15 minutes. The wallet holds 5% of all the trading fees to sustain the operations of the platform. At its core, Aurora Insurance Fund keeps token holders safe by avoiding flash crashes through price stability. It also helps reduce downside risk.
Aurora Treasury
In the event of extreme price drop on the market, the treasury is meant to provide support to the AIF. Aurora Treasury also funds other projects in the metaverse and boosts the team's marketing efforts.
How to Buy $AURA?
The process of buying and holding $AURA is not complicated, provided you are on Avalanche C-Chain. To get started, follow these steps:
Send AVAX to your wallet from any centralized exchange (example Binance).
Visit Bogged.Finance and enable the Autotax option by setting it to 15%.
Once you confirm AVAX in your wallet, swap the assets to USDC.e on Bogged.Finance. Keep some AVAX in your wallet to pay for transaction fees.
Still on the Bogged.Finance platform, use your USDC.e to purchase $AURA.
Users can also buy from "Trader Joe" platform in alternative to Bogged Finance.
Audited by Solidity Finance
Aurora Finance has been duly audited by Solidity Finance, a renowned audit firm in the blockchain space. With the audit fully completed, the project is now certified safe for investors looking for a safe haven to invest their savings and hard-earned money. The details of the audit are contained here.
About Aurora Finance
Aurora Finance is the highest paying auto-compounding protocol. The project provides a decentralized financial asset that rewards users and token holders with continued fixed compound interest through its unique ARP.
DexScreener: https://dexscreener.com/avalanche/0x6cB064CE0543315d83b01B0958E968C916Fc642B
Solidity Finance: https://solidity.finance/audits/AURA/
Social Media Handles:
Twitter: https://twitter.com/AURAuroraFi
Telegram: https://t.me/AuroraFinance
Discord: https://discord.gg/FpFDJx2ejG
Contact Info:
Organization: Aurora Finance
Name: Auer
Email: [email protected]
Website: https://aurora.finance