AZ World Announces Beta Launch of The First "Socialfi" To Earn Platform
London, UK, May 05, 2022, ZEXPRWIRE, The AZ World team is pleased to announce the first "SocialFi" To Earn platform by interacting on mobile phone. It introduces the unique blockchain-based (BNB Chain) platform for the users, especially the content creators, to help them generate consistent revenue.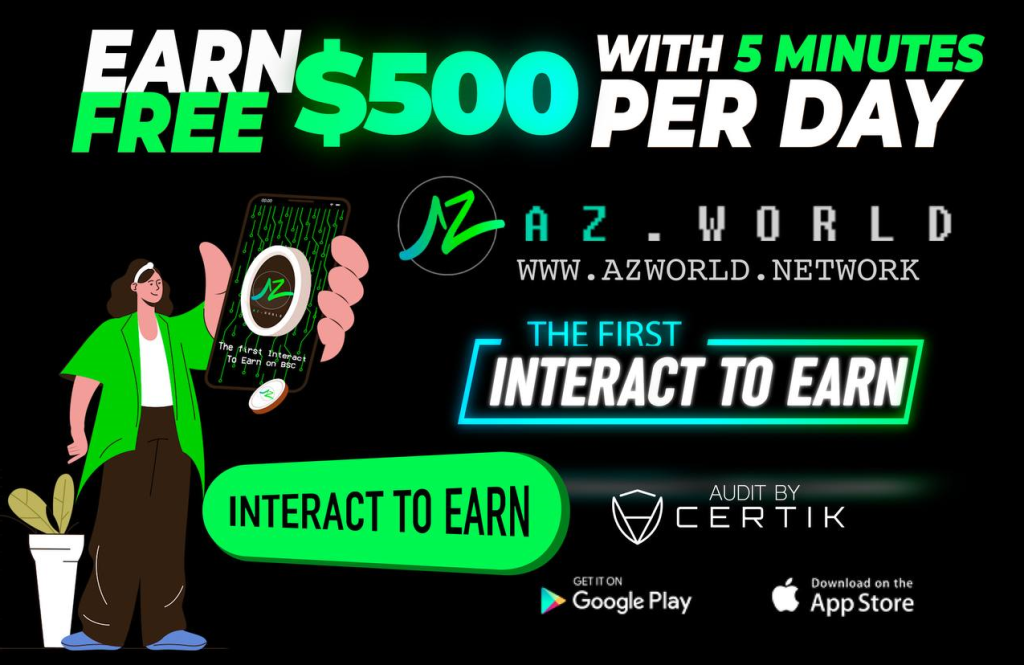 While explaining how users and content creators will makes money from using the platform, the team points that unlike social media platforms such as Facebook, where only the platform makes money while users are left with nothing, AZ World pays content creators for their works and reward users when they view ads on the platform.
Main Features of AZ World Platform:
• Short link – share to earn.
• Shopping Cashback.
• Paid to Click.
• Referral Rewards.
• Influencers' Channel – Donation.
• Lucky Wheel Lottery (supported by VRF).
AZ World team is proud to be a pioneer in the field of SocialFi, when combining the traditional model and the new sharing economy model (SocialFi = Social + Finance). Users are entitled to enjoy added value towards a decentralized finance platform. And AZ World can push the platform in that direction. Smart Contract is audited by Certik, LP is locked for 10 years. They will bring a new direction in Advertising, Social Networking, and allowing users to make money online in a sustainable way.
The team's goal is to ensure that users have multiple income streams available, to benefit from on the platform, to extract most out from the time spent on the platform.
The Unique points of platform
The SocialFi project is supported by its $AZW token with the following How to Earn on SocialFi
• Buy the AZW token – Hold in wallet.
• Create and register a personal account on APP.
• Click ads to earn or other features.
• Ads partners pay AZ World users in dollars. The payment is from New Cashflow, a third party. The payment model is designed to sustain the project and ensure its stability.
• Users will receive the USDT/tokens in their wallets.
• AZ World will pay users 80% of its revenue.
The Marketing Plan:
The AZ World team has created a marketing strategy that will increase the project's publicity and value. Such as: influencer's shoutout, celebrity partnership, YouTube promotion, poocoin banner ads, trending campaigns, Coinmarketcap, Coingecko listings and more.
Social Media Handles:
Telegram: https://www.t.me/AZWorld_Official
Twitter: https://twitter.com/azworld_network
Medium: https://azworld.medium.com/
Contact Info:
Organization: AZ World
Name: Dan Cryptoz
Email: [email protected]
Website: http://www.azworld.network/