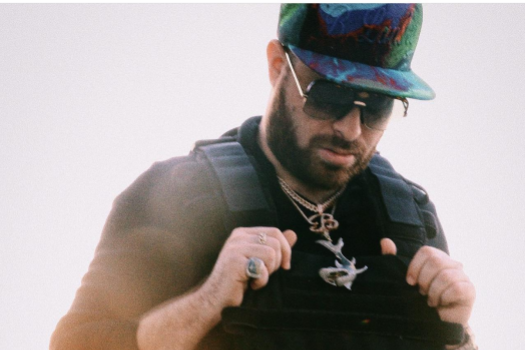 Miami, United States, 3rd April 2021, ZEXPRWIRE – B. Lansky is A True New Yorker from the start. He grew up on Long Island before ending up in downtown Manhattan, soon after dropping out of college. He quickly established a recording studio in the South Bronx with his longtime friend. 
After making the right connections and learning the business as a co-owner of a studio,
B. began to explore his possibilities as an artist and song writer. Growing up in New York in a Jewish family, B.Lansky had ambitions to become a recording artist from an early age so he began writing song lyrics at the age of 13. However, he had to first meet his parents' desires by furthering his education; pursuing college at Arizona State University.
After dropping out of college and learning a lot about the music business from within his East Tremont music studio, he made the decision to move to Miami where he officially began a new chapter into his music career as a recording artist.
Quickly, B. became widely known after classic collaborations with Elephant Man, Vado, Hell Rell, DooGang 3x, Zoey Dollaz and more. After about 5 years of being a Florida resident, B. Made his way back to New York to focus more on his career from his hometown and where his roots lay.
With an EP, an album, numerous singles, and a 2 sided project on the way (coming attached with larger than life visuals), Lansky continues to work harder and smarter for his brand, striving to become one of the greatest and most recognized GOATs of all time in music, Period.
Besides his first studio album, "The Round Table" which originally dropped in 2019, B. Lansky plans to continue showing why his New York hip hop influences will always outspend the test of time.
With the release of his new single and video, "Camby" B. Lansky teamed up again with his great friend and fellow artist/song writer FLIIBOY.
They also recently created a timeless classic named "L'Chaim" which supplied their fans with very lucid visuals that's are available now on YouTube.
All of Lansky's published music is streaming on all platforms, including Apple Music, Spotify, Tidal, etc.
Both Camby and L'chaim featuring FLIIBOY are currently gaining momentum as other B. Lansky records have also been recently featured on countless blogs and even written up about in Thisis50, Vents Magazine, Elevator, Medium, and ItzBizkit.
Spotify – Instagram – Twitter – YouTube – TikTok
Media Contact
Name: B. Lansky
Company: BLF Entertainment
Country: United States
Address: Miami