B2BinPay Opens A New Chapter In Crypto Payment Solutions With v17 Update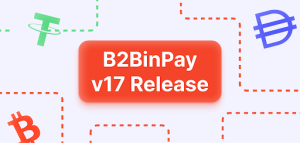 Hong Kong, 8th September 2023, ZEX PR WIRE, The latest update for B2BinPay v17 has recently been launched, offering a significant improvement in the crypto payment process. With B2BinPay, merchants and enterprises are able to transact global crypto transactions securely. Businesses can seamlessly engage with the growing cryptocurrency market with B2BinPay due to its ease of integration. 
Besides enhancing the existing capabilities of the company, the new release includes new features, improvements, and fixes to address the diverse needs of the company's Enterprise and Merchant clients.
Brand New Settlement Variants in EUROC and TUSD
Stablecoins provide predictability and security in a market characterised by volatility. With the release of version 17, B2BinPay offered merchant clients the option of settling payments in five key currencies: Bitcoin, USDT, USDC, USD, and EUR. 
By adding TrueUSD and EuroCoin to the Merchant Wallets, the v17 update recognises the need for more stable transaction options. Merchants can now enjoy an expanded selection of payment choices, featuring 14 cryptocurrencies, 14 stablecoins, and 25 tokens, all of which can be automatically settled in seven mentioned currencies.
Additionally, the new features enable merchants to handle payments and settlements across various token standards, including ERC20, BEP20, and TRC20. These enhancements provide them with increased flexibility in managing payments and settlements for their clients.
Adding Euro Coin is especially exciting for B2BinPay and its users. EURC is a stablecoin backed by the euro, which was issued by Circle, the company behind USDC. USDC is the second most valuable stablecoin after USDT (market cap exceeding $25 billion). 
For businesses operating within the Eurozone, the EUROC stablecoin offers several benefits and stands among the top 18 stablecoins in the market.
Expanded Range of Currencies for Enterprise Clients
Designed for businesses that work exclusively with cryptocurrencies and maintain their holdings in the same cryptocurrency they receive, the B2BinPay Enterprise blockchain wallet solution offers a comprehensive ecosystem.
The v17 update from B2BinPay significantly broadens token support for enterprise clients by adding 14 stablecoins and 113 new tokens across 14 unique blockchain networks, such as Ethereum, TRON, and Binance Smart Chain. This expansion builds upon the platform's already strong foundation.
Improved Price Model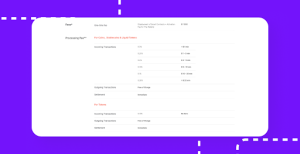 Version 17 also comes with a renewed and more competitive pricing module for merchants and enterprises.
From now on, merchants will pay only $500 for setup, and commission fees have been reduced from 0.5% to 0.4%. New commission tiers are now available, going as low as 0.25%, enabling high-volume merchants to benefit from more cost-effective solutions at a lower commission rate.
The setup charge for enterprise blockchain wallets has been reduced from $1500 to $1000. This cost is now extended to activating wallets for Ripple, Stellar, and Binance Coin, as well as smart contracts for Ethereum, Binance Smart Chain, and TRON. In essence, no additional activation fees are buried in the setup cost. Additionally, the company has introduced new commission levels with starting rates of 0.4% and going as low as 0.05%, further increasing the competitiveness of its enterprise products.
Improvements in Interface and Experience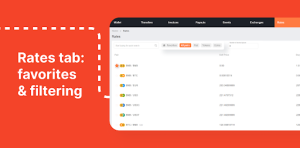 The Rates Tab has been updated to feature new filtering capabilities by currency type, an alphabetical search tool, and a section for your favourite currencies.
By implementing these changes, users will be able to navigate more efficiently and make more informed decisions. Furthermore, the team at B2BinPay has introduced detailed onboarding notes that provide users with guided tours and explanations, making it easier for them to navigate the system as a whole. 
Furthermore, you can now view payout fees in your preferred currency and have the flexibility to input custom fee values, enhancing clarity on transaction expenses.
Usability Enhancements and Functional Upgrades
B2BinPay's team has rolled out several updates to enhance the platform's usability and functionality. These improvements include advanced search features, currency-type grouping, and active-state categorisation in dropdown menus. The company has also added an email notification feature for reports and removed the 7-day expiration limit on merchant invoices.
The removal of wallets with no balance and no deposits is now possible thanks to a new "Delete Wallet" button, which will help users manage their wallets more effectively.
In addition to organising wallet tables by currency and ID, enterprise users can now benefit from enhanced QR code generation that allows the addition of token icons as a new layer over the QR code. Users also have the flexibility to add or remove IP addresses individually. A password confirmation will appear in a pop-up window when making changes to the IP whitelist.
Client Service and Consistency on All Devices
B2Broker's solution has enhanced its Helpdesk with real-time notifications, including an "unread counter" that indicates how many tickets have new messages and allows you to be notified as soon as they are received.
Conclusion
As part of B2BinPay v17, users will be able to enjoy a well-rounded experience that enhances both their personal and enterprise needs. As part of the ongoing development of the platform, Versions 18 and 19 are already in the process, which will bring additional features and improvements to meet the evolving needs of the company's diverse user base in the future.
In order to demonstrate the company's dedication to innovation, it recently partnered with Ledger to offer devoted and recently onboarded B2BinPay customers limited-edition, custom-branded Ledger Nano X wallets. For the 2023–2024 La Liga season, B2BinPay is also an official sponsor of the Athletic Club, increasing its exposure and promoting cryptocurrency payment systems.
These partnerships and the introduction of v17 serve as evidence of the company's unwavering commitment to quality and client pleasure.