Beneficial Beer Co. Successfully Launches Crowdfunding Campaign on Birchal
Surry Hills, Australia, 9th November 2023, ZEX PR WIRE, Beneficial Beer Co., the multi-award-winning Australian non-alcoholic beer company, is excited to announce the successful launch of its crowdfunding campaign on Birchal. The campaign, which was launched on October 17th, marks a significant milestone in the company's mission to revolutionise the non-alcoholic beer market and provide consumers with high-quality, full-flavored non-alcoholic alternatives.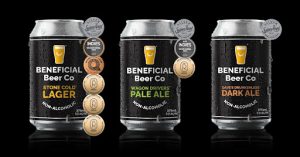 The beer company was founded with the goal of creating a better way to enjoy non-alcoholic beer and is dedicated to Aussie classic beers that taste like traditional beer while ensuring non-alcoholic choices are accessible to consumers across Australia. The company's brews are crafted by a renowned Australian brewer, employing techniques that preserve the flavours and aromas expected from a beer, without the alcohol content.
What sets Beneficial Beer Co. apart is its unwavering commitment to being beneficial by name and by nature. The company doesn't stop at supporting people to drink better. Brewing is a high-intensity production process, so they've partnered with a contract brewing facility located on the New South Wales Central Coast, powered by a solar energy capacity of 300 kilowatts serving as the primary energy source for the daytime brewing operations. 
This sustainable energy supply is harnessed to operate the brewery, facilitating the continuous maintenance of a hot water reservoir, and powering the tunnel pasteurisers, contributing to the natural preservation of their beer products.
In addition, Beneficial Beer Co has cultivated a supportive community, encouraging connections over a non-alcoholic beer while ensuring that the experience closely replicates that of drinking traditional beer.
It has already made an impressive mark on the market, boasting numerous awards for its non-alcoholic lagers. Their Stone Cold Lager has become the most awarded non-alcoholic lager in Australia, and each of the beers they've brewed has won an award. In just 18 months they've been awarded five silver and eight bronze medals. The company's product range includes three core beers and a selection of limited releases.
Over the past year, Beneficial Beer Co. has seen a remarkable 10-fold increase in revenue growth. The brand was recently featured in 392 Aldi stores nationwide as one of their first non-alcoholic beers and is planning an innovative 2024 rollout with Aldi. Coles Liquor has also approached the company as part of its expansion plans for non-alcoholic beer, with Beneficial Beer Co products already available in a number of Liquorland stores across the Sydney metro area and plans to expand to Melbourne and Brisbane in the near future.
The non-alcoholic beer market is experiencing unprecedented growth, with a 60% increase in 2022. As consumer demand for non-alcoholic options continues to rise, Beneficial Beer Co. is poised to meet this demand with its exceptional products and unique approach.
Investors have identified three key reasons for supporting Beneficial Beer Co. through their Birchal campaign. These reasons include the exceptional taste of their non-alcoholic beers, a dedicated and experienced team, and the brand's remarkable market potential.
To learn more about Beneficial Beer Co. and its crowdfunding campaign on Birchal, visit the campaign page here.