Binancer Set to Revolutionize Blockchain Industry through its DAO Program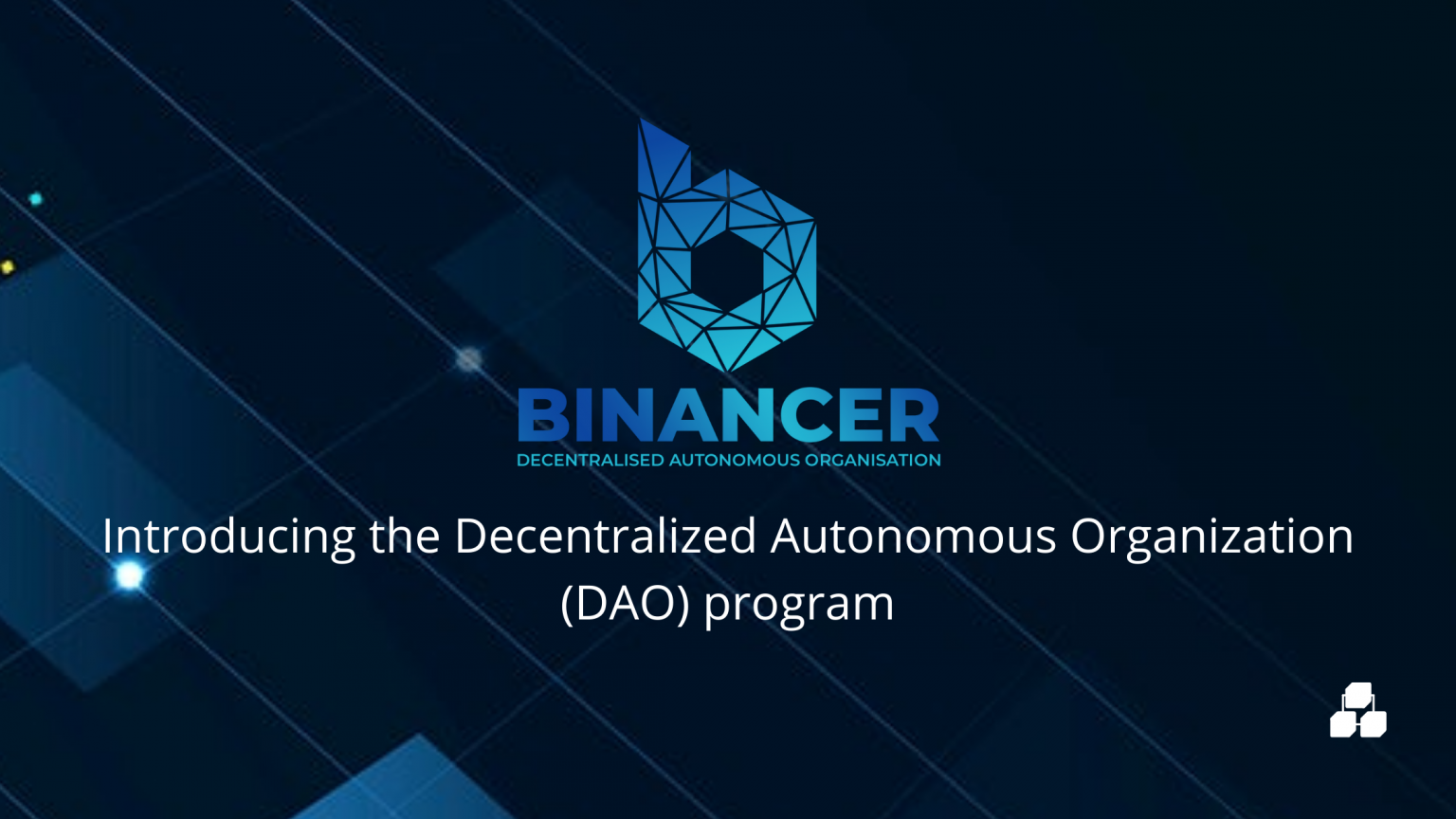 Mumbai, India, 20th April 2022, ZEXPRWIRE, Blockchain technology is still relatively new, but it is quickly capturing the world's attention. Major companies like IBM, Microsoft, and Maersk have already begun implementing it into their businesses. However, the process of learning how to develop and understand this technology is not easy.
Here comes Binancer, which acts as a revolutionary blockchain platform that connects everyone in the cryptocurrency market and provides a real-time opportunity to associate with fellow blockchain and crypto enthusiasts where one can brainstorm new and innovative ideas, learn how to make smart investment decisions, find potential co-founders and expand their network with future opportunities on this next-generation marketplace and earn at the same time.
The platform also provides users with an incentive-driven token reward mechanism designed to create holistic sustainability. By referring friends to the marketplace or completing simple tasks, one can earn free Binancer tokens called TRX, thus driving demand for the same and also serving as an engaging way to bring new users to the platform. Binancer ensures liquidity by reducing its supply over time – any unused TRX tokens are burned.
Now, Binancer is taking a new approach by introducing the Decentralized Autonomous Organization (DAO) program in the industry, which will facilitate the quickest, safest, and most profitable transactions for the users across the marketplace.
The primary focus of the organization is to make cryptocurrency and blockchain easier and accessible for everyone while allowing users to earn from their knowledge and experience through a transparent peer-to-peer system.
"Decentralized autonomous organization" or DAO is a program based on decentralized, open-source blockchain protocols. The program runs itself and can't be changed, even by the people who developed it.
DAOs are computer programs that follow the rules or smart contracts encoded into the blockchain. The rules of the DAO are only executed when certain conditions are met, and the actions taken by the DAO are recorded on an immutable, transparent ledger.
The main idea of a smart contract is to create a norm of self-executing code that will self-execute and govern the terms of the agreement. Each clause of the contract is digitally programmed into the blockchain, which validates and manages each action.
Most importantly, DAOs run autonomously from their creators. Once deployed, they do not require any outside intervention to operate and can only be "managed" by changing their code.
DAOs are perfect for situations where there is no need for human management, like making sure payments are made or waiting until the conditions of a contract have been met.
Below are some of the notable characteristics of DAO
All participants can participate in decision-making through voting.
All participants can exercise their rights and receive protection based on the guidelines set by the program.
The distribution and use of digital assets within DAO are transparent and traceable.
It is a collective form of organization that does not have a centralized hierarchy or chain of command.
Recently, DAO has become increasingly popular throughout the business world as an efficient, decentralized way to run organizations. It can help set up a blockchain-based operation that will make decisions with greater transparency and efficiency.
Whereas traditional companies have a structured organization, DAOs are organized in a democratic model. In place of a top-down hierarchy, a DAO has a flat organization structure with a team of delegated individuals deciding on major decisions together.
As opposed to the conventional financing model, which involves a substantial investment from venture capital firms and angel investors, DAOs accept funding through crowdfunding via the issuance of tokens representing shares of company ownership. Moreover, DAO promotes transparency of operations through its global community-based character, which is usually missing in the private functions of regular organizations.
And with its new DAO program, Binancer is happy to announce an exciting earn with the referral Program where one can refer their friends and get lucrative commissions of their subscription amount each time they subscribe using referral codes. Moreover, when a referred friend wins an award, the original user will get various commisions of the amount.
Binancer is calling on all the members to help the platform grow as they bring on new users to the community.
For More Information Visit:
Binancer: https://binancer.io/
Facebook: https://www.facebook.com/BinancerDAO