BitmeEX- The World's Leading Platform That Redefines The Crypto Trading
Singapore, Feb 13, 2023, ZEXPRWIRE, Any effective form of exchange must act as amarketplace where financial instruments including: securities, stocks, bonds, commodities, derivatives, options, and futures are traded. Both exchanges that deal with fiat currency; and the ones that deal purely in crypto deliver this utility but are different in a number of key ways. Fiat-based exchanges might be a little bit bigger now. The fact that cryptocurrency has taken the world by storm, especially during the last few years, makes us strongly believe that pure crypto exchanges will be wildly popular, much more than fiat-based exchanges in the near future. With widespread consumer trust, BitmeEX is the first choice for users due to its powerful strengths and excellent products.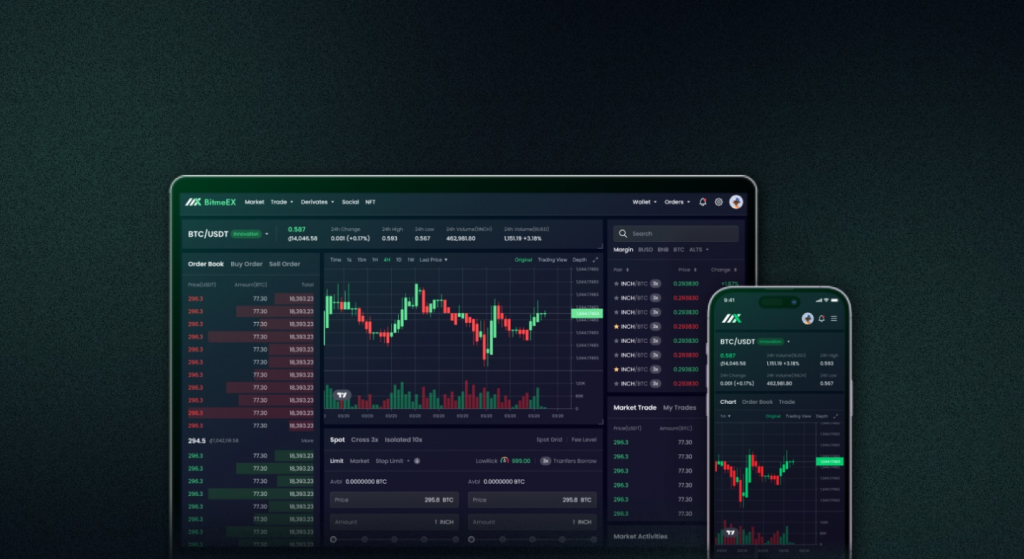 "Let the product speak for itself " is an essential reason behind the platform's high user activity. Thanks to its innovative teams, BitmeEX has launched excellent services like Trade, Social Trading, Options, and Launchpad in its first two years. Frankly speaking, crypto trading is not the best starting ground for beginner traders due to its inherent volatility, but BitmeEX offers an interesting alternative, copy trade, for beginners to trade digital assets. From futures trading beginners to discerning professional traders, BitmeEX can offer products that suit their trading habits and enable them to make high profits with ease. Since it first appeared on the market, Copy Trade has attracted a lot of interest. It allows users to copy the activity of the most professional traders for free, allowing them to earn profits quickly without having to closely monitor the market. Traders can also receive up to 10% of the income from their copied transactions. It's the perfect product to kill two birds with one stone.
However, traditional trading services are still available on this platform. With a variety of services, users can optimize their incomes. When users engage in Spot Trading, they can trade BTC, ETH, and over 100 crypto pairs on the lightning-fast trading engine with minimal trading fees. Another service is Margin Trading, which can trade with up to 5x leverage. BitmeEX offers a long list of futures offerings. Whether going long or short on 100+ quarterly and perpetual futures pairs, traders can take advantage of leverage of up to 125x. Plus, stablecoins can be used as collateral. Alternatively, for more favorable rates, use the native BMX Token as collateral.
Binary options are widely traded in the traditional global stock market. And BitmeEX brings the same take, making the whole process on-chain and decentralized, making it possible for traders all over the world to trade on cryptocurrency assets such as BTC, ETH, and more. Involving deciding what direction the asset is moving in and offering defined risk and clear outcomes upfront, crypto trading in binary options opens ample opportunities for the traders to obtain profits quickly.
The other way to earn passive income for users is to join BitmeEX's Partner Program. A lot of crypto exchanges take advantage of social media marketing, and BitmeEX is no exception. Users can apply for BitmeEX's Affiliate & IB program. If they become partners, they can earn commission for as much as users referred clients keep trading by their social media influence by advertising for BitmeEX.
In addition to outstanding services, BitmeEX has amazing features.

Launchpad: It is promised to become one of the safest launchpads and it is an example of the "unique" innovations. With Launchpad, BitmeEX handpicks "the brightest projects" for its clients, and it lets clients purchase tokens when they are still in their early stages. This enables top-tier blockchain projects to raise capital in a community-driven way. It's a win-win for everyone.
BMX. BMX is the native BitmeEX Token, and it remains as the backbone of the BitmeEX ecosystem. It is used to provide traders with financial incentives and exclusive rewards to gain the upper hand against the competition. There are a lot of benefits to own BMX. Please refer to the whitepaper on the website.
Ease of Use. One thing that is very noticeable with this exchange is how easy it is to buy and exchange cryptocurrency. BitmeEX makes the entire process simple, which is something that traders of all experience levels will appreciate.
Transparency. This feature is declared to be in the DNA of this platform. Client information is secure, but their performance data is publicly available! Furthermore, there are no hidden costs.
User-centricity. Enhanced user experience with a seamless and stable performance that users can rely on.
Extensive selections of crypto products. Capitalize on trends and trade with confidence through expansive high-quality crypto projects & over 90 contracts including USDT and Coin-margined instruments.
Upholding the mission of Better Trading Better Life and the values of "Customer First, Good Faith, Cooperation and Sharing", the platform aims to provide global customers with a liberal, ultimate, and fair trading experience. At the same time, BitmeEX offers 24/7 multilingual customer support to help solve various issues to deliver a great user experience. BitmeEX is committed to strive to be one of the 1st choice crypto trading platforms in the world, and their vision is believed to be the driver for this success. With that in mind, BitmeEX offers a variety of long-term profitable trading approaches that can be used by traders of all levels, regardless of experience.
Unlike any other platform, BitmeEX always gives equal priority to retail investors. The company has consistently adhered to the philosophy of putting retail users first, going against many similar businesses in the industry as most value institutional and VIP users more. But BitmeEX is more willing to serve retail users, so when designing product attributes, interest protection mechanisms, and product thresholds, the company always has retail users in mind. At BitmeEX , retail customers get better services and more favorable rates. The company believes retail investors are an essential momentum driver in the development of the crypto industry, which is very different from traditional finance.
The year 2023 is expected to be full of opportunities and challenges, and the Bitme Exchange's goal will remain to provide the best social trading and derivatives trading experience for users. The team promises to keep expanding their spot markets and improving their overall capabilities in order to improve the trading experience on BitmeEX. They will emerge from this crypto winter, thrive in the coming year, blossom into a major player, and drive the industry forward as the sector continues to consolidate and deleverage.
When it comes to cryptocurrency, half the battle is choosing a good platform. BitmeEX has low transaction fees and unique features that benefit traders. If you're looking for an exchange with a lot of features, BitmeEX is a solid choice. In order to reach users worldwide, BitmeEX has created a flawless brand matrix that is perfectly diversified and has confidence in long-term development. In the future, BitmeEX will take more steady steps in global expansion and further enhance its ecosystem.
Please refer to the BMX Sale Program:
🏆 Private Round:
• Time: Feb 17th 2023 – Mar 17th 2023
• Amount: 50,000,000 BMX
• Price: $0.02
🏆 Public Sale Round 1:
• Time: Mar 18th 2023 – April 18th 2023
• Amount: 50,000,000 BMX
• Price: $0.03
🏆 Public Sale Round 2:
• Time: April 19th 2023 – May 19th 2023
• Amount: 50,000,000 BMX
• Price: $0.04
🏆 Public Sale Round 3:
• Time: May 20th 2023 – June 20th 2023
• Amount: 50,000,000 BMX
• Price: $0.05
KEY METRICS OF BMX TOKEN
Token Name: BMX
Symbol: BMX
Total Supply: 1,000,000,000 BMX
Contract: 0xD25680dc7d49caA1866E190940cb23DF274e86F8
Network: BSC
Website: https://bitmeex.io
Telegram channel: https://t.me/BitmeEX_announcements
Youtube: https://www.youtube.com/@bitmeex