BTC365 Unveils New UIUX for Enhanced Crypto Gambling Experience
Amsterdam, Netherlands, 1st November 2023, ZEX PR WIRE, BTC365, a leading name in the crypto gambling and sports betting sphere, is excited to announce its newly redesigned website. Engineered with a user-centric interface, the relaunch promises an unrivaled experience based on extensive user feedback.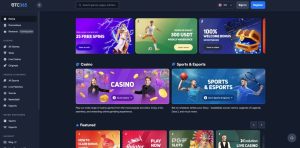 Enhanced User Tools
Search Bar: This new addition is a game-changer. A couple of keystrokes, and you're presented with your game of choice, eliminating tedious page navigations and unnecessary clicks.
Game Sorting: The feature organizes games into 'Popular' and 'Recommended' sections. It's a nifty tool that simplifies the discovery process, offering you an efficient and enjoyable gaming experience.
Favorites Section: With this feature, you can bookmark your favorite games in a dedicated folder. It's an exemplification of the new UIUX's focus on personalization, letting you dive back into your favorite games effortlessly.
Fresh Aesthetic and Features
BTC365's new design goes beyond just a visual facelift:
Quick Access to Categories: Switching between casino games and sports events is now seamless.
Featured Section: Get shortcuts to popular games, sports events, and how-to guides at your fingertips.
Streamlined Gaming and Sports Betting
With the new vendor, Betby, sports betting on BTC365 has been enhanced. Alongside, the site now displays leaderboards and bets on the main page for a real-time betting experience.
More Efficient Account Management
Unified Wallet Access: The new design consolidates wallet, deposit, and withdrawal options into a single pop-up, making account management straightforward.
Quick Access to Essentials: Now, reaching out to live support, your wallet, or deposit options requires fewer clicks than before.
Coming Attractions
This relaunch is only the tip of the iceberg. BTC365 plans to introduce more features and a new loyalty system with enhanced promotions.
BTC365 Grand Launch Lucky Draw – Win an iPhone 15 Pro Max
In celebration of the grand relaunch of BTC365's user-centric website, we're adding an extra layer of excitement with the BTC365 Lucky Draw. One lucky user will have the chance to win the coveted iPhone 15 Pro Max – a true gem of the tech world. The rules are delightfully simple: just become a part of our crypto casino community and immerse yourself in the thrilling world of gaming. Every game you play becomes your ticket to potentially walking away with this cutting-edge device. Join us in the journey of crypto gambling, and you could be the lucky winner of the iPhone 15 Pro Max, making your gaming experience with BTC365 even more rewarding. Don't miss this opportunity to play, win, and embrace the future of gaming.
In Conclusion
BTC365 is committed to offering a secure and exhilarating crypto gambling experience. The redesign, heavily influenced by user feedback, makes the platform not just an avenue for crypto gambling but your go-to hub for a tailored, efficient, and enjoyable experience.
About BTC365
BTC365 stands as a premier platform in crypto gambling, constantly evolving to meet its diverse global user base's ever-changing needs. The new features collectively serve to provide a more organized, streamlined, and personalized experience, ensuring you get to your preferred games and bets more rapidly than ever before.