BTCEX Exchange Launches WOM Token Listing With Launchpad Airdrop While Partnering With WOM's Content Creator Marketplace
WOM Protocol, the Web3 marketing solution replacing traditional ads across Web2 and Web3 with user-generated content, today announced that its native WOM Token is now listed on BTCEX, one of the world's leading cryptocurrency exchanges.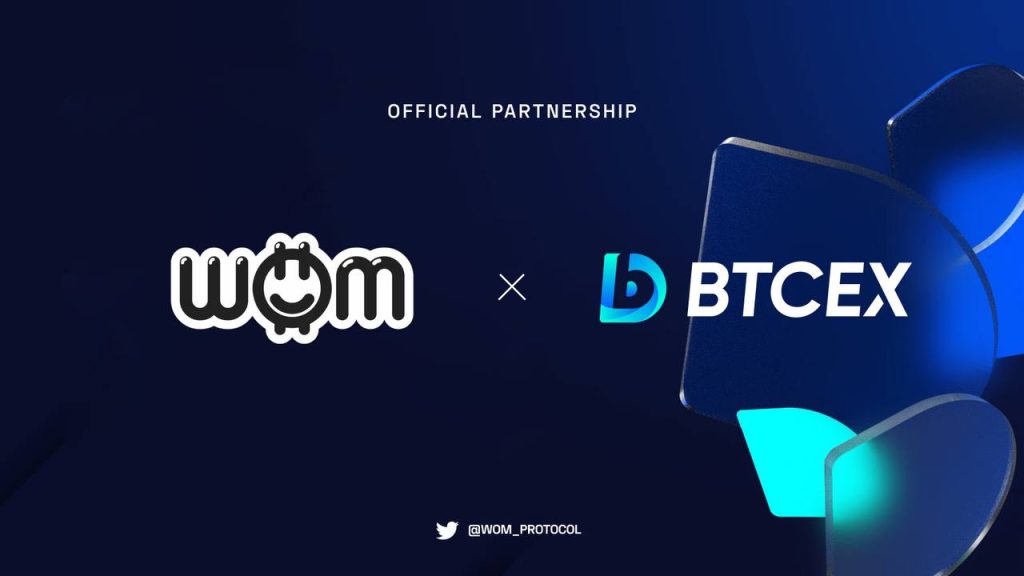 Trading Pair: WOM/USDT
Deposits: June 7th, 2023, 08:00 (UTC)
Withdrawals: June 9th, 2023, 08:00 (UTC)
Spot Trading: June 8th, 2023, 10:00 (UTC)
In conjunction with the listing, WOM Token will be one of the first tokens to host an airdrop event on the recently launched, BTCEX Launchpad. For maximum exposure, the airdrop promotion period will be extended to two weeks.
Earn Tickets: June 6th, 2023, 02:00 (UTC), to June 13th, 2023, 02:00 (UTC)
Allocation: June 13th, 2023, 02:00 (UTC), to June 14th, 2023, 02:00 (UTC)
Allocation Result Announcement: June 14th, 2023, 08:00 (UTC)
Airdrop Distribution: June 14th, 2023, 08:00 (UTC)
In addition, a broader marketing partnership between WOM Protocol and BTCEX will introduce newly listed Web3 projects on BTCEX to WOM Protocol's diverse innovative Web3 marketing solutions.
The BTCEX listing represents the sixth top-tier exchange listing for the WOM Token, which is already listed, among others, on Gate.io, Bithumb, and KuCoin.
The combined listing and partnership will further the WOM Protocol's mission of replacing the online advertising industry, which is projected to reach $209.43 Billion in 2027, ​​​​up from $178.29 billion in 2022 (Digital Advertising Global Market Report 2023), with Web3-based user-generated marketing, that not only captures value for its creators but provides social proof for advertisers, while giving platforms a user-friendly monetization model.
The WOM Protocol enables advertisers to find, track and reward word-of-mouth recommendations while rewarding creators based on the engagement generated by their content, as well as quality ratings. The Protocol includes:
The WOM Authenticator app, which authenticates recommendations across all WOM-integrated platforms;
The WOM Campaign Manager, which enables advertisers to find, track and access word-of-mouth recommendations by spending WOM Tokens;
A Shopify app;
An underlying payment protocol that automatically rewards creators, authenticators, publishers, and platforms in WOM Tokens.
The protocol's "to-earn" tokenomics is based on existing user behavior, as recommendations are made 2.1 billion times daily. WOM is already live and tested, having processed more than 27,886,895 transactions in 2022 alone, with more than 185k aggregated WOM videos passing "authentication", or peer review of content to date.
WOM has meanwhile scaled its ecosystem of BULLZ marketing technology products, which BTCEX will introduce to its upcoming listings as part of the partnership. These include:
The "TikTok of Crypto" BULLZ app, which enables creators to get rewarded for recommendation videos;
The BULLZ Campaign Manager, which gives brands access to UGC from the BULLZ creator network.
Established in 2021, BTCEX has already processed more than 200 million transactions. The exchange's average daily trading volume for spot and derivatives now exceeds $300 million and $1 billion, respectively, placing it among the top 30 spot and top 15 derivative exchanges on CoinMarketCap.
BTCEX Exchange, CEO and Founder, William Clinton, said, "We are dedicated to exploring new opportunities to help our listings reach their full potential, which is why we launched the BTCEX Launchpad for high impact airdrops. We see this as the opportune moment to connect our listings with powerful growth marketing possibilities through this partnership."
WOM Protocol CEO and Founder, Melanie Mohr, said: "We are thrilled to be listed on such a major and fast growing exchange and look forward to launching with a bang through our airdrop event. We also recognize the need to help other projects in the extremely dynamic world of cryptocurrency exchanges by delivering MarTech products that utilize creative communities to drive growth."
About the WOM Protocol
WOM (word-of-mouth) Protocol is a blockchain-based protocol that gives brands, content creators, publishers, and social networks a way to monetize word-of-mouth recommendations on any website, app, or platform. Seasoned investors back WOM from around the globe. For more info about WOM: https://womprotocol.io
About BULLZ
BULLZ is scaling an entire ecosystem of Web3 MarTech products. These include BULLZ, a dedicated app for creating and discovering authentic blockchain and crypto-related recommendations, the BULLZ Campaign Manager, which gives brands access to UGC from the BULLZ creator network, and Bullz.io, a token and NFT airdropping tool, which activates project community members to get creative and contribute towards marketing campaigns. With the "create to earn" model, users are rewarded with WOM Tokens for creating and rating authentic recommendations directly within the app. For more information about BULLZ: https://bullz.com
About BTCEX
A full-category digital asset trading platform, BTCEX was launched in July 2021. The company is registered in Seychelles and has obtained key licenses in countries such as Canada, Lithuania, and Estonia. BTCEX offers a comprehensive product line, dedicated to empowering investors to make a better future, from beginner-friendly copy trading to crypto derivatives such as perpetual contracts. For more information about BTCEX: https://www.btcex.com/en-us