BULLZ and Gotbit Collaborate to Accelerate Web3 Adoption Through Creator-Driven Marketing
Singapore, Thursday, June 29th, 2023:  BULLZ, the Web3 social platform with more than 60k+ content creators, today announced its partnership with Gotbit, a leading market maker with a platform-based service and utility integration approach. The strategic collaboration will forge new pathways between "TikTok for Web3", BULLZ, and Gotbit's impressive portfolio of more than 248 live Web3 clients.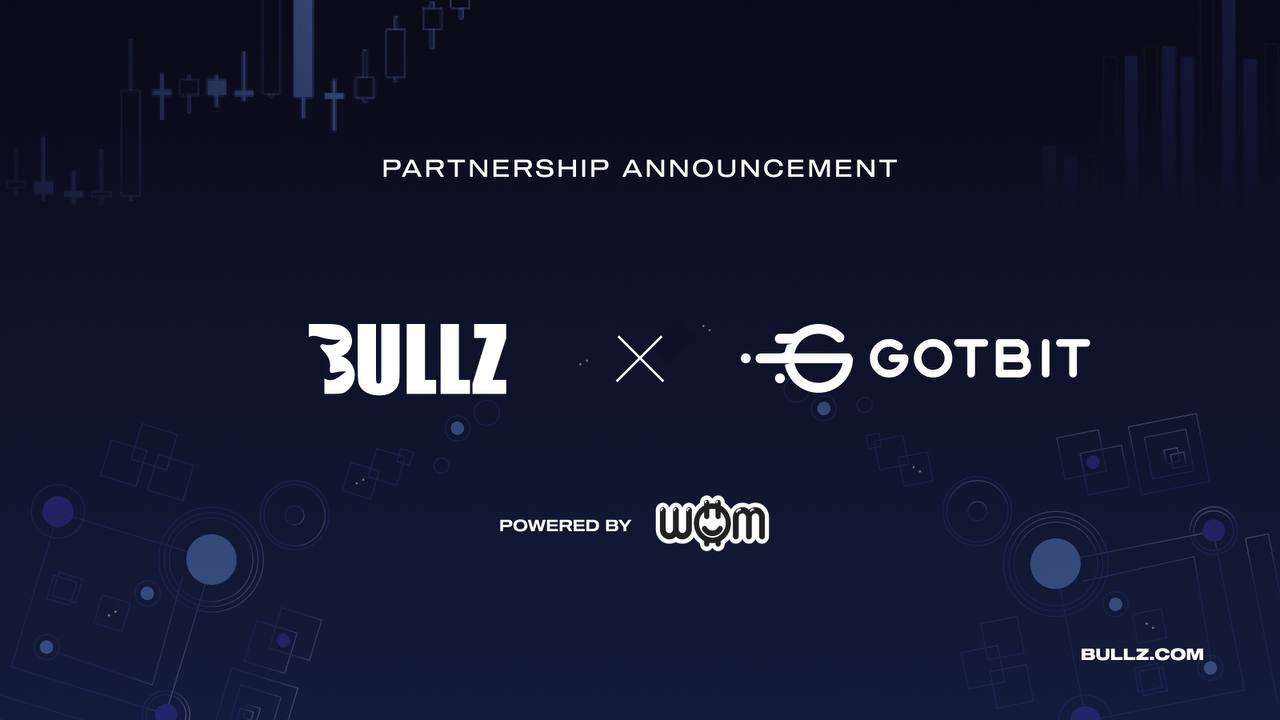 Founded in 2017, Gotbit has more than 120 specialists working together to build markets and utilities for Web3 projects. The market maker uses proprietary tools, including the Gotbit Platform and Trading Desk, to attract traders into its client markets. Its team of 50 developers and 15+ analysts develop, build and integrate utilities into projects across all relevant platforms and blockchains, including Ethereum, Avalanche, Solana, BNB, Polygon and all other EVM-based chains. Existing products include Fitcoin, BMC, Bulk, Zelwin, Penguin Karts, Goldefy, Crime Gold, Locker, and DeSpace. Meanwhile, its investment arm, Gotbit Labs Incubator, enables founders from projects that include Exverse, and GBC.AI, to successfully launch projects onto its powerful network of exchanges.
Partnering with BULLZ, a Web3 creators and social platform leader, adds a new dimension for Gotbit's clients by leveraging creator-driven marketing. The vast BULLZ network of content creators and dedicated BULLZ Campaign Manager for brands, offers a powerful tool for creating content marketing campaigns that drive sustainable growth, boost community-driven initiatives, and create meaningful connections with audiences. 
BULLZ is revolutionizing Web3 marketing by empowering creators to earn rewards for their videos about anything blockchain, NFTs, DeFi, DAO or Web3. With more than 96k+ peer-reviewed videos since its 2021 launch, BULLZ is meanwhile the go-to platform for Web3 video content. By leveraging WOM Protocol's authentication system, BULLZ ensures only quality content is eligible for earning rewards. BULLZ further empowers creators to earn with dedicated campaigns, displaying them inside the BULLZ app whenever a brand requests content. Brands can incentivize creators to not only create engaging videos, but also distribute them on social media to boost awareness. The new partnership between BULLZ and Gotbit marks an exciting milestone in the growth of the Web3 ecosystem. 
Andryunin Alex, Gotbit's CEO, said: "Adoption is crucial for the success of all Web3 projects, and it requires a combination of onboarding campaigns, marketing initiatives, and education. We are excited about the opportunity to dive into the dynamic world of Web3 content creators through the impressive network and tooling that BULLZ has built. This is undoubtedly a great way to foster community engagement. Together, we can unlock new possibilities and empower our clients to grow adoption even more by leveraging creator-driven marketing."
Melanie Mohr, CEO & Founder of BULLZ, said: "Gotbit has a great team of more than 120 who have been actively involved in the Web3 ecosystem since 2017. Their deep understanding of not only how to make a market, but how to build real utility, makes them an ideal partner for us. We're really excited to partner with them and connect the BULLZ creator ecosystem to more upcoming Web3 projects." 
About the WOM Protocol
WOM (word-of-mouth) Protocol is a blockchain-based protocol that gives brands, content creators, publishers, and social networks a way to monetize word-of-mouth recommendations on any website, app, or platform. WOM is backed by dozens of investors from around the globe. For more info about WOM: https://womprotocol.io
About BULLZ
BULLZ is a dedicated platform for discovering authentic blockchain and crypto-related recommendations. Users can find trending projects, discuss them together with other crypto enthusiasts and experts and can get rewarded for sharing their own videos about the projects and companies they love. With the "create to earn" model, users are rewarded with WOM Tokens for their recommendations directly within the app. For more information about BULLZ: https://bullz.com
About Gotbit
Gotbit is a leading Market Maker with a platform-based service and utility integration approach, dedicated to supporting digital assets exchanges. Gotbit's approach is based on robust algorithms, a large trading desk and a client platform, which allows clients to track performance and markets in real-time, meanwhile encompassing all types of digital assets exchanges. Gotbit's mission is to empower Web3.0 founders by unlocking the full potential of their projects in secondary markets, while also providing their community with fair prices and liquidity access. For more information about Gotbit: https://gotbit.io/