BULLZ and LAYER15 Join Forces To Boost Web3 Projects With Sustainable Growth
Singapore, Wednesday, May 3rd, 2023: BULLZ, the Web3 social platform and growth marketing leader, today announced its partnership with Layer15, a full-service Web3 marketing studio focused on steady, long-term growth. The strategic partnership with BULLZ, which now has more than 60k+ creators monetizing content on its platform, will unlock new opportunities for Layer15's impressive portfolio of Web3 partners, which include Sovereign Dao, RLTY, One37PM, The Lost Wallet and Zelus. All Layer15 partners will have the opportunity to connect with BULLZ's talented community of creators to launch engaging content campaigns, driving the growth of sustainable community-driven marketing and creating exciting new possibilities for both BULLZ and Layer15.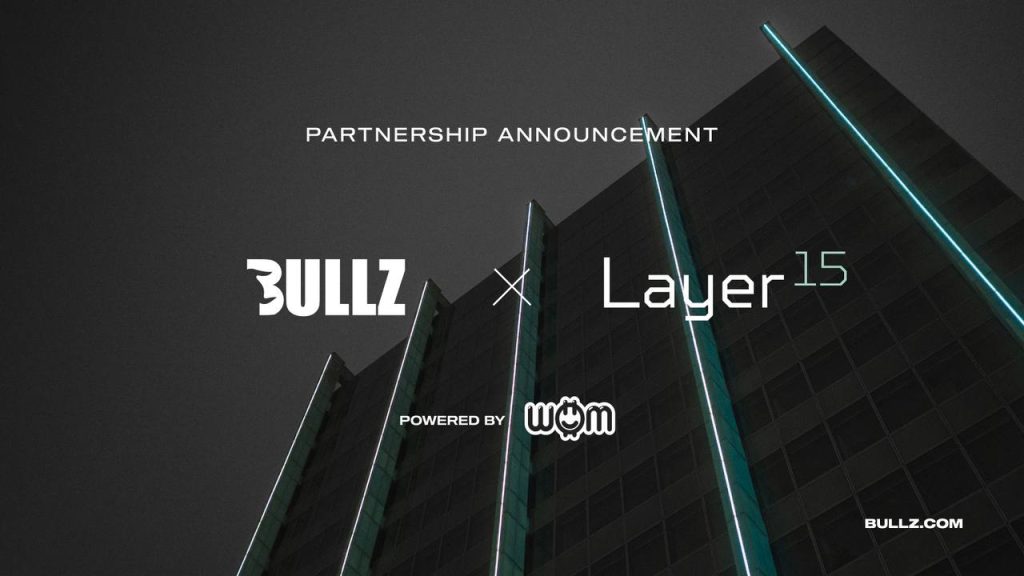 BULLZ is transforming the Web3 marketing landscape by empowering creators to get rewarded for their video recommendations about blockchain, NFTs, DeFi, and DAO projects. Described as the "TikTok for Web3", the platform has garnered more than 96k+ peer-reviewed videos since its launch in late 2021. Using the integrated WOM Protocol's authentication system, BULLZ ensures only high-quality content is eligible for earning WOM rewards. With an average of more than 400+ users rating each video, the community acts as content nodes, establishing trust in the content. The WOM Protocol automatically rewards creators for their content, and authenticators for their peer reviews, ensuring the community is valued for their contributions.
Layer15, which prioritizes marketing activities that drive steady user growth and powerful social proof, will give its partners an opportunity to boost their content libraries with meaningful user-generated content through an exciting new collaboration with the BULLZ Campaign Manager. The tool empowers Web3 projects to create multi-layered content strategies to meet multiple goals from maximum reach and engagement to authenticity and trust. Creators on the BULLZ app are instantly notified each time a new campaign is launched onto the Campaign Manager. From here creators can discover campaigns and decide whether they want to participate by creating engaging videos in exchange for rewards. When a project's goal is maximum reach creators can increase their earning potential even further by sharing the content on their wider social accounts. Numerous Web3 projects, such as 8 Finance, Youmeme, Monkey League, and Safe ZK, have already achieved great success by collaborating with creators.
Layer15 is a Web3 marketing studio that offers unconventional campaigning and organic growth services. The company has a team of experienced professionals who help projects and communities grow, delivering full-service marketing solutions to both established brands and startups. On average, Layer15 achieves a 200% social growth rate for its clients. The company relies on original, data-backed marketing strategies, which have resulted in over 90% partner retention rate.
The new partnership between BULLZ and Layer15 marks an exciting milestone in the growth of the Web3 ecosystem. Leveraging BULLZ's expansive creator network and Layer15's Web3 marketing expertise, the partnership is poised to unlock new opportunities for campaign collaboration with projects looking for scalable content marketing initiatives with creators.
Layer15 Co-Founder, Alec Pakzad, said: "We know that marketing in Web3 sometimes gets a bad rap. We believe that authenticity is key to building strong communities and successful projects. That's why we don't make empty promises and are excited to partner with a platform like BULLZ, which already has a growing creator network and a proven track record. We look forward to collaborating on campaigns and combining our marketing strategies to ultimately help our clients achieve long-term growth."
Melanie Mohr, CEO & Founder of BULLZ, said: "Layer15 has a great team of highly experienced marketing professionals. Their approach to Web3 marketing, and focus on authenticity and data-backed strategies, aligns perfectly with our own values and goals – we're all here for the marathon, not the sprint. We look forward to collaborating with Layer15 on future campaigns and driving the adoption of Web3 brands forward."
About the WOM Protocol
WOM (word-of-mouth) Protocol is a blockchain-based protocol that gives brands, content creators, publishers, and social networks a way to monetize word-of-mouth recommendations on any website, app, or platform. WOM is backed by dozens of investors from around the globe. For more info about WOM: https://womprotocol.io
About BULLZ
BULLZ is a dedicated platform for discovering authentic blockchain and crypto-related recommendations. Users can find trending projects, discuss them together with other crypto enthusiasts and experts and can get rewarded for sharing their own videos about the projects and companies they love. With the "create to earn" model, users are rewarded with WOM Tokens for their recommendations directly within the app. For more information about BULLZ: https://bullz.com
About LAYER15
Layer15 is a Web3 marketing studio that offers unconventional campaigning and organic growth services. The company has a team of experienced professionals who help projects and communities grow, delivering full-service marketing solutions to both established brands and startups. On average, Layer15 achieves a 200% social growth rate for its clients. The company relies on original, data-backed marketing strategies, which have resulted in over 90% partner retention rate. For more information about LAYER15: https://www.layer15.io/