Burbank, CA, 22nd April 2022, ZEXPRWIRE, Ex Director of Operations Martin Kolev explains why Canada Cartage has been selected by Forbes as one of "Canada's Best Employers" for 4 straight years.
For many years Forbes partners with market research firm Statista to compile annual lists of Canada's Best Employers by surveying more than 10,000 Canadians working for businesses with at least 500 employees. Participants were asked to rate their willingness to recommend their own employers to friends and family and to nominate organizations other than their own.
Canadians often judge their employers by a different set of metrics than their U.S. counterparts. The nation's universal healthcare system and policy of publicly funded parental leave means companies have to distinguish themselves in other ways to attract and retain talent. One factor that's universal is corporate social responsibility and the impact that employers have in their communities. To attract talent in one of the most multicultural countries in the world, creating an inclusive culture is considered table stakes for many Canadian employers.
Canada Cartage System is a group of companies and is one of the Canadian's largest Supply Chain Corporations Founded in 1914, the company provides dedicated contract transportation, general freight, fulfillment and distribution, and home delivery services. From small- and mid-size companies to some of the largest and best-known brands in the world, CCS helps its customers to profitably grow their businesses in Canada & the US.
Best Employers have a commitment to people that is more substantial than the latest fad in employee benefits. Being a Best Employer requires a holistic approach to building a work environment in which employees are constantly engaged and committed to business success.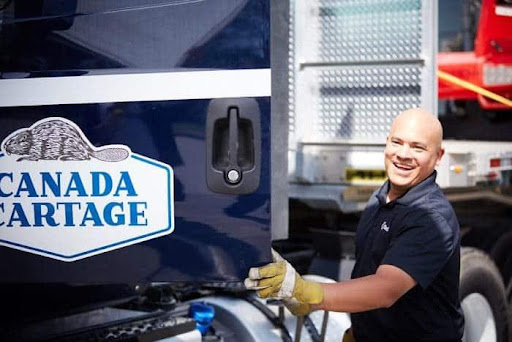 Canada Cartage System is a family-oriented company with competitive benefits, a cohesive team and a positive, hard-working atmosphere. People working there have fun events throughout the year, like truck rodeos, summer barbeques and driver-appreciation week, that regularly bring everyone together. 
According Martin Kolev, most large companies today have a lofty mission and vision statement, and an equally noble set of core values. But what gets written on a piece of paper counts for very little. What really inspires us are leaders who visibly, palpably, credibly and consistently stand for something beyond profit, and who give us the opportunity to get behind a meaningful mission.
Through a combination of a fierce commitment to great customer service, and to treating its own employees equally well, CEO Jeff Lindsay and his team have created a company with a powerful sense of mission and high level of employee passion and loyalty.
"Mark these words" says Martin Kolev "The companies that make a paradigm shift from seeking to get more out of their people, to investing instead in meeting their core needs, will build huge competitive advantage in the demanding years ahead".
Media Contacts
Name- Jeff Potter
Email- [email protected]
Phone-+1 818 558 3363
Comapny- Visual Data
Country – US
Address- 610 Hollywood Way, Burbank