Chains.com introduces Chains Staking platform
Mahe, Sychelles, Jan 25, 2023, ZEXPRWIRE,  Following the completion of its CHA token sale on November 30, which saw 58,000,000 CHA tokens sold and 500,000 users registered, Chains.com has conducted its first product launch of 2023 – a CHA staking program that will run until 2026.
The staking program is part of a new product line, Chains Staking, which aims to support multiple types of tokenized assets and rewards. The multi-product cryptocurrency platform plans to be a one-stop shop for cryptocurrency services and has recently launched its own multi-chain launchpad.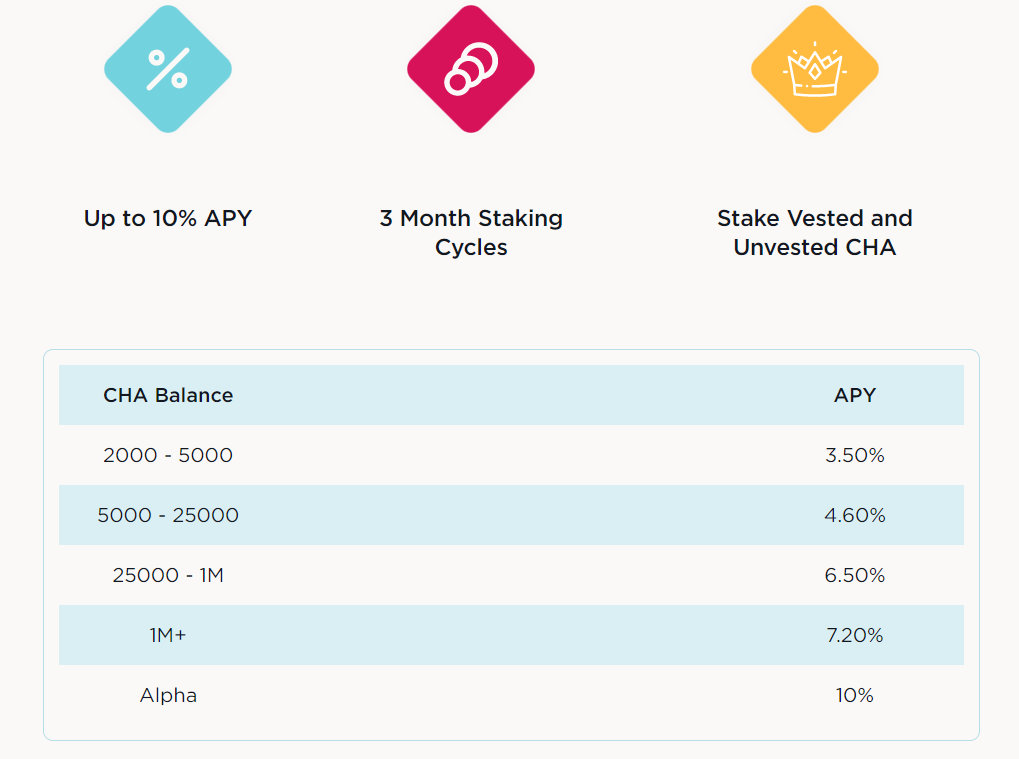 Users can deposit CHA on Chains and opt-in to the staking program by clicking the "Stake CHA" button located on the Chains account dashboard. Once a user opts in, APY rewards will be applied to the entire balance regardless of the amount vested at the time.
If a user chooses to activate the staking program, their balance will be locked for a three-month period; withdrawing tokens before the end of the staking cycle will remove all the tentaively accrued rewards from this period, and they must opt-in again to enable staking afterward.

Rewards scale according to the user's balance:
2000 – 5000 CHA = 3.50%
5000 – 25000 CHA = 4.60%
25000 – 1M = 6.50%
1M+ = 7.20%
Chains plans to update user balances on the dashboard with their projected accrued yield, however this will not necessarily be the final reward amount. Upon the completion of each three-month staking period, user balances will be updated to include accumulated tokens, which can then be-restaked for compounding rewards.
Each new three-month staking cycle begins automatically following the previous, and the overall qualifying balance for the stake will include accrued rewards from the last cycle.
A spokesperson for Chains.com said: "Chains reserves the right to change the program's length, rewards structure or any other conditions. In such a case, prior notice will be given to all active program participants and the updated terms and conditions will be applied once the next staking cycle begins."

CHA tokens are available on Ethereum, Tron, BNB Chain and Polygon networks and were offered exclusively to KYCed users with the sale conducted in compliance with SEC 506c.
Media Contact:
Daria Kuznetsova,
CMO of Chains.com