CoinBurp will be conducting an Initial Exchange Offering (IEO) with KuCoin starting at 12:00:00 on July 23, 2021 (UTC). This article will briefly introduce the CoinBurp platform, as well as its upcoming KuCoin IEO specifics.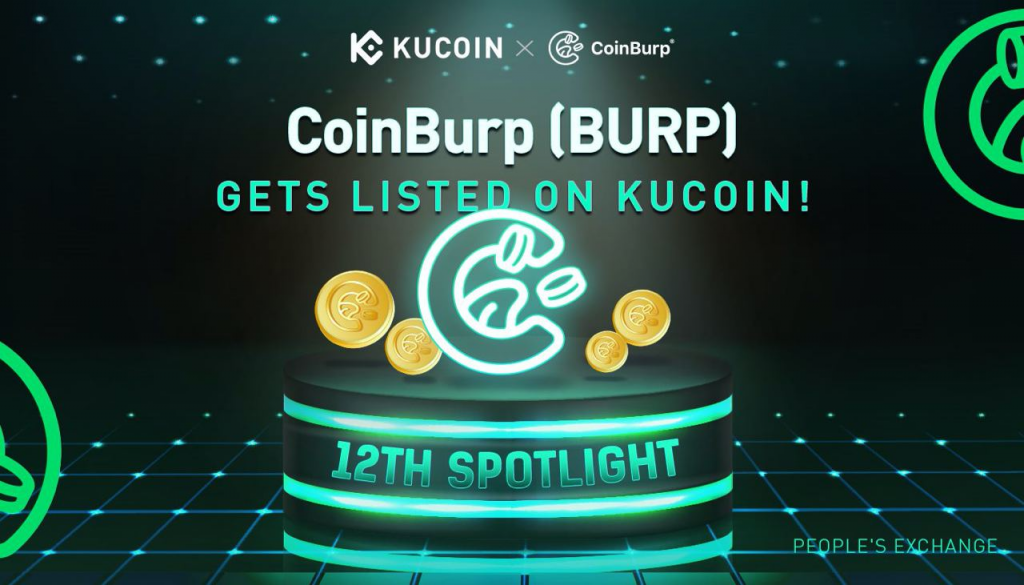 MAHÉ, REPUBLIC of SEYCHELLES, 26 July 2021, ZEXPRWIRE, While it is true that the DeFI space has seen nothing but positive sentiment and increase across all of its metrics, it is a fact that new users are facing difficulties when trying to adopt this new technology.
In a survey conducted by CoinBurp, one-third of the participants stated that they were interested in decentralized finance, but found the entire process offputting due to the technology's barrier to entry, "private key anxiety, or its "lack of insurance." On the other hand, the majority of the surveyees showed interest in NFTs, specifically in using them as a form of collateral.
CoinBurp has developed an NFT-first crypto wallet that aims to connect the worlds of CeFi and DeFi, therefore solving the problem of users being overwhelmed by all the unknowns that decentralized finance brings.
Let's delve deeper and explain what CoinBurp is and how it works.
CoinBurp – Explained
CoinBurp is the United Kingdom's largest P2P crypto brokerage and an FCA-registered platform.
The platform offers a fiat (GBP/EUR) on/off-ramp and insured fiat/crypto custody that essentially bridges the worlds of CeFi and DeFi. CoinBurp is currently achieving a 15% month-over-month user and trade volume growth with a user base of over 27,000 total users and a total trade volume of over $30M.
The newest addition to the ecosystem is the CoinBurp Wallet, which plans on utilizing the booming demand for NFTs to integrate with all major open NFT marketplaces, enabling swift and easy NFT purchasing with fiat currencies.
NFT quarterly sales volume across multiple blockchains – Source: DappRadar
On top of that, CoinBurp will launch its own NFT loyalty program which will reward holders with variable rarity NFTs and preferred terms on the platform.
By utilizing CoinBurp, users can easily transition to decentralized finance and access its utility. On top of that, the platform aims to become the "Coinbase for NFTs" by allowing its users to buy their non-fungible tokens with fiat currency, as well as to connect to external NFT marketplaces such as Open Sea.
The project has already launched the alpha version of its DeFi-NFT Wallet, which received both great attention and feedback from the community.
The entire CoinBurp ecosystem is enabled by BURP, its native utility and governance token. The token can be used for staking, governance, earning rewards, and more.
Take a look at the CoinBurp whitepaper if you want to learn more about the inner workings of the entire ecosystem.
CoinBurp IEO – Brought by KuCoin Spotlight
As we mentioned above, CoinBurp will be conducting its initial exchange offering (IEO) with KuCoin, one of the largest and most widely used cryptocurrency exchanges in the world. The IEO is conducted as a part of the KuCoin Spotlight program that looks for cryptocurrency project gems and helps them with their initial stages.
In order to participate in the IEO, each participant should have a minimum of 200 KCS. The final distribution of the BURP tokens will be made by assessing both the total KCS holdings by all IEO participants and each individual participant.
The IEO will offer a total of 1% of the total BURP token supply (500 million BURP tokens), and participants will be able to purchase tokens with no lock-up period.
These are the details of the CoinBurp IEO on KuCoin Spotlight:
Token Sale Subscription Start: 12:00:00 on July 23, 2021 (UTC)
Token Sale Subscription End: 00:00:00 on July 26, 2021 (UTC)
If you are interested in participating in the CoinBurp initial exchange offering on KuCoin Spotlight, take a look at this detailed explainer article.
KuCoin Spotlight – Explained
KuCoin has, as a reputable and one of the most well-known crypto platforms, been persistent in its pursuit of finding and supporting blockchain and cryptocurrency projects with real potential. KuCoin Spotlight aims to assist blockchain and crypto projects in raising the needed funds, as well as in attracting market attention and improving industrial influence.
KuCoin Spotlight has already helped numerous projects, with CoinBurp being the 12th project so far. Out of the previous 11 projects supported by the initiative, every single one of them increased in value exponentially, with the average project ROI coming out to an astonishing 3368%.
In order to participate in KuCoin Spotlight offerings, users must complete their identity authentication (KYC) in advance. To comply with local regulations, users in some countries and regions cannot participate in the sale.
Final Word
While the crypto world has seen many improvements over the years, the rift between CeFi and DeFi hasn't been closed yet. The increasing demand for markets such as NFTs (and DeFi as a whole) has only highlighted these problems.
However, projects such as CoinBurp are here to reduce the barrier to entry and bridge the gap between centralized and decentralized finance, and make the entire user experience much smoother. 
Media Contact –
Company name: KuCoin
Email: [email protected]
Website: https://www.kucoin.com/
Telegram: https://t.me/Kucoin_Exchange
SOURCE: KuCoin