Crypto Space Agency Secures Flight For Lucky Member on Blue Origin's New Shepard Rocket
London, UK, Apr 27, 2022, ZEXPRWIRE, 'To the moon' – a popular term in the crypto world – is just about to take on a whole new meaning, literally! The Crypto Space Agency in partnership with MoonPay has managed to get a space flight seat for a lucky CSA member and NFT holder on Blue Origin's New Shepard Mission.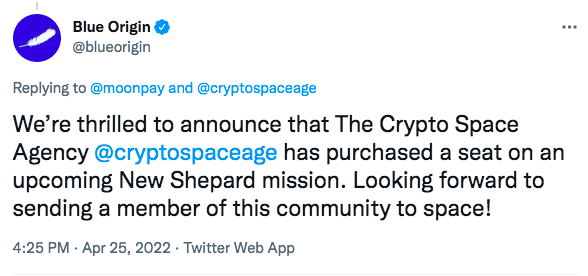 Source: https://mobile.twitter.com/blueorigin/status/1518597006242971648?cxt=HHwWgICsoc37kZMqAAAA
The announcement confirmed by Blue Origin, showcases a first-of-its-kind NFT use case signalling the industry's maturity. This groundbreaking move by The Crypto Space Agency shows that the once thought to be a 'fly-by-night NFT trend' could actually be something inspirational, transformative and even life-changing.
The CSA team of engineers, project managers, and business leaders has experience working at top companies including SpaceX, NASA, Reaction Engines, Virgin Hyperloop One, and Qualcomm. Their vision is to merge the space industry's technology with the innovation and financial power of the crypto markets to accelerate humanity's off-world future.
How can you get involved?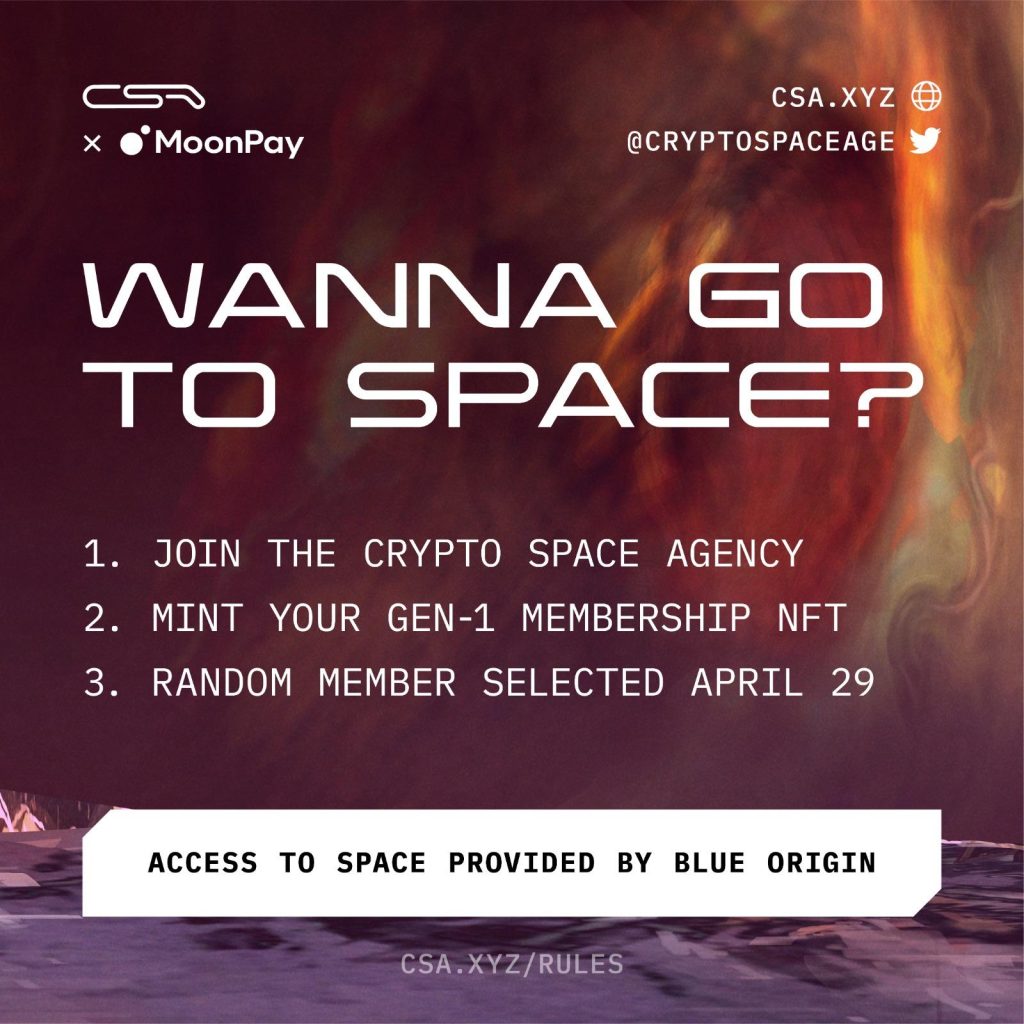 CSA has partnered with Moonpay for the release of their Gen-1 NFT Membership collection to send some of their members to space with their space launch provider Blue Origin: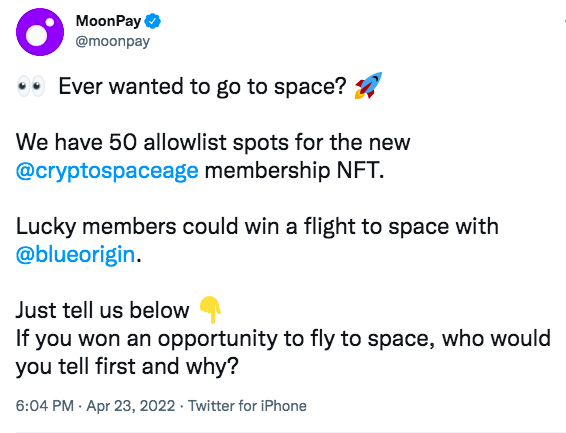 Source: https://mobile.twitter.com/moonpay/status/1517897202743619584
The Gen-1 NFT Membership collection is 5555 NFTs that provide premium access to allow-lists for future NFT mints, token releases, merchandise, events and the opportunity to be randomly selected for flights to space on Blue Origin's New Shepherd rocket. The deadline to be included in the astronaut selection process is 23:59 BST on April 28. The first CRYPTONAUT in history will be selected in the following days. More flights for members will follow this historic first mission.
It is important for readers to note that Blue Origin is not involved in the CSA NFT project – they are providing access to space for CSA members on a commercial basis. The CSA has already acquired a ticket on the next Blue Origin flight as confirmed in the official announcement.
Jim Maser, senior advisor to the CSA – currently Senior Vice President at Aerojet Rocketdyne and formerly President and Chief Operating Officer at SpaceX, believes that "The CSA is at the nexus of the crypto and physical worlds making space available in ways never seen before".
Where National Space Agencies serve national interests, the CSA serves human interests. CSA's core mission objectives are to send as many of their members to space as possible, to search for extraterrestrial intelligence, and to protect the earth from catastrophic asteroid impacts. And they are qualified for the task.
CSA co-founder Sam Hutchison states that "The crypto and space communities both share a common vision of greater economic and political freedom. Sending the first representative of the crypto community to space is the symbolic first step towards realising this dream."
Alongside CSA member trips to space, over the following months Crypto Space Flight will be announcing some of their NFT projects around the search for extra-terrestrial intelligence and asteroid defence. These will not just be space projects funded with crypto – all future CSA space projects have technological applications to Web3 platforms in the long-term and utilise Web3 technologies to create community engagement and rewards around these projects in the short-term.
These project-specific future NFT projects will combine real space data and high-quality NFT media content in mind-blowing and meaningful ways.
Help the CSA transform science fiction into science fact. Join the CSA and your OFFWORLD future begins today.
Why should you purchase a CSA NFT?
If you support space exploration, CSA Gen 1 premium membership NFTs will provide you with priority access to space flight opportunities, events, merchandise and exclusive whitelist access to future CSA NFT drops. Currently it costs 0.25 ETH to mint a CSA NFT and each user can mint only a maximum of two NFTs. Interested parties can purchase their CSA Gen-1 Membership at www.csa.xyz/mint

About Crypto Space Agency

Website | Twitter | Discord | Instagram | CSA Membership NFT Mint | Terms of Service
Media Contact:

Crypto Space Agency