Data Analysis: Why Every Crypto Startup Should Sail at Sea Summit, the Biggest Crypto Event in History
Mumbai, India, 2nd November 2023, ZEX PR WIRE, In the fast-paced world of cryptocurrency, data-driven decisions can often make or break a startup. When it comes to Sea Summit, the largest crypto event in history, let's delve into the data to uncover why every crypto startup should set sail on this unprecedented journey.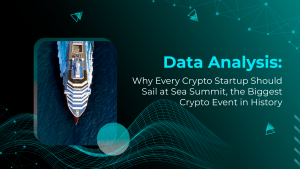 The Magnitude of Sea Summit
First and foremost, the scale of Sea Summit is staggering:
12,000 Crypto Enthusiasts: These are not just any enthusiasts; they represent a mix of newcomers eager to explore the crypto world and seasoned experts who understand its nuances.
300+ Power Talks: With over 300 industry leaders and visionaries delivering talks, Sea Summit offers a unique platform for startups to gain exposure and knowledge.
300+ Venture Capitalists: Sea Summit brings together a substantial number of venture capitalists, providing startups with unparalleled opportunities for funding and growth.
The $40 Million Budget: The substantial budget allocated to Sea Summit highlights its significance. Being part of this event signals to the crypto community that your startup is serious about making an impact.
Trillioner Token's Potential $3 Million Commitment: The consideration of such a significant sponsorship by Trillioner token, founded by crypto entrepreneur Lavish Choudhary, underscores the event's importance.
Distinguished figures in the crypto world, including Abhyudoy Das, Vinay Chandra Lal, Lavish Choudhary and 100+ other crypto global leaders, are part of the foundation, lending credibility to the initiative.
Visibility Beyond Measure
Imagine your crypto startup showcased against the backdrop of one of the world's largest cruise ships, three times the size of the legendary Titanic. The visibility this event offers is unmatched and can catapult your startup into the limelight.
Networking Opportunities Abound
Beyond the data, Sea Summit is a networking paradise for startups. It provides access to VIPs in the cryptocurrency industry, enabling your startup to forge connections that could lead to partnerships, investments, and collaborations.
The Sea Summit Experience
Sea Summit is not just an event; it's an immersive experience. It blends the worlds of cryptocurrency, forex, and luxury into a unique fusion that can spark innovation and growth for startups.
Conclusion
In the data-driven crypto landscape, Sea Summit stands out as an opportunity of a lifetime for startups. The numbers speak for themselves, showcasing the event's vast scale, influential speakers, and significant financial commitment.
Participating in Sea Summit means sailing into uncharted waters, where networking opportunities are boundless, and visibility is unparalleled. It's more than an event; it's a journey that can define the trajectory of your crypto startup
Data analysis indicates that Sea Summit is the ultimate platform for startups to gain exposure, secure funding, and establish themselves as serious contenders in the crypto industry. Don't miss the chance to be part of this historic event. Sea Summit is where every crypto startup should set sail for a brighter future.