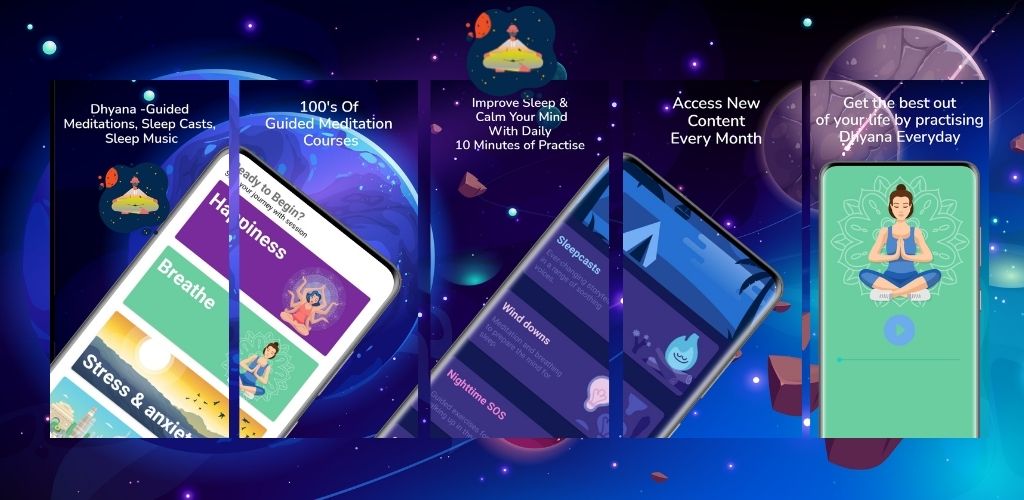 Telangana, India, January 17, 2021, ZEXPRWIRE, Meditation is becoming increasingly popular around the world and there's a growing number of apps available to help you on your journey. The Dhyana app is one of these new apps that claim to offer users a path to discover peace through meditation. 
One of the first things you should know is that it is not one specific kind of meditation. Instead, it features a unique combination of elements drawn from mindfulness and guided meditation to help you find balance and develop inner peace during your daily life. If you are looking for an inspirational, relaxing, and comprehensive experience of guided meditations, Dhyana could be exactly what you need.
Dhyana (Sanskrit for meditation) meditation app has been carefully crafted with excitement and passion to help you enjoy mindfulness. It will guide you through mindfulness meditations so that you can learn to be quiet in the present moment, non-judgmentally aware of your thoughts and surroundings. You will learn the art of "just being". Dhyana currently includes many sets of guided meditation sessions — Each session is over 10 minutes long. Saying a short phrase each minute helps bring the mind to stay tuned in.
Get 1 – Month Free Full Access to the app all you have to do is follow Dhyana On Instagram and DM them to get Promo Code that unlocks all the features for free for one month.
Types of Guided Meditations Available on Dhyana App
Anahata meditation
Body Scan Meditation
Clarity Meditation
Focus Meditation
Healing light meditation
Healing past meditation
Ho_oponopono meditation healing
law of attraction meditation
Love meditation
Loving-kindness meditation
Metta meditation
Mindful breathing
Mindful Compassion
Morning meditation
Oneness meditation
Positive energy meditation
Relaxation meditation
Shadow work meditation
Sleep Meditation
Spiritual meditation
Stillness Meditation
Third Eye Meditation
Vibration meditation
Vipassana guided meditation
Yoga Union Meditation
clarity meditation
Focus meditation
Relief Meditation
Relieve Anger
Relieve Anxiety
relieve InsomniaRelieve Stressreduce
stress
relieve
anger
Relieve Chronic Pain
Calm nervousness
Candle Gazing
Exam anxiety
GratitudeHealing
lonelinessMindful
breathingMindful
Compassion
Mindfulness
Pineal gland
Presence
Serotonin release
Anxiety
relief
Gratitude
Mindfulness
reduce stress
Relieve Chronic Pain
Sleep & Nature Trails
Sleep Radio – 10 Hours
Nature Trails
Camp Fire
Heavy Summer
TrailsBirds
ChirpingWater
StreamCicadas
Cricket sounds
Rain Sounds
Birds Singing Around Water
Forest Walk