Dr. Paul Guerrino of Guerrino Dentistry in Hartsdale and Mt Vernon Talks About Titanium Posts That Mimic Bone Structure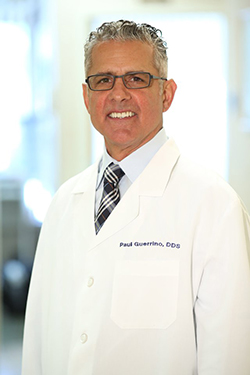 New York, USA, 30th August 2022, ZEXPRWIRE, Dr. Paul Guerrino of Dr. Paul Guerrino DDS in Hartsdale and Mt Vernon, NY is a devoted family dentist. He is committed to keeping up with the latest technological breakthroughs in the world of dental implantology and talks about Titanium Posts that mimic bone structure.
Dr. Paul Guerrino has been involved with the American Dental Association (ADA) for over two decades. He has worked with a number of organizations that specialize in Implantology and researched various affordable and convenient tooth implants and other denture solutions. Being a member of the International Congress of Oral Implantologists and the American College of Oral Implantology, he has contributed significantly to advancement in tooth implant technology. 
During his recent talk, Dr. Paul Guerrino shared his ideas about a wide range of tooth replacement solutions from traditional dentures to flexible partials and implant-supported dentures to meet all kinds of unique needs. 
"When it comes to replacing teeth that are missing due to injury, age, or disease, tooth implants are akin to a modern miracle. Capable of remaining stable and strong for almost a lifetime, the latest Titanium Posts that mimic bone structure are also aesthetically natural-looking and pleasing." ~ Dr. Joseph Guerrino
"While older tooth implants were smooth, the newer versions of these Titanium Posts are roughened to mimic the exact texture of natural bone. This allows the natural bone to fuse more strongly to the implant so that they are more stable, look even more like your natural teeth and have a lower rejection rate." ~ Dr. Paul Guerrino
Dr. Paul Guerrino explained how the highly porous titanium structures are promising candidates for bone implants. It improves implant fixation by bone ingrowth and reduces the risk of stress-shielding to a minimum owing to elastic properties that are well adapted to the human bone. Dr. Paul discussed the significance of this kind of material. He shared that Titanium is very promising for implant applications because of its high strength, very good toughness, perfect flexibility, adequate elastic modulus, and low cost.
About Dr. Paul Guerrino
Dr. Paul Guerrino has been practicing dentistry in the New York area for over 25 years. He attended dental school at New York University and graduated with work in periodontal surgery and dental implants at Boston University.
Naturally, his first office was established in Mount Vernon, NY, on the site of the original family business. From there, he expanded to include locations in Scarsdale and Hartsdale, New York. To complete the circle, Dr. Guerrino's wife, Dr. Afshan Ahmed, D.D.S., is a partner at the Hartsdale office, and Dr. Guerrino's sister, Dr. Lora Guerrino DMD (University of South Carolina '90) is an associate dentist in Mt Vernon office, and his son Dr. Joseph Guerrino has joined the practice to work with his father.
Media Contacts
Dr. Paul Guerrino
drjguerrino@guerrinodentistry.com