Empowering Business Success: Francesco Wetzke and Exceed Your Limits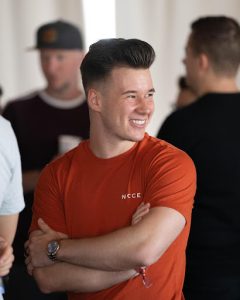 Dubai, UAE, 30th July 2023, ZEX PR WIRE, In the fast-paced and competitive world of marketing, one name is beginning to shine brighter than the rest: Francesco Wetzke. As the founder and CEO of Exceed Your Limits, Francesco has quietly but powerfully reshaped the German market with his underground marketing prowess. Let's delve into the story of this visionary entrepreneur and the remarkable success of his company.
Empowering Companies for Unprecedented Growth
Exceed Your Limits was born out of Francesco's unwavering mission to unlock the full growth potential of businesses. At the young age of 14, Francesco immersed himself in the world of performance and online marketing, driven by a vision for growth and an innate passion for the industry. In 2018, after years of honing his skills and expertise, Exceed Your Limits officially launched its services, marking a significant milestone in their quest to enable remarkable growth for businesses.
A Team Built for Success
As the demand for their services skyrocketed, Exceed Your Limits began attracting dedicated professionals who shared Francesco's vision. Together, they expanded their collective knowledge and expertise, solidifying the company's reputation as a trusted scaling partner agency. With years of experience, a proven track record, and a growing portfolio of successful partnerships, Exceed Your Limits quickly rose to the forefront of the underground marketing movement. Today, they guide businesses across industries to scale beyond their limits.
Values that Define Success
Honesty, reliability, and clarity are the foundational values that shape every aspect of Exceed Your Limits' operations. Honesty fosters transparent and truthful communication with clients, partners, and team members, establishing trust and integrity as the bedrock of their relationships. Reliability ensures consistent delivery of exceptional results, consistently exceeding clients' expectations. Clarity is valued above all else, ensuring precise communication of strategies, processes, and objectives, leaving no room for ambiguity.
Going Beyond Conventional Approaches
Exceed Your Limits' mission is clear: to empower companies to achieve extraordinary growth. They achieve this by providing data-driven marketing strategies and innovative solutions that push beyond conventional approaches. Leveraging their expertise, dedication, and cutting-edge technology, they position their clients as industry leaders, helping them scale to new heights of success. This unwavering commitment to driving exceptional results has made Exceed Your Limits the go-to growth partner for businesses across industries.
A Global Vision for Unprecedented Success
Francesco and his team at Exceed Your Limits have set their sights beyond national borders. They aspire to become the leading growth partner for businesses worldwide. With their strategic expertise, exceptional performance, and unwavering commitment to success, they stand apart from the competition. Leveraging cutting-edge technology and delivering unparalleled value to their clients, they envision a future where businesses thrive and reach unprecedented levels of growth and prosperity.
A Comprehensive Range of Services
Exceed Your Limits offers a comprehensive range of services designed to drive business growth. Their EYL Scaling Framework, built on over seven years of expertise, enables them to deliver exceptional results across various industries. With a remarkable track record of managing diverse projects and a total ad spend exceeding 15 million euros, they have propelled numerous businesses to the next level. Their proven framework has impacted over 150,000 customers, establishing them as an unrivaled force in the marketing landscape.
Success Stories That Speak Volumes
The success stories of Exceed Your Limits are testaments to their ability to deliver outstanding results. Take Solarkonzept for example, where they generated leads at an impressively low cost of just 8.21 euros per lead, resulting in a remarkable 130,000 euros in ad spend. Their captivating creatives, successful marketing campaigns, and performance optimization showcased their ability to drive exceptional outcomes.
Similarly, Francesco and his team helped Küchenkompane achieve an astounding increase in annual revenue by an incredible 258%, attracting over 40,000 new customers. Through their management of various ad platforms and a well-structured scaling plan, they demonstrated their expertise in driving tangible growth.
Beyond Services: Consulting and Training Programs
Exceed Your Limits goes beyond traditional service offerings. They provide growth partner consulting and tailor-made training programs to meet individual and company needs. These programs ensure that businesses not only receive strategic advice but also enhance their teams' expertise, fostering collaboration and empowering organizations to excel in the digital marketplace.
The Rise of Francesco Wetzke
Francesco Wetzke has emerged as a formidable force in the German marketing scene. His unwavering commitment to delivering exceptional results, innovative strategies, and dedication to his clients' success have positioned his marketing business as the go-to partner for brands seeking extraordinary growth. With Exceed Your Limits by their side, businesses can unleash their true potential, shatter barriers, and soar to new heights.
Unlock Your Growth Potential Today
If you're ready to unleash extraordinary growth for your business, look no further than Exceed Your Limits. Visit their website or connect with Francesco to embark on a journey that will take your business to new levels of success. The future of your growth starts here.