FMCPAY Exchange: Redefining Digital Finance with FMC Listings, Visionary Ecosystem, and Promising Growth
Lewes, Delaware, 30th October 2023, ZEX PR WIRE, FMCPAY Exchange, the trailblazing cryptocurrency and electronic stock exchange, stands on the brink of monumental change, set to reshape the world of digital finance. In a thrilling development, FMCPAY Exchange proudly announces the impending FMC token listings on two eminent cryptocurrency exchanges – Coinstore and MEXC Exchange. This momentous occasion will redefine the digital asset landscape.
The highly anticipated FMC token listing on Coinstore and MEXC Exchange is scheduled for October 30, 2023, with the curtains set to rise at 8 AM (UTC-4). This listing event involves a simultaneous listing on both platforms, symbolizing Fimarkcoin's (FMC) progression towards amplified liquidity, accessibility, and visibility within the cryptocurrency market.
FMC Listing on Coinstore and MEXC Exchange Details:
FMC Listing Date: October 30, 2023
FMC Listing Time: 8 AM (UTC-4)
Trading Pairs: FMC/USDT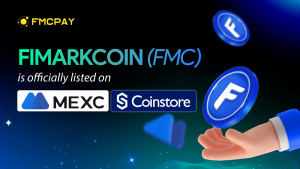 Fimarkcoin FMC listing on MEXC Cointore
This achievement will pave the way for FMC to assert itself as a multifaceted and user-friendly means of payment for a plethora of travel-related services. The partnership of FMCPAY and Fimarkcoin (FMC) surpasses the introduction of products; it represents a transformative vision that's steering the course of digital finance.
Why listing on Coinstore and MEXC Exchange
Coinstore, a centralized cryptocurrency exchange established in 2020 and registered in Singapore, has earned a spot among the Top 15 Cryptocurrency Exchanges by Trust Score on Coingecko and the Top 50 Cryptocurrency Spot Exchanges according to Coinmarketcap.
Meanwhile, MEXC, globally recognized for its integrity, security, and an extensive range of cryptocurrencies, is a top choice, featuring among the Top 10 Crypto Exchanges ranked by Trust Score on Coingecko and the Top 15 Cryptocurrency Spot Exchanges according to Coinmarketcap. Our collaboration with MEXC signifies a new chapter in our mission to deliver accessible and user-friendly payment solutions to the world through Fimarkcoin ($FMC).
FMCPAY Exchange's Vision: FMC Ecosystem, Financial Inclusion, and Robust Security
FMCPAY Exchange is unwavering in its commitment to establishing a comprehensive financial ecosystem centered around Fimarkcoin (FMC) rather than limiting itself to a digital currency provider. This dynamic ecosystem is an amalgamation of diverse services, featuring an intuitive wallet meticulously crafted for the secure storage and effective management of FMC. Moreover, FMCPAY Exchange proudly hosts a decentralized platform, simplifying the seamless exchange of FMC and a myriad of digital assets.
At the core of FMCPAY's visionary mission lies an unshakable dedication to financial inclusion, guaranteeing universal access to cost-effective and efficient financial services. This noble aspiration knows no boundaries and extends its arms to individuals worldwide, regardless of their unique backgrounds or geographical locations. To fortify this commitment, FMCPAY has instituted robust security measures that serve as the linchpin of its operations. These security protocols incorporate state-of-the-art encryption techniques and cutting-edge authentication procedures.
By championing these core principles, FMCPAY Exchange forges a path toward enhanced digital financial accessibility, while maintaining a vigilant eye on the safety and well-being of user funds and data.
FMCPAY's Breakthrough at Future Blockchain Summit 2023 Sparks Promising Journey for $FMC Listings
FMCPAY Exchange recently made waves at the Future Blockchain Summit 2023 in Dubai (FBS 2023), attracting countless leading projects and catching the eye of prestigious exchanges interested in listing $FMC. The signing of a partnership agreement with Coinstore during this event marks the beginning of an exciting journey to list $FMC on a series of prominent exchanges. FMCPAY's presence at FBS 2023 signals a new era of opportunities in the digital finance sector.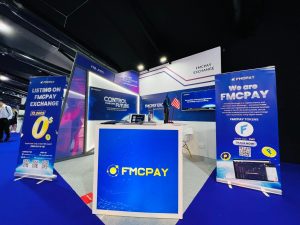 FMCPAY at the Future Blockchain Summit 2023
FMC's Strategic Growth Amid Bitcoin Halving Anticipation
In the ever-fluctuating landscape of the cryptocurrency market, Fimarkcoin (FMC) stands as a symbol of resilience and strategic growth. As the cryptocurrency world eagerly anticipates the Bitcoin Halving event, FMC is positioning itself to capitalize on the unique opportunities this event presents. This is not just a token; it's a strategic force that continues to evolve and adapt, ensuring its prominence, even in the face of challenging market conditions.
The Bitcoin Halving, a pivotal event in the world of cryptocurrencies, occurs approximately every four years. During this event, the rewards that miners receive for validating and adding new blocks to the Bitcoin blockchain are reduced by half. This reduction in supply growth has historically had significant impacts on Bitcoin's price, often driving it to new all-time highs.
As Bitcoin represents the dominant force in the cryptocurrency market, its Halving events ripple across the entire industry, impacting other cryptocurrencies as well. For coins like FMC, the anticipation of Bitcoin Halving represents a unique opportunity to position themselves strategically in a market that is bound to experience substantial shifts.
Unlocking Rewards: Join the FMC Community with KYC Event, Referrals, and Seamless FMC Purchase!
The KYC Event provides new users with a golden opportunity to receive 2,500 FMC upon registration. The Referrals Program offers additional incentives, making it an attractive proposition for individuals eager to join the vibrant FMC community.
FMC/USDT trading pairs are easily accessible on the FMCPAY Exchange and enhance accessibility. On the FMCPAY website, users can explore in-depth information about the FMC listings on Coinstore and MEXC Exchange.
About FMCPAY Exchange
FMCPAY Exchange is a cryptocurrency and electronic stock exchange, owned by FUINRE corporation and registered for a financial business license in the United States. The exchange is dedicated to offering secure and innovative blockchain-enabled solutions that redefine the user experience with digital assets.
Social Links and Contact Information:
For media inquiries, please contact: James Harden – Marketing Manager – Email: [email protected]