How To Book Junk Removal Service In Fayetteville, NC
Fayetteville, NC, 15th August 2022, ZEXPRWIRE, Grunt Life Hauling LLC, a veteran-owned company that offers rubbish removal services mentions how to book junk removal services with them.
Junk is never aesthetically pleasing. They make the surroundings of the property look unkempt and can even be a safety hazard. If a person has junk on their property, it's important to get rid of it as soon as possible. The best way to do this is to hire a professional junk removal service.
Grunt Life Hauling LLC is a junk hauling business that works in the Fayetteville, North Carolina, region. They are professionals at getting rid of all kinds of garbage, including gadgets, appliances, and furniture. They will even haul away any construction debris or yard waste.
"When you hire Grunt Life Hauling LLC, we will come to your property and give you a free estimate. We will then work with you to schedule a time that is convenient for you to have your junk removed. We will show up on time and get the job done quickly and efficiently." – Jabari Cuffie, CEO of Grunt Life Hauling LLC.
Homeowners with junk in their surroundings may be wondering how to book this type of service. Luckily, the process is actually quite simple with Grunt Life Hauling LLC. The first thing to be done is to get in touch with the company. This is usually done by giving them a call or sending them an email. Grunt Life Hauling LLC has a contact form on its website where people in need of their services can easily fill out the form and schedule a consultation with them.
Once a connection has been established with the company, the client can explain what type of services they require and then book the junk removal service. During the junk removal process, Grunt Life Hauling LLC will carefully remove every junk in the residence and will then clean up any remaining debris.
"You can be confident that your rubbish will be removed securely and effectively when you book a Junk Removal Service with us. No matter how big or tiny your undesirable goods are, we will work hard to remove them all. Getting rid of junk can be a difficult process, but we are here to make it as simple and stress-free for you as we can." – Grunt Life Hauling LLC's CEO, Jabari Cuffie.
The search for a reliable junk removal company in Fayetteville, NC, is finally over! Grunt Life Hauling is one of the companies homeowners can trust for all of their junk removal needs. They provide a wide range of services, such as rubbish removal from homes and businesses, estate and foreclosure cleanouts, cleanups at building sites, and much more.Get started today on any junk removal project that is required; No job is too big or too small for their team of professionals.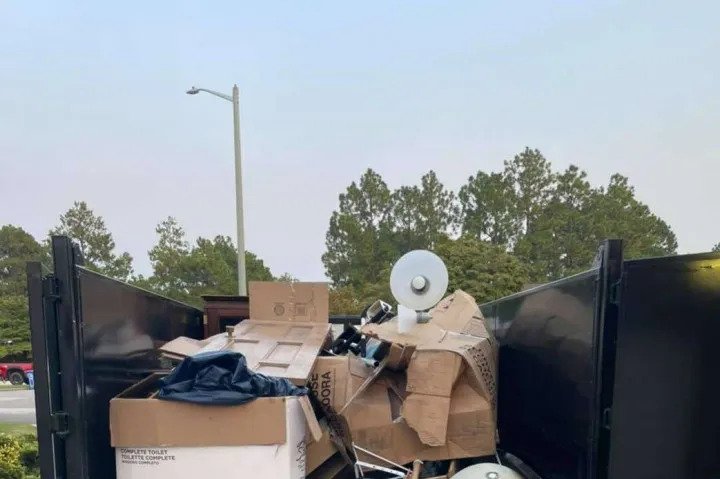 Media Contacts
Name: Grunt Life Hauling LLC
Address: Fayetteville, NC, United States
Phone: 910-420-9458
Email: [email protected]
Company Website: https://gruntlifehaulingllc.com/
Pinterest: https://www.pinterest.com/gruntlifehaulingllc/_saved/
Tiktok: https://www.tiktok.com/@gruntlifehaulingllc
Quora: https://gruntlifehaulingllc.quora.com/
Youtube: https://www.youtube.com/channel/UCNO1kTSFlsS6n7tzcqlEp0w
Twitter: https://twitter.com/GruntLifeHLLC