Impact Arcade Launches Regenerative Game Studio to Help Gamers Make a Difference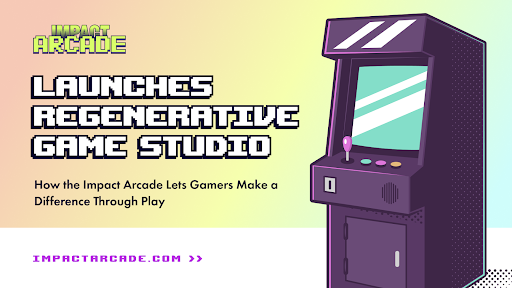 Austin, Texas, 28th March 2023, ZEXPRWIRE, Gaming is humanity's greatest creative synthesis. To make a great game, writing, video, audio, coding, design can all be essential. Within games, humanity is writing its biggest stories, and 3.2 billion gamers create $200 billion of economic output every year – a number that will only grow. 
Why? Because within gaming lies so many individual experiences, tailored to every kind of fantasy, with every kind of appeal. The market is as broad as it is deep, and every year new games – and gaming experiences – will emerge. The gateway to the metaverse, the behemoth-in-waiting, will surely be through gaming. These are the fantastic worlds many of us all home.
Get Off the Couch and Do Something Useful! 
There is a catch, though. While we spend our idylls in our favorite worlds, we are always conscious that time – in a sense – is being wasted. Sure, Lennon might say time wasted having fun isn't wasted, but sentiment doesn't override reality that playing games doesn't necessarily lead to an advancement of our life goals, or the goals of society at large. A lot of gaming is guilty gaming, especially if we're taking an extra long lunch break to sneak in another game of Hearthstone.
Indeed, one of the core tenets of using the blockchain in gaming is to be able to reward players with digital items and tokens that have value and over which the player has ownership. These play-to-earn and play-to-own (P2E and P2O) models erode at least some of the guilt that comes from loving games and spending your free time playing them. By creating economic productiveness from leisure and tangible value from play humanity goes some way to solving the productivity puzzle of the modern workforce.
How Regenerative Finance and Web3 Gaming Come Together
Combining the social-economic primitives of distributed ledgers with the regenerative finance sector, making so that playing games literally removes carbon from the atmosphere, plastic from the ocean, conserves species, and powers up UN sustainable development goals? All while still having real-life, crypto and NFT rewards flow into the hands of the players and the end-user? That's a whole other level of eureka altogether, and that's the mission of the Impact Arcade, who recently launched through publishing their manifesto on Medium, outlining their mission to change the world through play.
What is Impact Arcade?
Impact Arcade is the 'world's first game studio creating games that make a direct and measurable impact in the world', states the manifesto and, by diving into the details, we can see they do just that. The studio is a subsidiary of Dollar Donation Club, one of the leaders in web2 regenerative finance, and has seen strong backing from the Polygon Village, who designated Impact Arcade as one of the ecosystems 'village wonders'. They, as with many other analysts in 2022, see blockchain gaming only going from strength to strength in 2023.
Impact Arcade hosts an array of in-house designed browser games that thematically tackle the perils assaulting the world today. The debut title, Impactman, sees players play as sailors aboard a boat, gobbling plastic from the ocean. The gameplay is similar to, well – I think the title makes that clear. In-game, users can also find hidden 'Impact Eggs' that, when unlocked, trigger micro-donations from brand sponsors.
At the end of every game, users will see the exact number of kilograms of plastic they removed from the ocean. Triggering a happy endorphin rush, and a desire to play again. I mean, why not play one more go – why not clean up more ocean plastic? This is the question Impact Arcade will pose gamers every time they play.
A Large Roster of Games for Different Causes
A whole roster of games are being developed, with frequent launches of new titles that tackle different regenerative missions. Carbon Crush is a match-3 game that plants trees, Kinn is a game where you care for your own pet, but which contributes to protecting endangered species, and River Defender, a tower defence game that pits players against oncoming hordes of ocean plastic. The games will be softly-educational as well as, of course, addictive and fun to play.
All of a player's scores in every one of Impact Arcade games will directly feed into their Impact profile, where they can see just how much of a contribution they've made towards helping we, as a society, tackle the biggest issues facing the world today. Millennials and Generation Z care about two things most of all: playing games and saving the environment. Impact Arcade lets you do both at the same time.
Give Something, Get Something
Players will also earn rewards as they play. High scores will yield tickets, and these tickets can be exchanged for prizes, the same way you could in the arcades of youth. Prizes will include high-end NFTs, safari getaways, and thousands of other community-driven adventures that will grow an entire social ecosystem around the regenerative finance space.
Web3's power lies in its community, and everyone who walks through the doors of the Impact Arcade can join it. Competing to be the best but always doing the best thing for the world we live in today.
As members of that community advance, they will be able to profit from the economic success of the games, in exchange for the capital and time they spent playing the games. Impact Arcade is careful to suggest that it is not P2E, but rather P2O. Giving its long-term members and stake in the regenerative mission that Impact Arcade is on. Players level up through how many trees planted, plastic bottles removed, and animals saved. These projects are vetted, administered and handled by seasoned veterans in the charity space who make sure dollars get to where they should.
Make an Impact in Regenerative Finance with Impact Arcade
Yet despite that laser focused charity mission, Impact Arcade will make sure that those who join its mission and play its games end up with tangible reward, even if it feels like only a bonus on top of the sustainability goals being achieved.
Eyes will be on Impact Arcade's launch, and the success of their debut game. Read the manifesto for yourself and head over to the Impact Arcade Discord to be part of a regenerative evolution in blockchain gaming.