Ironblocks Partners with AvengerDAO to Bolster Security for Web3 and DeFi Projects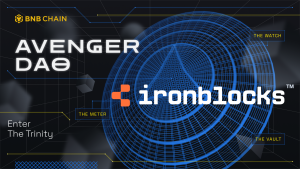 Tel Aviv, Israel, 13th September 2023, ZEX PR WIRE, Ironblocks, the avant-garde blockchain-native cybersecurity powerhouse, is thrilled to announce its partnership with AvengerDAO, a community-centric initiative supported by BNB Chain. AvengerDAO is renowned for its mission to shield users from potential vulnerabilities, scams, and malicious actors within the burgeoning DeFi landscape.
This collaboration is envisioned to magnify the protective layers for the myriad of projects taking root under the aegis of AvengerDAO. Ironblocks' state-of-the-art security solutions will integrate seamlessly with AvengerDAO's holistic security framework as a cornerstone of this alliance.
AvengerDAO's decision to onboard Ironblocks as its security collaborator stems from Ironblocks' unparalleled holistic security approach. Crafted meticulously by a legion of veteran blockchain and cybersecurity professionals, Ironblocks' pathbreaking technology champions real-time defense for smart contracts against malevolent incursions and vulnerabilities. With a peerless security suite in scope and sophistication, Ironblocks is primed to bolster AvengerDAO's diverse portfolio of innovative Web3 and DeFi endeavors.
This new partnership resonates with the meteoric ascent and credibility Ironblocks has achieved in the intricate domain of blockchain security. AvengerDAO's choice to integrate Ironblocks' capabilities amplifies its dedication to user and project safety and evinces its faith in Ironblocks' unparalleled expertise and groundbreaking innovations.
Or Dadosh, the visionary CEO of Ironblocks, expressed his enthusiasm: "Joining hands with AvengerDAO is both an honor and a testament to our cutting-edge solutions and our dedicated team's prowess. We are poised to redefine security paradigms in the Web3 and DeFi arenas through this synergy, making the digital frontier safer for all."
Csaba Szabo, the spearhead of AvengerDAO, remarked on the alliance, "Partnering with Ironblocks elevates our protective measures to unprecedented levels. Their extensive security arsenal and unwavering commitment to excellence ensure our ecosystem remains fortified against threats. It's an exciting chapter as we, alongside Ironblocks, pioneer trust and innovation within the Web3 and DeFi spaces."
With the merger of visions and expertise from Ironblocks and AvengerDAO, the DeFi community is set to experience a new era of reinforced security, fostering trust and setting new benchmarks in blockchain safety.
About Ironblocks:
Ironblocks, co-founded by visionaries Or Dadosh and Assaf Eli, is a leading blockchain-native cybersecurity firm with a paramount focus on real-time protection for smart contracts. Harnessing the power of artificial intelligence and built by a seasoned team of blockchain and cybersecurity experts, Ironblocks delivers unparalleled, real-time defense against malicious attacks and exploits. This unmatched commitment to real-time safeguarding, combined with an exclusive suite of security features, positions Ironblocks well beyond the reach of conventional on-chain cybersecurity web3 solutions. Dedicated to protecting and advancing the ever-evolving blockchain landscape, Ironblocks emerges as the definitive choice for those prioritizing security in the Web3 and DeFi realms.
About AvengerDAO:
AvengerDAO is a community-driven initiative that protects users from possible exploits, scams, and malicious actors on the BNB Chain. The founding members of AvengerDAO started this because BNB Chain is the largest public chain today, and the larger the community, the greater the responsibility. Our goal is to protect users from financial losses and malicious contracts. Deter malicious actors and notify BNB Chain's users. We aim to enhance further adoption by setting an industry standard for safe practices and raising awareness of safety and security in the ecosystem.
Media contact:
Tomer Warschauer Nuni
Strategic Marketing Advisor, Ironblocks