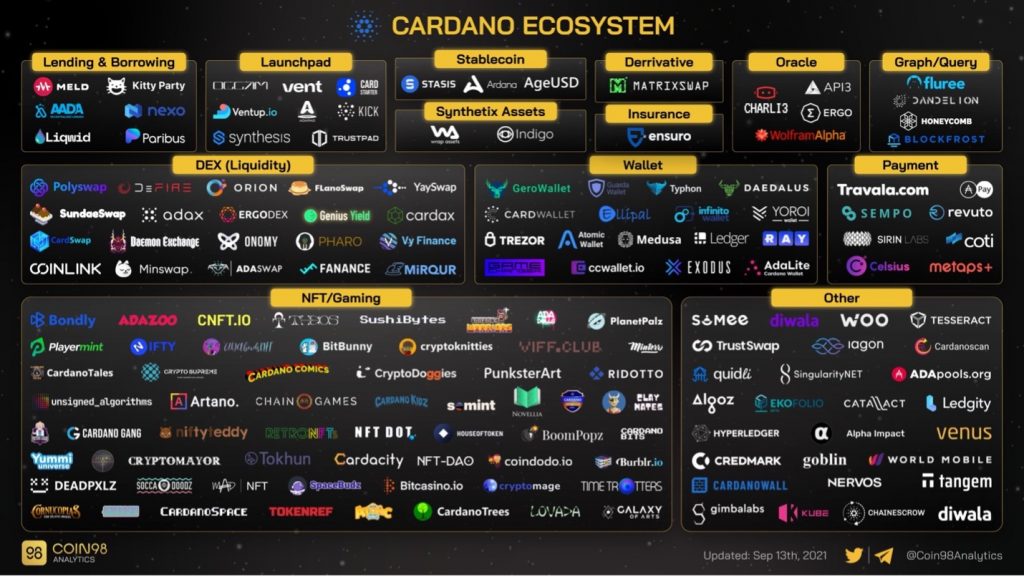 Tel Aviv, Israel, 20 Sep 2021, ZEXPRWIRE, Cardano is the 2nd biggest smart contracts network after Ethereum that is projected by many to become the biggest network due to its scalability and green impact on the environment.
AdaSwap is one of the first market movers; it is unique as it's very community-oriented, with plans to create tools for developers and creators that want to join their platform. The team is fully transparent about who they are, their goals, and their capabilities on their telegram group– the most amazing part is that the team leaders themselves answer most of the community's questions.
AdaSwap is in the top 3 most looked at projects on Building On Cardano, a community-oriented deck that keeps track of different projects launching on the ecosystem with over 62 high-quality projects listed. AdaSwap is also in Coin98 Analytics's list of the top 20 decentralized exchanges.
The smart contracts of Cardano have been the most anticipated feature in the past three years since its founder Charles Hoskinson announced that IOHK was working on it. With smart contracts rolling out on Cardano on the 12th of September, the first market movers building on Cardano's smart contracts are the ones that will get a step ahead of the competition.
AdaSwap Advantages
AdaSwap offers several benefits to its users that other exchanges lack. Some of them are highlighted below:
AdaSwap charges below standard market rates for every transaction made on the platform; holders of the AdaSwap token will also receive utilities from the token such as rebated transaction fees, high APYs from projects launching on the ecosystem, NFT airdrops, and most important of all– 0% fees on swaps (not done before on any DEX).
AdaSwap is community-oriented and will use community polls for future trading initiatives.
AdaSwap is overseen by well-known members of the crypto community, such as Lennon Qualman, Itay Levy, and Aaron Tait, who are known for their contributions to this industry; this is not an anonymous team offering safety to the community. They aim to have the smart contracts audited to assure security. They will only be using their valuable time and expertise to ensure that the platform provides top-notch services to its users.
AdaSwap has been in negotiations with several top crypto exchanges to allow for broad market participation. This will make AdaSwap tokens much more valuable in the near future because it gives investors an option to enter or exit whenever they want without the need to swap, bridge, or wrap AdaSwap tokens by listing them on a centralized exchange.
Stake & Forget is a feature that has not been seen before on any DEX. You'll be able to stake AdaSwap tokens on the platform just once and continue to accrue staking rewards from different projects that launch on AdaSwap's launchpad and DEX.

That will make users incentivized to buy and hold AdaSwap tokens in order to earn many different Cardano tokens as well as tokens accrued from the fees earned by the swaps.
On the other side, the projects that will launch on AdaSwap will get more exposure to new
If you are an ASW coin holder and simply want to swap ASW coins and tokens, then there's no better place than AdaSwap to buy and sell Cardano-based coins and tokens. If you use Cardano right now for your transactions instead of Ethereum, the transaction fees will be much lower.
Additionally, AdaSwap has all the traits of a great cryptocurrency platform: it's decentralized, secure, faster, and offers several benefits that other exchanges lack.
The best part is that it's operated by well-known members of the crypto community who show transparency and good business practice. If you are interested in buying AdaSwap tokens, make sure to keep an eye out for its 1st listing and official launch.
Why You Need To Get On-Board With This Crypto-Swap Project Now?
AdaSwap is the next-generation cryptocurrency platform that you simply need to know about because it will make Cardano's ecosystem easier to use with its creator and community tools. The best part of this project is that it's overseen by well-known members of the crypto community, who are known for their contributions to this industry.
The Next-Gen DEX Based On Cardano Is The Way To Go
AdaSwap is one of those cryptocurrency projects that you simply don't want to miss. It's promising, supported by experts, and here to make Cardano more valuable in the near future. If you are not yet an ASW token holder, make sure to go to the official website to learn more about this project.
You can also find out more by becoming a part of their community network on Telegram and Twitter.
Media Contact –
Adaswap
Itay levy
[email protected]