IVG Capital Introduces The Dedicated Analyst Desk And Customer Support Office in London
London, UK, 7th July 2023, ZEX PR WIRE, IVG Capital is pleased to announce the opening of a customer support office in London. IVG Capital is the trading name for IVG Partners Group Ltd, with authorization under IBC No. 2023-00063. IVG Capital offers traders a plethora of financial instruments in CFDs, such as commodities, forex, pure metal, oil, and indices.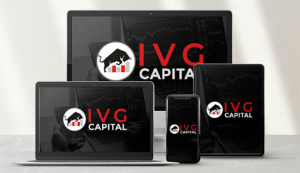 IVG Capital is devoted to traders' education, the reason behind introducing one of its subsidiaries, the Analyst Desk, support office to provide traders the needed information to enable them succeed in the forex ecosystem. IVG Analyst Desk aims to be the go-to portal for trading education, with a team of analysts that regularly creates courses, indicators, livestreams, and Q&A to enable users gain confidence in their trading adventure.
Having made inroads into the Asian markets recently, IVG Capital is now setting its sight on Europe, with a desire to becoming one of the biggest players in the European forex and crypto market.
The Analyst Desk platform offers modern crypto and forex education tools that traders can leverage to take their trade to the next level. User education enables traders understand the reasons behind price movements. With proper understanding of price moves, traders are able to predict them accurately. Armed with this information, users are able to catch big price moves instead of being caught by them.
Analyst Desk enables traders navigate drawdowns, thereby improving their results progressively. Besides that, using IVG Analyst Desk helps traders to understand which assets to trade, removing confusion and zeroing in on the same assets as everyone else.
Analyst Desk also assists traders in mastering economic data by offering them an economic calendar comprising a weekly source of high-quality trades. Moreover, Analyst Desk combines analysis types by helping traders integrate the fundamentals with their preferred technical strategy. This minimises risk exposure.
IVG equally offers personalised feedback. Traders have the opportunity of asking questions and receiving answers via chat, email, livestream and video. This makes the art of trading simpler for both professionals and newbie traders.
IVG Analyst Desk has distinguished itself in the forex and cryptocurrency trading arena by providing an educational portal packed with amazing features. IVG video player is accessible within the Analyst-Desk software and loaded onto a customizable dashboard. Up to 10-20 videos are published daily.
Its economic calendar allows traders to follow live as their team of forex experts walks them through every market moving event. The interest rate tracker enables traders to predict hike/cut occurring in the market with precision, while the macro-fundamental masterclass offers up to 93 videos to help users become a polished trader.
The risk events trading strategy comes with 26 videos loaded with information covering economic data points and central bank events. The team creates video replies to traders' questions on a regular basis thereby clearing every grey area where traders need clarification.
Conclusively, IVG Analyst Desk is a platform designed to enable traders understand the art of fundamental and sentiment analysis with science of technical and risk management. It explains why the market moves, not how it is moving.
Their indicators are designed using advanced technology to help traders track the macro fundamental expectations of the market in real-time. IVG Analyst Desk offers one of the most in-depth trader's educations to help both professionals and novice traders in mastering the art of trading. Traders who are looking to trade instruments with great profit potential can easily leverage the user-friendly education materials offered by Analyst Desk to advance their trading experience.
For additional information and business inquiries, please contact: https://ivgcapital.com/