Lado Okhotnikov and Meta Force Are Releasing a New Program. Tactile Is Ready to Unlock Cashback for Metaverse Users
Dubai, UAE, 20th October 2023, ZEX PR WIRE, After successful completion of the test period, the Tactile program provides access to key improvements moving the functionality of Lado Okhotnikov's Meta Force Metaverse to a new level.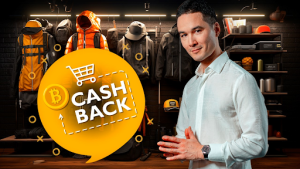 One of the key aspects of the update is the integration of two important drivers: the Tactile Goods and Loyalty programs. This will allow Tactile users to access new features and enhanced capabilities. From now on, cryptocurrency management is more flexible and secure thanks to a complete transition to the Core infrastructure.
However, the key feature of the update is precisely the transition to the actual goods turnover and not the simple ownership of goods. All operations and transactions in the system will be supported by the goods, which creates a reliable basis for users' financial transactions.
Cashback smart contracts will be introduced soon, which will provide a unique opportunity to receive even more rewards.
Tactile program by Lado Okhotnikov's Meta Force 
After launching of the new line each Meta Force participant will be able to purchase goods in the form of NFTs.
When you buy a product in the Meta Force ecosystem as an NFT, you have a choice: to use this item in the Metaverse virtual world  or to receive passive income from ownership.
Note that if you do not use your NFT as a product, it can generate profit until you decide to use the purchased item for its intended purpose. In addition, any purchase will bring you a cashback
We talk about this and more on our official YouTube channel and on the social networks Telegram, X, and Facebook.
Company Details
CEO Name: Vladimir Okhotnikov
Email: [email protected]
Company: Meta Force 
Country/city: UAE/Dubai
Website: https://meta-force.space/