Lottoday Leverages Ultron's Superior Blockchain for Unmatched Gaming Experience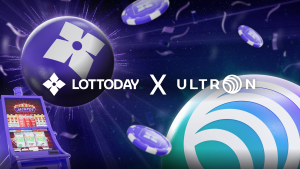 Powerhouse Blockchain Platform Ultron Foundation Teams Up with the Biggest Web3 Gaming Platform, Lottoday, in an Alliance Set to Revolutionize the Gaming World.
Dubai, UAE, 22nd June 2023, ZEX PR WIRE, The future of decentralized gaming looks brighter as Ultron Foundation and Lottoday announce their partnership. This collaboration brings the power of Ultron's Layer-1 blockchain system and Lottoday's biggest Web3 gaming platform to the public. It is an exciting era of possibilities destined to leave an indelible impact on the gaming industry's decentralized landscape.
Ultron: The Perfect Blockchain for Gaming
Blockchain technology ensures that all transactions are secure and transparent and can't be changed or faked. With the rapid growth of the online gaming industry, blockchain technology is the best solution to safeguard every transaction on a platform.
Ultron's robust blockchain ecosystem, characterized by low transaction costs, fast transaction speed, and top-notch security, has been making rounds since its inception in 2022 as the fastest-growing Layer-1 project recognized by major players in the industry. In addition, its ability to support decentralized applications (dApps), Ethereum Virtual Machine (EVM) compatibility, and the recently launched protocol standard ULC-20, offer unparalleled utility for developers, facilitating the creation of a thriving gaming platform like Lottoday.
The sophisticated blockchain of Ultron is capable of hosting an infinite number of independent systems interacting seamlessly with each other. This makes Ultron Foundation one of the perfect blockchain solutions for Lottoday's diverse gaming suite along with Binance Smart Chain, Polygon, Ethereum, and Tron.
Benefiting the Gaming Community and ULX Holders
This collaboration is set to bring immense benefits to supporters. The introduction of Lottoday's Gaming Hub NFT as a tool to partake in the revenue share from the global ticket sales on the platform is a first in online gaming. 
Aside from that, Lottoday is poised to launch an impressive array of games, including the ULX 6/45 Lucky Draw, where bettors are rewarded in ULX coins. Moreover, 5% of all Lottoday revenue will be used to buy back and burn ULX coins, creating a deflationary effect that will undoubtedly benefit the coin holders.
The Ultron blockchain technology empowers Lottoday to overcome geographical limitations without compromising the users' privacy and bridge accessibility gaps in the gaming industry. With this, Lottoday will realize its ambition to bring online gaming from its user-friendly website to your smartphones, attracting over 3.6B active App Store and Google Play users worldwide.
Ultron's technology will make Lottoday the truly global gaming platform for the future while significantly enhancing the ULX utility. 
Exciting Times Ahead
With the support of Alphabit early this year, the listing of ULX on trusted centralized exchanges, Bitmart, ProBit, and MEXC Global, and the impending release of Ultron's ULC-20 protocol standard, is anticipated to accelerate Ultron's growth as a major global player in the blockchain industry. For Lottoday, this partnership provides the perfect blockchain platform for its ambitious goals, setting the stage for a new era in the decentralized gaming world. 
The future of online gaming has arrived. Stay tuned for more developments as Ultron and Lottoday embark on this exciting journey together, reshaping the world of decentralized gaming, one block at a time.
About Ultron Foundation
The Ultron Foundation is the fastest-growing layer-1 in the world with a cutting-edge DeFi suite featuring the ULX coin. 
Learn more about Ultron Foundation
About Lottoday
Lottoday is the world's biggest decentralized Web3 gaming platform, built on leading blockchains, including Binance Smart Chain, Ethereum, Polygon, Tron and Ultron. Lottoday's mission is to redefine the online gaming industry, creating an equitable and inclusive gaming environment for enthusiasts worldwide.
Join the Lottoday community!