The limited-time Piracy Punk NFT Collection sets sail on August 16 2021! Don't miss out on getting your very own pirate

London, UK, 17 Aug 2021, ZEXPRWIRE, Powered by the Ethereum blockchain and with a total of 10,000 tokens ready to be minted, the Piracy Punks NFT collection is set to go live on Opensea on August 16, 2021. During phase I of the project, the first 250 crew members, the 'Landing Party,' sets sail with a presale offer of only 0.02 ETH. It's a first-come, first-served offer for all! Full-mint begins with Phase II of the project going live two weeks later, with 9,750 further NFTs being minted (500 of which are in reserve for prizes). Last but not least, each NFT in the Landing Party presale has a uniquely identifiable character name and backstory, which means the buyer gets to sell their own Piracy Punks chronicle whenever and wherever they like!
With the non-fungible tokens (NFTs) sailing on the high tide of the crypto market, digital pirates have taken to the waters too. The concept of Digital piracy is rapidly changing from the copyright infringement claims and paywalls of last year to the uncharted waters of Web3. Blockchain changes everything. But what's that in the distance, cresting over the NFT horizon? The Piracy Punks! The Piracy punks are a parody of the concept of digital piracy. They highlight the vigorous battle between Web2 and Web3 in a humorous and parodic light.
The NFT space is booming right now, and the concept of property rights in art is spurring debate. The question isn't how worthwhile NFTs are or can be, but if Webs3 protocols can address the creative challenges of digital piracy. The Piracy Punks project is ramping up that debate. Culturally significant icons leave a resounding effect which then applies to new forms of art. Piracy Punks is thus a statement about 'fair use' and authenticity over these art forms.
With the continuous rapid evolution of the NFT space in just a short amount of time, digital piracy has become highly relevant right now. The use of smart contracts, Web3 protocols, and IP transfer has created a complex new world of IP management, transfer, and ownership, which has increased the relevance of digital piracy. The Piracy Punks intend to meet this over-the-top demand.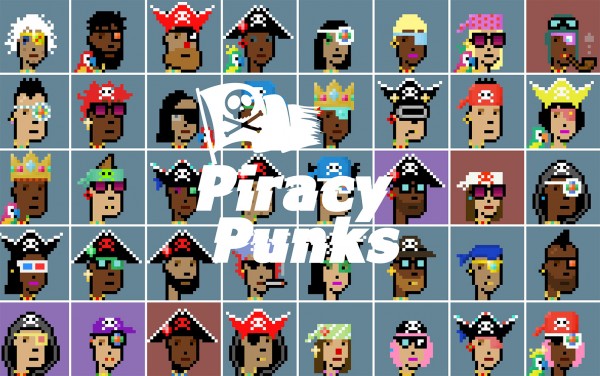 The Piracy Punks presale launches on August 16, 2021, as an innovative response to the digital piracy debate around NFTs. It chooses to draw an interactive story between pirates and the concept of authenticity in the new blockchain-based art culture. The Piracy Punks is all about crypto with inspiration from the over-zealous pirates of the old! Don't miss the presale – get your Piracy Punk before it's too late!
Media Contact

Company Name :- Piracy Punks
Email Id :- [email protected]
Company Website :- https://www.piracypunks.com