Millionero Secures 'Fastest Growing Exchange 2023' Award at 6th Synopsis Crypto Event
Dubai, UAE, 9th November 2023, ZEX PR WIRE, Millionero, a rising star in the crypto exchange industry, has proudly clinched the prestigious 'Fastest Growing Exchange 2023′ award at the esteemed Synopsis crypto event. This remarkable achievement underlines Millionero's commitment to innovation, underscored by the recent launch of its cutting-edge mobile trading application designed to enhance users' experience further.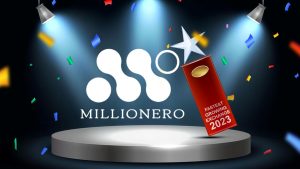 Millionero has swiftly emerged as a standout in digital asset trading by offering a streamlined platform that delivers comprehensive services while prioritizing user engagement and market adaptability. Furthermore, Millionero's accelerated growth can be attributed to its unwavering focus on its users, fostering an environment catering to novice and experienced traders alike.
It is worth noting that Synopsis represents a major international summit that serves as a converging point for the crypto sector, exploring diverse subjects such as blockchain, Web3, the metaverse, GameFi, NFTs, and various other cryptography-centric themes.
It caters to a broad audience, from seasoned industry professionals to newcomers just beginning to navigate the world of crypto and blockchain technology. The sixth edition, which took place between November 2 and 3, saw Millionero clinching the title of "Fastest Growing Exchange 2023."
Notably, Millionero emerged triumphant with this award after consideration of various factors, including market expansion, technology innovation, and influential status within the crypto industry. The Fastest Growing Exchange award has consented to Millionero's excellence in the market across these fronts.
Therefore, Millionero's strategic innovations have solidified its position as a market leader, setting new standards for operational excellence. It is worth mentioning that the introduction of Millionero's mobile trading app aligns seamlessly with current consumer trends. It offers a robust and intuitive trading solution for the growing mobile-centric user base.
Ultimately, this award carries broader implications, bolstering user confidence and potentially attracting new investments for Millionero. In the coming weeks, Millionero plans to introduce a range of new features, including advanced trading tools and a diverse array of assets, reinforcing its position in the market. Millionero remains dedicated to sustaining its growth through continuous innovation and market-responsive strategies.