Learn more about 9 non-profit organizations making progress towards gun-control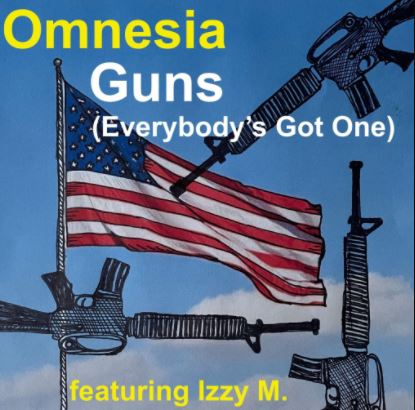 Oakland, CA, 13 Oct 2021, ZEXPRWIRE, Oakland band Omnesia has collaborated with Izzy M on a gun control music video "Guns (Everybody's Got One)". Written during the last year of the Trump Administration by Omnesia producer/guitarist and his teenaged daughter Izzy M, the video features southern rock, school shootings and the larger issue of responsible gun control. The video's point of view is of a teenager who doesn't feel safe going to school anymore. 
Omnesia was fortunate to be able to crowd-source the video collaboration with family, friends, parents and folks from all over that shared a commitment to this cause. 
Izzy M co-wrote the lyrics and sings lead, while Omnesia's  guitarist and producer M2 was thrilled to sing harmony and work on this project with his daughter. "It was a real gift to be able to connect with Izzy creatively over an issue that's incredibly important to us both, an issue that affects the security and health of an entire country." The two of them also assembled important statistics about school shootings and national gun violence and wove those into the video's narrative.
Izzy M attended Oakland School of the Arts starting in the 6th grade and enjoys singing, musical theater, acting, directing and working with Oakland Animal Services to foster many kittens.
"It was so affirming to see how many people wanted to be a part of the video and help carry the message forward," said Izzy M. "And I don't understand how it can be so much easier to buy a gun in America than to adopt an animal. 
"I couldn't agree more," said M2. "It's absolutely ridiculous that in this country it is harder to register a drivable car, take Sudafed, buy fireworks, get birth control pills, buy a cell phone contract and adopt a kitten than the seven minutes it takes to buy a weapon at a gun show. The lack of respect this country, and in particular, our politicians and government have for responsible gun ownership certainly baffles the rest of the world. It's time to look at American gun violence and responsible gun ownership in the same way that we look at epidemics and risk mitigation."
The video includes a call to action to learn more about nine non-profit organizations making progress towards gun control. The organizations can be found at : 
https://blog.greatnonprofits.org/9-organizations-making-progress-towards-gun-control/
About  "Guns (Everybody's Got One)"
Single: Guns (Everybody's Got One)
Listen on: https://omnesiamusic.com/music and https://youtu.be/RCyVGjCw8xI
Video dropping on Oct 15, 2021
Written by Izzy M and M2
Performed by Omnesia
Vocals: Izzy M and M2
Bass: Tom Hofer
Drums, guitar, and all production: M2
Video produced and created by: Anthony Parker (TikTok) 
Music recorded, mixed and mastered by M2 @ M2 Musik Pub, Oakland, CA
Video actors include:
Lead actress: Kathyinframe
Primary dancers: Elixirdots dance company from Nigeria 
Dancers: Chai, derlymodel, Yei Gomez
Actors: Omnesia's Medella Kingston, Ege Sağun, Rahul Lakhina, Bello Abdulhamid Ademola,  M2, Tom Hofer, Joshua Brown, Viral Video, Brian Yosef Schachter-Brooks, and several anonymous
Animation: Maria Choudhry
Media Information
Contact Person: Matthias Miller
Company Name: Omnesia
Phone: 510 435-6267
Email: [email protected]
Website : https://omnesiamusic.com
Country : USA
Oakland, CA