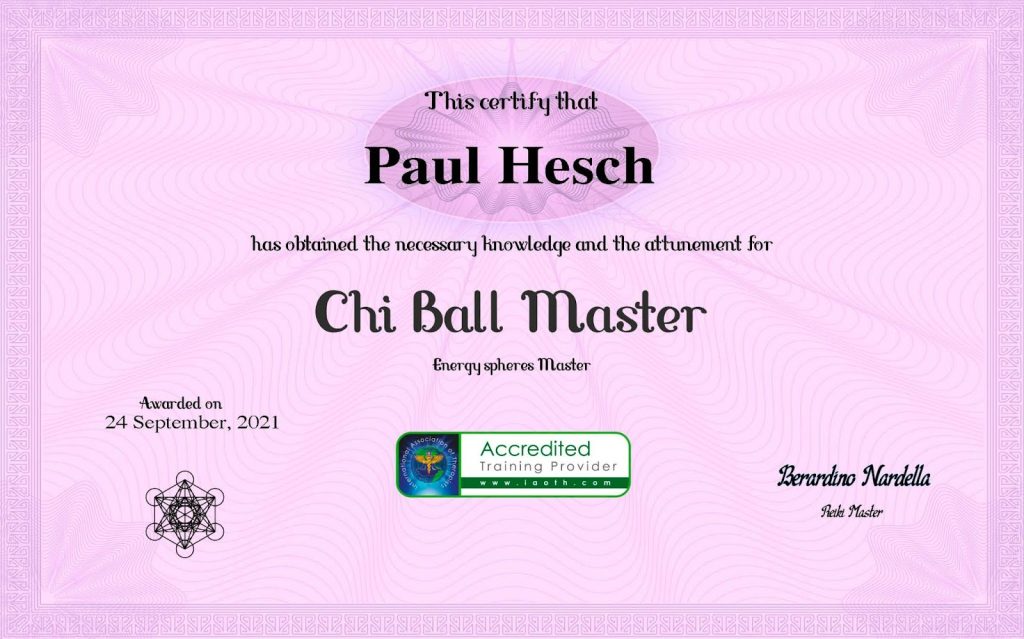 Port Orchard, WA, 25th Nov 2021, ZEXPRWIRE, Paul Hesch has obtained the necessary knowledge and the attainment for Chi Ball Master Reiki on September 24, 2021
In this course Paul learned how to create energy spheres that you can use for many purposes, including integrating this discipline if you already use energy practices such as Reiki.
But not only that, he also learned to use these spheres for himself , for others, to realize his goals, to change reality and much, much more.
Paul also learned how to use energy spheres to attune your students.
This is because the chi ball is the most used method to give attunements remotely.
This is a key course for anyone who wants to undertake a holistic profession.
The course is accredited by IAOTH (International Association of Therapists) that will ensure the international recognition of the certification.
Paul received a special attunement, learned the theory, and learned how to attune his future students to this particular and powerful practice.
Paul is ready to enter the mysterious, magical, and incredible world of energy that surrounds us?
Media Contacts
Paul Hesch
Red Rooster Pants, inc
Port Orchard, WA
(253) 254-2542