The company plans to use the funds to expand its market base, grow its team, and enhance its technology to further develop a personalized portal for crypto trading strategies
Singapore, 6th June 2022, ZEXPRWIRE, PlayV – a leading marketplace of crypto trading strategies for crypto investors and traders – on Tuesday announced to have raised a Series A funding. The funding was from SoftBank Ventures, Company K Partners, and KB Investment, a subsidiary of KB Financial Group, Korea's premier financial group with the largest domestic customer base.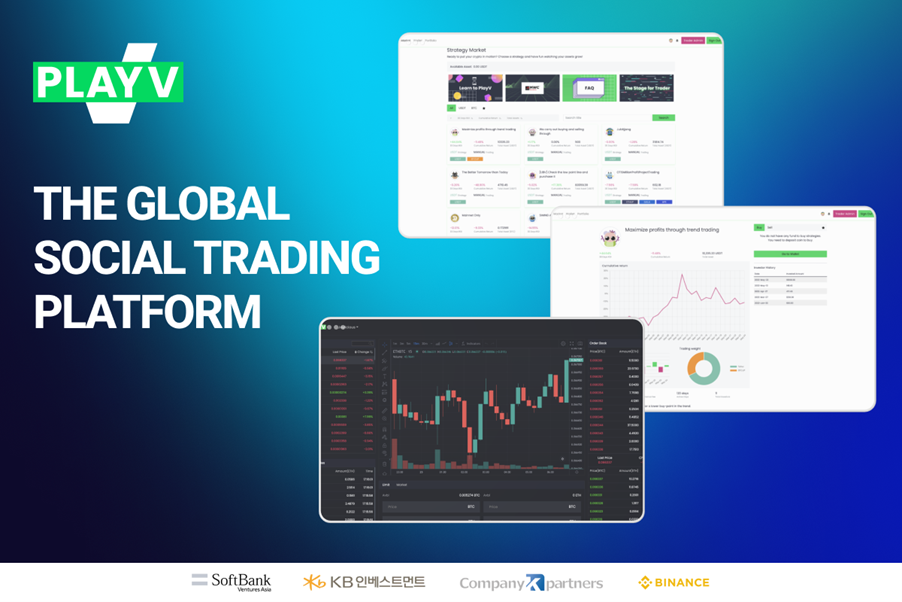 PlayV combines the intelligence of top-performing traders with handpicked crypto trading strategies to create a personalized portal for traders and investors. With this new funding, the company is expected to boost its offerings and make crypto trading easy and borderless for everyone. Reacting to this, Steve Hong, CEO of PlayV, said, "We have built a personalized cryptocurrency asset management platform where traders can find investors who want to profit from experts' trading strategies to manage their assets and increase their returns. This investment will allow us to take PlayV to the next level and start pushing beyond the boundaries, clearing the way for the next generation of social and copy crypto traders. Given the volatile nature of cryptocurrency, social trading has assumed an important role. It's now time to help investors make their money work for them. PlayV will play a vital part in this."
The world of crypto trading is changing. About 70% of the global crypto trading is managed by bots or automated tools, leaving the new investors with few strategies to compete. Manual trading is difficult and time-consuming in the crypto space in an industry that never sleeps. This means crypto trading is only accessible by a fraction of the global market traders, leaving an enormous untapped market of new traders and first-time investors. PlayV believes that the promise of crypto is not reserved for the few and has developed a platform that empowers users to manage their digital assets with the help of successful traders, thereby enabling them to participate in crypto investing even as an inexperienced crypto investor.
The current funding by decorated investors signifies the growth of PlayV over the year. It attests to their commitment to enabling retail investors not just to follow expert traders but also to be part of their trading strategies and earn huge returns. "PlayV provides a user-friendly platform for experienced and inexperienced investors, which is one of the reasons we are proud to lead this investment," said SoftBank Ventures. "We are pleased to support PlayV as they continue to grow and expand their offerings in crypto trading markets."
Teams at KB Investment and Company K Partners also believe that investing in PlayV is perfectly timed, considering the influx of new business models in the digital asset economy. Due to an aggressive push for a simplified crypto investment platform, investing in PlaV will make the company more robust, resilient and help them onboard millions of traders and investors into crypto investing.
The platform is also working on launching PlayV App, a powerful crypto investing platform that is tailor-made for Android and iOS devices. It will allow users to invest or trade wherever they are and whenever they want. The interface will be convenient and easy to use for experienced and beginner users.
To accelerate this expansion, PlayV also announced they are actively recruiting experienced traders, influencer traders, and operations traders with an entrepreneurial and innovative spirit to manage crypto assets portfolio and interact with investors to improve trading operations and systems.
About the Company – PlayV
Manage your digital assets with professional traders. PlayV is a crypto trading strategy marketplace where you can manage your digital assets with top-performing traders. We are on a mission to make crypto easy and accessible for everyone.
Official Discord: https://discord.com/invite/Q3Z5Ys8Jdp
Official Twitter: https://twitter.com/PlayV_Global