Protecting the environment with Blockchain – How EFK and Swipelux are making Web3 green
Tallinn, Estonia, March 14, 2023, ZEXPRWIRE, Our planet is in crisis. The environment has been damaged beyond recognition, with deforestation, pollution, and climate change threatening the very future of our planet. The consequences of our actions are devastating – species are going extinct at an alarming rate, natural disasters are becoming more frequent and more intense, and the air we breathe and the water we drink are contaminated. It's easy to feel helpless in the face of such overwhelming problems, but we can't afford to give up. That's why EFK platform and Swipelux are teaming up to provide a new and innovative solution to environmental protection. With blockchain technology and seamless payment solutions, we can work together to make a real difference in the fight for our planet's future.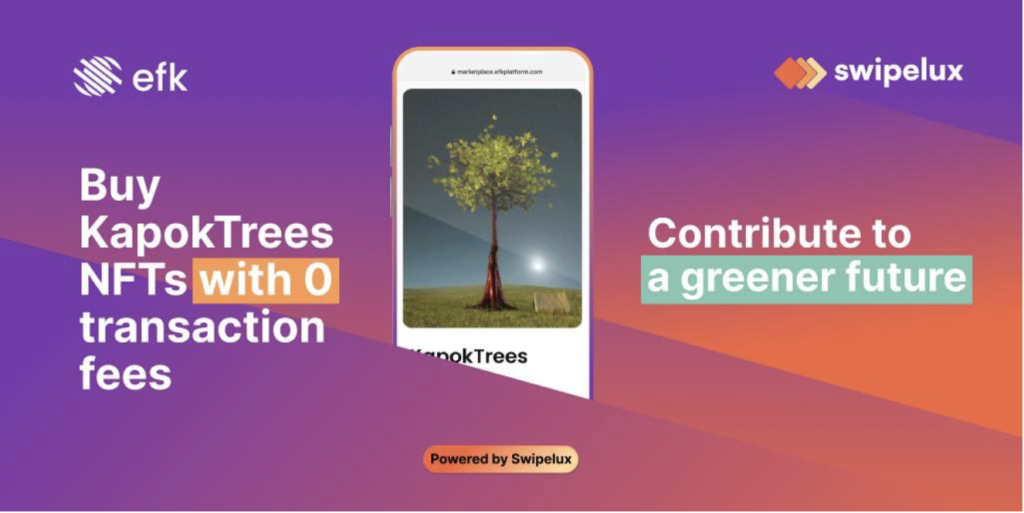 EFK is a platform that utilises blockchain technology to tackle ecological issues on a global scale. By providing complete transparency through blockchain, EFK platform is dedicated to providing a new and innovative solution to environmental protection. With their unique approach, EFK platform connects the development of green assets with environmental protection using EFK tokens and NFTs.
Swipelux is a payment infrastructure company that specialises in providing seamless payment solutions for businesses in the Web3 industry.
Swipelux has partnered with the EFK platform to provide a fast and secure payment solution for purchasing EFK platform NFTs. This partnership enables users to buy EFK KapokTrees NFTs for as low as $10 with 0 transaction fees for the next two weeks. Swipelux's payment solutions support a variety of payment methods, including Visa/MasterCard.
EFK aims to connect environmental protection with the development of green assets (NFTs) owned by users, and the partnership with Swipelux helps to make the EFK ecosystem more accessible to users. With the zero transaction fees for EFK KapokTrees NFTs purchases, Swipelux is helping users take advantage of EFK's innovative features.
But that's not all – EFK platform and Swipelux are also announcing a giveaway worth $1300 starting today March 13th. The giveaway will be divided in two weeks. Users can win each week a total of 2 rare NFTs worth $100 each, and 225 USDC each winner. By purchasing EFK KapokTrees NFTs and participating in the giveaway, people are not only investing in a greener future but also getting the chance to win big. Let's work together to protect our planet and make a positive impact on the world.

To participate follow the next steps:
Follow EFK platform & Swipelux on Twitter
Retweet
Comment your favourite tree out of our KapokTrees NFT collection.
The Giveaway will end in 48 hours. Closing 15th March – 6PM CET
Official Swipelux Links:
Website: http://swipelux.com
Twitter: https://twitter.com/swipelux
Official EFK platform Links:
Website: https://efkplatform.com/en/
Twitter: https://twitter.com/efk_platform
To be eligible: https://bit.ly/eligibility-giveaway