Robco of America Saved the Day for a South Carolina Company With Its 50mm Latty Rotary Union Overhaul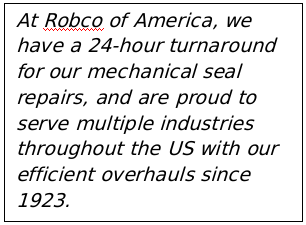 New Caney, TX, 22nd December 2022, ZEXPRWIRE, The mechanical seal specialists installed new bearings and replaced mechanical seal units before sending them back to the beverage plant in South Carolina.
Robco of America is a leading name in the thriving OEM products industry in the United States. The company is widely known among multiple businesses and industries for its state-of-the-art fluid sealing solutions in the US. It specializes in manufacturing, designing, and repairing mechanical seals for compressors, agitators, pumps, and other rotating machinery for flawless industrial performance at all times. Ever since its inception in 1923, it has facilitated hundreds of manufacturers with its locally manufactured products and services.
A South Carolina beverage plant recently chose Robco of America to have its mechanical seals overhauled for improved efficiency. It was a 50mm Latty Rotary Union, consisting of a Tungsten Carbide mechanical seal seat and a carbon seal face. They relied on the company's mechanical seal repair services to replace the damaged mechanical seal face. The repair specialists cleaned the mechanical seal seats and identified the broken and missing springs within the system.
When asked about the process of the work rendered on the 50mm Latty Rotary Union, a company spokesperson said, "This was undoubtedly a complex project that required substantial attention to detail. Our team at Robco first separated all the mechanical seal parts and laid them on the CAD to evaluate their internal conditions. Once we identified all the issues during the internal clearance, our experts conducted some machine work to fix them before installing new bearings, reassembling the seal units, and pressure testing the system for the final inspection."
The mechanical seal repairs offered by Robco of America have a 24-hour turnaround time. Their experts are qualified and trained to work with various makes and models of mechanical seals. Manufacturers and industrialists can reach out to them on the details given below.
About Robco of America
Robco of America is one of the leading manufacturers, suppliers, and distributors of high-quality mechanical seals. The company specializes in facilitating a wide range of industries across the United States with a wide range of mechanical seals, including assembly seals, cartridge seals, and mechanical seal seats to meet their equipment requirements. Apart from their custom mechanical seals and on-site support, the company also offers mechanical seal repairs to help manufacturers save time and replacement costs.
Meida Contacts
Company Name: Robco Of America
Phone: 281-689-0585
Email: [email protected]
Office: Robco of America 20820 Loop 494. New Caney, TX 77357
Website: https://robcomechanicalseals.com/