San Francisco, November 27, 2020, ZEXPRWIRE, Glitter Worthy Store is the brainchild of San Francisco gay couple Chris Knight and Celso Dulay, cofounders of Glitter Bomb TV – an online entertainment portal for the LGBTQ+ community.
The duo originally opened the store as a way to monetize video content following alleged discrimination and censorship resulting in a class-action lawsuit vs. Google/YouTube in 2019.
"Our community has a long history of overcoming hardships and coming together to support each other," said Celso Dulay, co-founder of Glitter Worthy Store. "During the AIDS crisis, the last major pandemic to impact us in the U.S., San Francisco led the way with the formation of organizations such as the Imperial Council of San Francisco and the Sisters of Perpetual Indulgence that have become two of the world's largest LGBTQ+ fundraising operations. It's in our DNA to do this."
The coronavirus crisis has caused a culture shock across the country.  Along with the tourism sector, cultural and creative sectors have been some of the hardest hit in terms of economic impact contributing to up to 5.5 percent of all jobs at risk. For queer nightlife, which was shut down in San Francisco and other U.S.  cities back in March, the pandemic has led   to   mass unemployment for bartenders and wait staff, DJs, dancers, drag artists, producers and promoters of nightlife events and festivals, production artists, lighting designers and event photographers.
To spread the good word and help drive more product sales during the 2020 holiday shopping season to support queer artists and icons, Glitter Worthy Store has launched a new Shop Love.  Shop Small." campaign on Facebook and Instagram that features some of San Francisco's best-known drag queens including BeBe Sweetbriar, Donna Sachet, Juanita More!, Glamamore (a.k.a. Mr. David) and MuthaChucka. The five drag performers are celebrated in the new SF DIVAS" line, featuring the artwork of CJ Knight with LeftCoastScenes       
"Even though there was only one local queen, Honey Mahogany, ever featured on Ru Paul's Drag Race, San   Francisco is well known for some of the world's best drag   performers," said Chris Knight, nightlife photographer and co-founder of Glitter Worthy Store. "During December, we will continue to expand the San Francisco drag queens we are  celebrating, while raising much-needed income for them while our queer nightlife remains shut down for the foreseeable future."
Other LGBTQ+ artists who have recently signed on to produce and sell original artwork with Glitter Worthy Store include Aquaboogie (a.k.a. Michaela Mason), East Bay photographer Scott DeVine with DeVineFocus, and mr. Pam (a.k.a. Pam Dore), an award-winning adult filmmaker, cinematographer, photographer and event host.
The first LGBTQ+ nonprofits that will benefit from the sales of Glitter Worthy Store products during November and December include: Larkin Street Youth Services, the GLBT Historical Society – Museum and Archives, and the SF Bay Area Queer Nightlife Fund.
"SF DIVAS" Images for Download: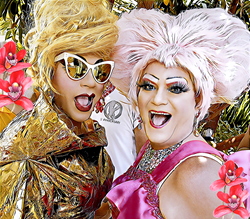 BeBe Sweetbriar hosts an event in the East Bay Donna Sachet's closing performance at "Sunday's A Drag" Juanita More! (left) + MuthaChucka at JM!'s SF PRIDE
For more information, please visit: www.shopglitterworthy.com
Media Contact:
Chris Knight,
PR director and co-founder
Glitter Worthy Store