Singapore-based Liminal records $5 billion transactions milestone on its platform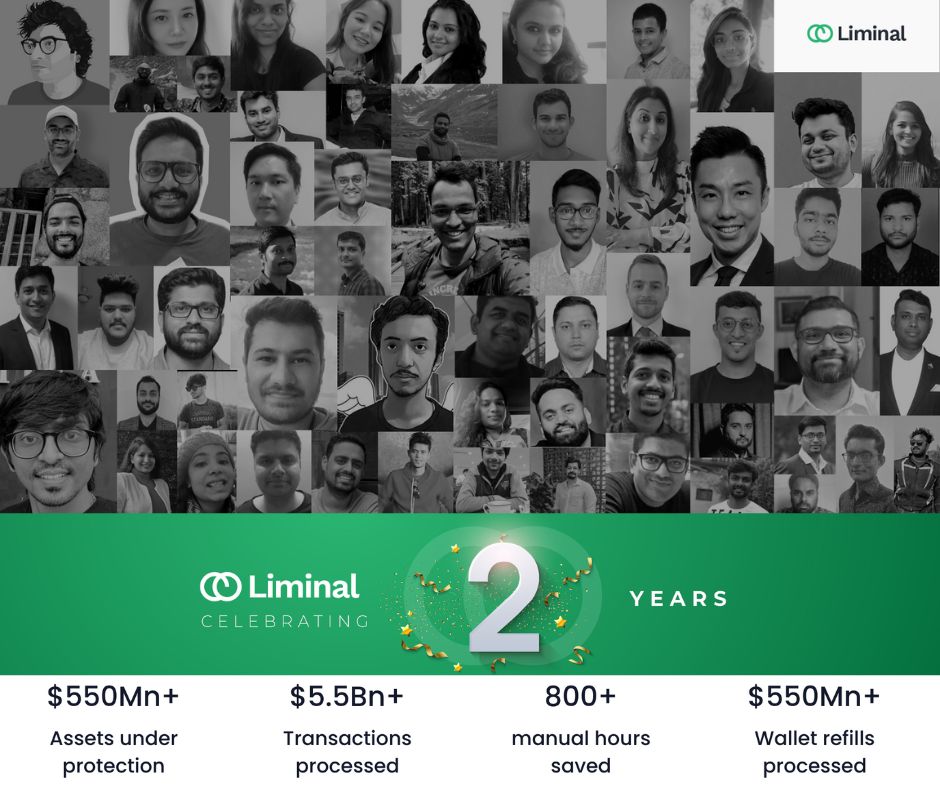 Singapore, 12th April 2023, ZEX PR WIRE, Liminal, a wallet infrastructure and custody solutions platform, recently celebrated its successful two-year journey by announcing that it has processed transactions worth $5.6 billion on its platform, with over $550 million worth of assets under protection. Despite the digital assets industry experiencing a downturn, Liminal has grown its customer base annually by 178% CAGR and gross revenue from customers at 73.5% CAGR annually, showcasing its commitment to simplifying digital asset custody with its plug-and-play wallet infrastructure that is secure, compliant, automated, and efficient.
The company has also expanded its global presence by opening two new offices in Singapore and Hong Kong. It boasts a diverse team of local talent from different parts of the world, including the UK, Vietnam, India, Hong Kong, Nepal, and UAE.
Liminal's mission is to accelerate Web3 adoption across APAC and MENA regions. It aims to achieve this by providing expert wallet infrastructure and impeccable security through its easy-to-manage custody services. The company's customer onboarding process ensures immediate comfort for customers through training, concierge onboarding, and 24×7 dedicated support teams across geographies.
Commenting on the development Mahin Gupta, Founder of Liminal, said, "Simplifying technology is at the core of Liminal's DNA. Our successful journey of two years is a small step for our organisation but a giant leap for the industry. Liminal's secure custody platform has touched the lives of numerous business owners by offering them assurance, security and support with a human touch. Our next goal is to touch a $10 billion transaction volume sooner than expected as we have embarked on an exciting journey of transformation through innovation."
To further facilitate the growth of startups, Liminal has launched partnership programs with several platforms such as Avalanche, Polygon, Tezos, XinFin, and Buidlers Tribe, with more in the pipeline. The company has also secured ISO 27001 and 27701 certifications, SOC 2 Type II certification, and CryptoCurrency Security Standard (CCSS) compliance-QSP Level 3, the highest standard in wallet keys and operations management. It is also the official self-custody solution partner for India's leading premier investigation agency and has a $50 million insurance cover underwritten by Lloyds of London.
Liminal's commitment to simplifying digital asset custody with its secure and efficient platform has helped it achieve significant milestones in just two years. With its expanding global presence and innovative partnerships, Liminal is well-positioned to drive web3 adoption across the APAC and MENA regions.
Annexure I
Liminal's growth statistics at a glance (April 2021-March 2023)
Customer Distribution Across geographies

Singapore

25.64%

India

25.64%

USA

7.69%

UAE

7.69%

St. vincent and the grenadines

7.69%

Nigeria

5.13%

Indonesia

5.13%

British Virgin Islands

5.13%

South Korea

2.56%

Seychelles

2.56%

Lithuania

2.56%

Cayman Islands

2.56%
Revenue from Customers across geographies

Singapore

37.31%

India

11.98%

UAE

11.20%

St. vincent and the grenadines

9.91%

Nigeria

7.43%

USA

5.27%

Cayman Islands

4.96%

Lithuania

4.13%

British Virgin Islands

3.12%

Indonesia 

2.56%

Seychelles

1.47%

South Korea

0.66%
About Liminal
Liminal is an automated wallet infrastructure platform that offers robust security to digital assets. A SOC Type 2, ISO 27001 and 27701 certified organisation, Liminal, is based in Singapore. Liminal enables crypto-native companies to securely scale their digital asset operations through automated, plug-and-play wallet architecture. They provide a combination of multi-signature and multi-party computation (MPC) to provide secure, efficient, and compliant access to digital assets. Its operational excellence framework provides efficient fee management, transaction confirmation guarantees, seamless onboarding, and other wallet operations hence, saving businesses significant development costs. Liminal's unified interface ensures the same wallet management experience across multiple blockchains. Its proprietary regulatory readiness program, which includes AML compliance, travel rule and a CCSS-compliant platform, helps projects fast-track their compliance journey.
For additional information and business inquiries, please contact: https://www.lmnl.app/