SMDEX Will List Charlie Finance On February 23th, 2022
Gujrat, India, 24th Feb 2022, ZEXPRWIRE, SMDEX Will List Charlie Finance On February 23th, 2022
Deposit starts at : 23/02/22 05:00 PM IST
Trading starts at : 24/02/22 05:00 PM IST
Withdrawal starts at : 25/02/22 05:00 PM IST
Trading Pairs : CHT/USDT, CHT/SMD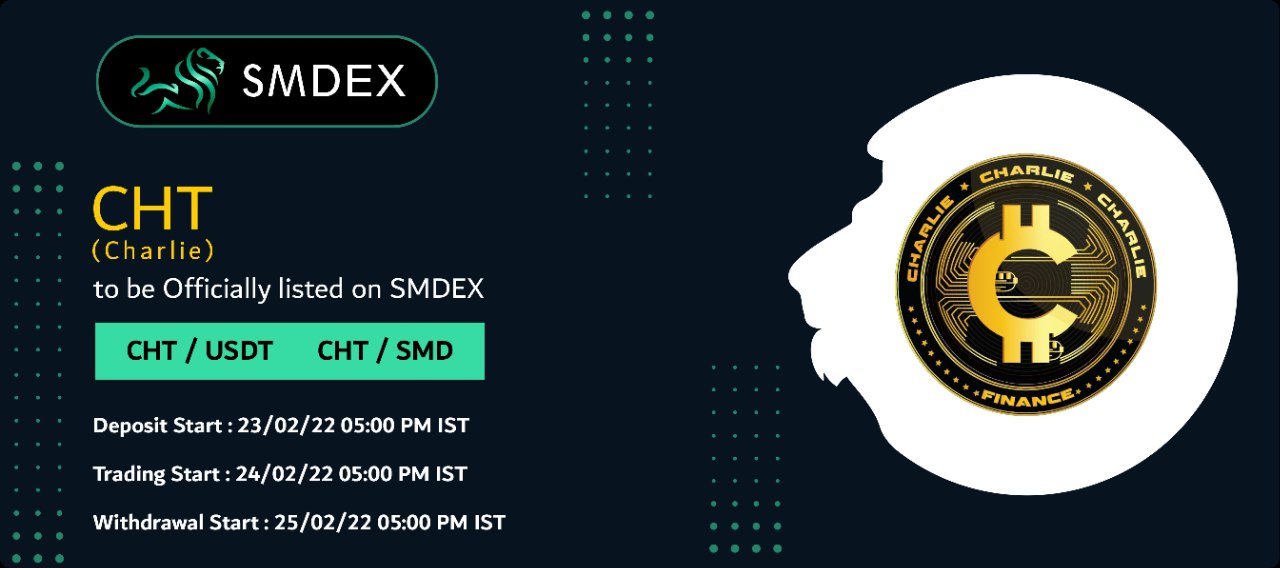 Project Name: Charlie Finance
Abbreviation: CHT
What is CHT?
Charlie Finance is one of the most transformative technologies since the invention of the Internet.Charlie Finance stands firmly in support of financial freedom and the liberty that it provides globally for anyone to voluntarily participate in a permissionless and decentralized network.
Products that let you borrow, save, invest, trade, and more . Its based on open-source technology that anyone can program with.
Auto Distribution – In Every Transaction
Charlie holders get Charlie Finance automatically rewarded to their address in every transaction . No need to claim, no need to request.
Auto Reward
Auto Reflection to holders. Hold Charlie Tokens and watch your token growing on every single transaction.
Automatic Liquidity
2% of every transaction contributes toward automatically generating liquidity on PancakeSwap.
Token type: BEP-20
Total supply: 100,000,000,000
Official website https://www.charliefinance.io/
Contract Address : https://bscscan.com/token/0x275b686a5c7312e50299b1c64507c90ee8a381a0
Risk warning
The investment on cryptocurrency projects is subject to high market risks. Please make your assets cautiously. SMDEX will make the best efforts to choose high-quality cryptocurrency projects, but SMDEX will not be responsible for any of your investment losses.
I appreciate your support!
Yours truly
SMDEX Team
About SMDEX:
SMDEX Official Website: https://www.smdex.io/
Telegram (Announcements):https://t.me/SMDEX
Twitter:https://twitter.com/SMDex_io
Medium:https://medium.com/@smdexofficial
Instagram:https://www.instagram.com/smdex.io/