Gujrat, India, 13th Feb 2022, ZEXPRWIRE, SMDEX is scheduled to list the SMD COIN on Growing Section.
Deposit starts at : 15/02/22 05:00 PM IST
Trading starts at : 17/02/22 05:00 PM IST
Withdrawal starts at : 17/02/22 05:00 PM IST
Trading Pairs: SMD/USDT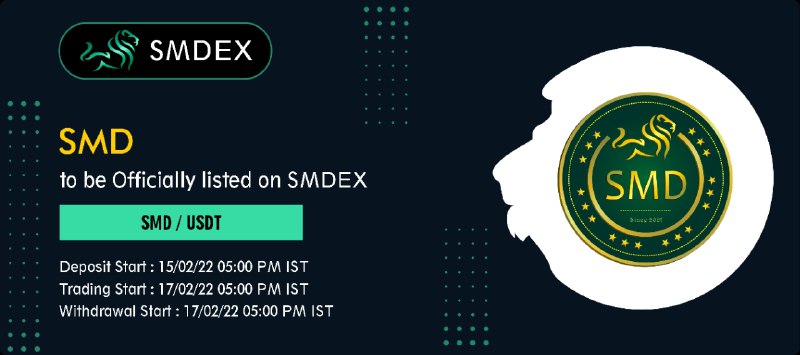 What is SMD COIN?
SMD COIN is the world's first integrated platform, providing
Coins Staking, Yield Farming, and Self-Holding. SMD COIN
provides customers with decentralized farming services,
personalized financial solutions, and a variety of interest models
and earning opportunities.
Token type: BEP-20
Total Supply:100,000,000
Official website: https://www.smdcoin.com/
Contract Address: https://bscscan.com/token/0x2b31b83d2a960d648e9c8d3b84df5452c80ab947
Risk warning
The investment on cryptocurrency projects is subject to high market risks. Please make your assets cautiously. SMDEX will make the best efforts to choose high-quality cryptocurrency projects, but SMDEX will not be responsible for any of your investment losses.
I appreciate your support!
Yours truly
SMDEX Team
About SMDEX:
SMDEX Official Website: https://www.smdex.io/
Telegram (Announcements):https://t.me/SMDEX
Twitter:https://twitter.com/SMDex_io
Medium:https://medium.com/@smdexofficial
Instagram:https://www.instagram.com/smdex.io/