Gujrat, India, 9th Feb 2022, ZEXPRWIRE, SMDEX is scheduled to list the SureFire on Growing Section.
Deposit starts at: 11/02/22 10:00 AM IST
Trading starts at: 12/02/22 10:00 AM IST
Withdrawal starts at: 13/02/22 10:00 AM IST
Trading Pairs : SFX/USDT & SFX/SMD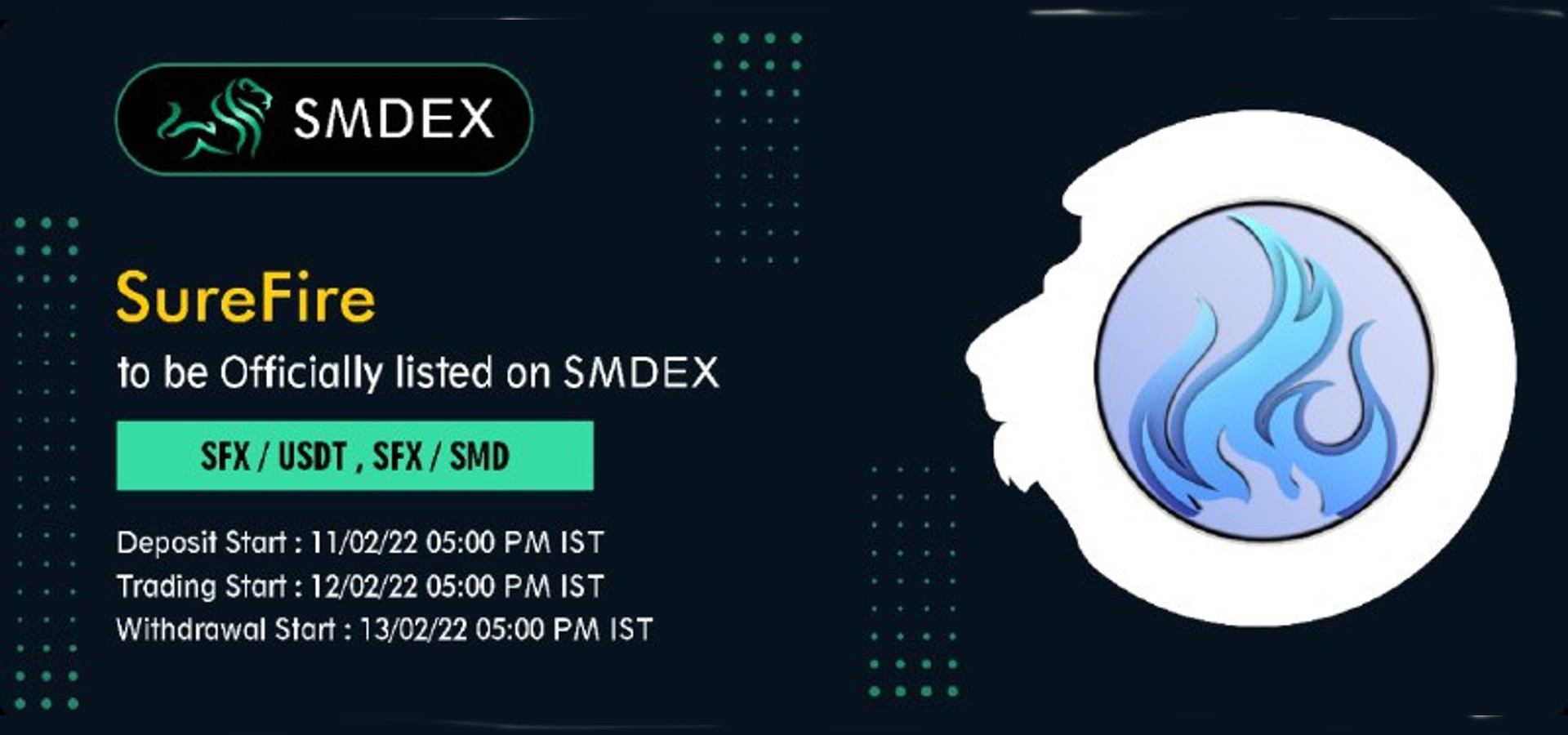 Project Name: SureFire
Abbreviation: SFX
Project Introduction:  What is SureFire ?
The SureFire is a fully integrated cryptocurrency in an Ecosystem. The SureFire Ecosystem will offer SwapFire, FireMask, FireX, SureFire NFTs, and Virtual Reality Gaming in Metaverse
The SureFire Ecosystem allows getting solutions to all the Financial issues and gives you the Blockchain platform. We are developing an Ecosystem where blockchain's enthusiastic can use various services offered by SureFire.
SureFire will offer a Digital Currency on the Binance Smart Chain providing Decentralized services, Centralized Services, Non-Fungible Tokens, Virtual world Experience, Financial Services So Users can get the benefits of these services at one Platform.
The SureFire is a fully integrated cryptocurrency in an Ecosystem that offers Decentralized services, NFTs, inclusive and transparent financial services, Virtual Reality Gaming platforms in Metaverse which connects the Blockchain Technology to each individual user.
Token type: BEP-20
Total supply:50,00,000
Official Website: https://www.surefire.finance/
Explorer : https://bscscan.com/token/0x0e77362CbD3c193F97a9e21845B108696680dD0d
Risk warning
The investment on cryptocurrency projects is subject to high market risks. Please make your assets cautiously. SMDEX will make the best efforts to choose high-quality cryptocurrency projects, but SMDEX will not be responsible for any of your investment losses.
I appreciate your support!
Yours truly
SMDEX Team
About SMDEX:
SMDEX Official Website: https://www.smdex.io/
Telegram (Announcements):https://t.me/SMDEX
Twitter:https://twitter.com/SMDex_io
Medium:https://medium.com/@smdexofficial
Instagram:https://www.instagram.com/smdex.io/