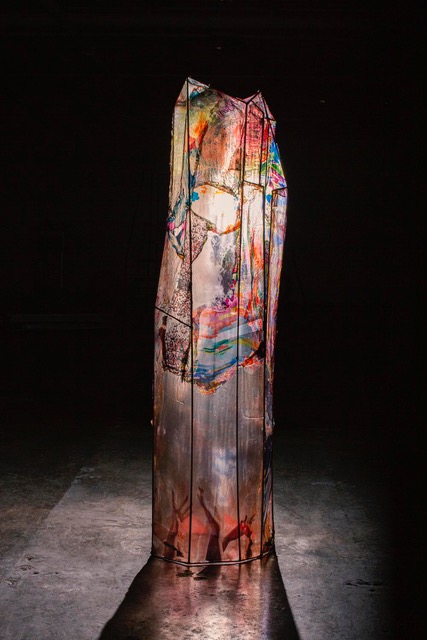 Florida, US, 22nd October 2022, ZEXPRWIRE, As Miami Art Week makes its annual approach the first week of December, the New York art world is making its last-minute travel plans to converge on to Miami. With so many events planned every night, Miami braces for this artful invasion with early gallery openings featuring their newest talents before they get drowned out in all the noise.
Art N Folly Gallery is previewing their group show "Made in Dade" November 18 – 28, 2022, and showcasing one of their rising sculptural stars, artist Anat Fritz, a New York transplant, who recently landed into the rich Miami art scene.
Anat Fritz is recognized for her unique, multicolored, silk fabric sculptures dipped in resin and draped over welded steel. Her objects defy gravity and release an extra-dimensional wave to a chosen few. Anat smothers liquid resin and silk fabric, freezing it in time where the surface acts as a lens through several transparent forms and materials, giving off the magic of 5D.
"Did you ever ask yourself why we humans wake up into 3D reality every morning? I question that – It's a deep programming that we signed up for. One day we will all default into 5D consciousness. I am holding this vision for us through my work. It's an inevitable truth for me that evolution will ultimately teach us all how to reside in 5D awareness longer and ultimately switch fully into higher consciousness and become the creator that we are meant to be". – Anat Fritz
At a young age, Anat Fritz was an independent thinker always in constant flight, so over time, she decided to "F**K Gravity" with her new art movement. Anat has invented a diverse mix of sculptures, all dedicated to releasing individuality and creating awareness for the 5D ascension.
Join us as we celebrate the work of Anat Fritz, wandering through the magical world of her Hard Silk sculptures. Her otherworldly shapes are known to give their admirers a peek into the looking glass of the 5D realm; that higher vibrational reality, which exists parallel to our very solid and material world of the 3rd Dimension.
We encounter a vast array of materials used in contemporary sculpture. The traditional materials – wood, marble, clay, or bronze, are still very frequently used. However, a new set of materials has found its way to sculpture, think of PVC, concrete, and foam, and implementing industrial processes, engineering, and new technologies like resin, resulting in new possibilities.
Anat's sculptures are in conversation with art movements such as Kevin Beasley's, Leiko Ikemura and Damien Hirst's work, pushing the boundaries of Art. Anat Fritz is the new innovation, breaking into the rich Miami art scene.
Make sure to put this opening on your travel itinerary to meet the artists and experience her art for yourself at Art N Folly Gallery November 18th-28th located at 117 NE 1st Ave Miami FL 33132 for more information please go to www.anatfritz.miami and be sure to follow on Instagram @anatfritzdesign.
Media Contacts
Betancourt PR
Nick Betancourt
786.287.1725
Email: [email protected]