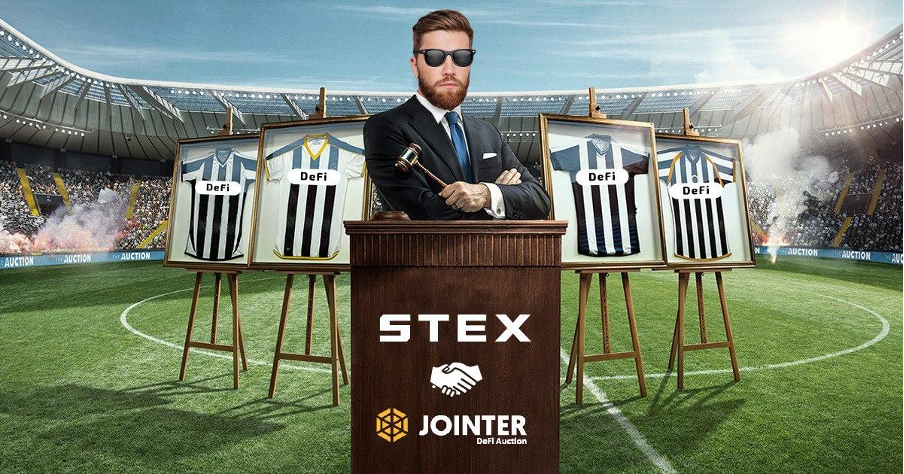 Jointer's, creator of DeFi Auctions, investment values STEX at $100 Million 
Silicon Valley, California, October 28, 2020, ZEXPRWIRE – The global cryptocurrency exchange STEX announced today it received a $5M investment at a $100M valuation from Jointer.io, a decentralized financial (DeFi) a Decentralized Autonomous Organization (DAO), which launched the World's First Commercial Real Estate DeFi Action on September 27, 2020.
Jointer, the winner of the Carnegie Mellon University U.S.-China Innovation and Entrepreneurship Association Award for Most Promising Venture, announces the investment in STEX after two successful months of growth through the daily DeFi Auction. The JNTR token has grown 44.84X since launch and the price has not gone down once, showing that the financial engineering built with smart contracts is working.
The token is financially engineered to never decrease in value, bringing an exciting option to STEX users. STEX users will be able to invest directly from their wallets or through JNTR spot orders paired with Binance token, BNB.
The investment provides STEX the opportunity to further expand their offerings and products to include Decentralized Finance (DeFi) dApps, with a focus on security, community, and providing the best user experience.
"STEX is excited to receive a boost of funds while also supporting a diverse product to our users," said STEX Founder Vadym Kurylovych.
In addition to capital, STEX will benefit from Jointer's prestigious advisory group which includes Nobel Prize Winners, the previous Chairman of the SEC, the previous Vice Chairman of the NASDAQ, founder of Visa, the previous Chief Economist of the U.S. Department of State and others.
Yoda Regev Quote "With our strategic investment in STEX, a force is growing to help make cryptocurrency easy and safe to use for the masses."
For more information and participate in today's auction, visit STEX.com.
About STEX
With more than 300,000 users worldwide, STEX is a powerful cryptocurrency exchange that makes it easy to buy, sell and invest digital currencies from one fast, and convenient platform at low competitive rates. Users can choose from more than 400+ trading pairs, purchase crypto with credit or bank cards, and exchange fiat to crypto or crypto to fiat with a few swipes on their mobile device. Founded in Estonia, STEX meets all EU regulations for cryptocurrency exchanges. For more information about STEX and its partners, visit:
Website: https://www.STEX.com
Twitter: https://twitter.com/StexExchangeR
Facebook: https://www.facebook.com/stex.exchanger/
Instagram: https://www.instagram.com/stex.crypto/
Telegram: https://t.me/stexcomtg
About Jointer
Jointer.io is a decentralized financial (DeFi) and property technology (PropTech) based on a Decentralized Autonomous Organization (DAO) with a combined $400B+ market cap worth of team experience remotely based in Silicon Valley, CA and Tel Aviv, Israel. Jointer is a multi-award winning company, including a $1,000,000 "Best Startup in the World" prize in 2018 during a worldwide competition between 4,000 startups and 196 countries, winner of the Disruptive Startup Award at Stanford University in 2019 by a panel of Google, SoftBank, Bain Capital, Thomson Reuters, Stanford Angels, BMW, Andreessen, NEA, and other top VC Funds, first place for the Disruptor Daily "Blockchain in Real Estate" Disruptor Award, and the most promising venture from the Carnegie Mellon University US-China Innovation and Entrepreneurship Association. For more information, visit Jointer.io
Twitter: https://twitter.com/DeFiAuctions
Facebook: www.facebook.com/groups/jointer.io/
LinkedIn: https://www.linkedin.com/groups/79765/
Telegram: https://t.me/jointer_io