Strain Snobs releases a guide to their new Plant-Based Vegan HHC and D9 Gummies

Colorado Spings, USA, 11th May 2023, ZEX PR WIRE, In recent years Strain Snobs has been at the forefront of hemp derived cannabinoid goods and now they have upped the game once again with their new HHC, D9, D8 and CBD gummies.  Released at the beginning of March 2023 Strains Snobs made the switch to their new mylar bag gummies to seal in freshness and use less packaging.  Strain Snobs COO Melinda Bloch says "Our new Strain Snobs gummies are produced with pure ingredients and are Vegan plant based gummies that provide a tasty treat with all your favorite cannabinoids from Delta 9 THC full spectrum to Delta 8 to HHC".  These gummies will be available at DiscoverCBD.com and retailers across North America.
Strain Snobs great tasting HHC gummies
50mg HHC Per Gummy
High Potency Gummy
10 count / 500mg per bag
25 count / 1250mg per bag
Vegan
Each batch that is produced is sent to a 3rd party lab and results are consistently updated here: Active CBD Oil Test Results Page.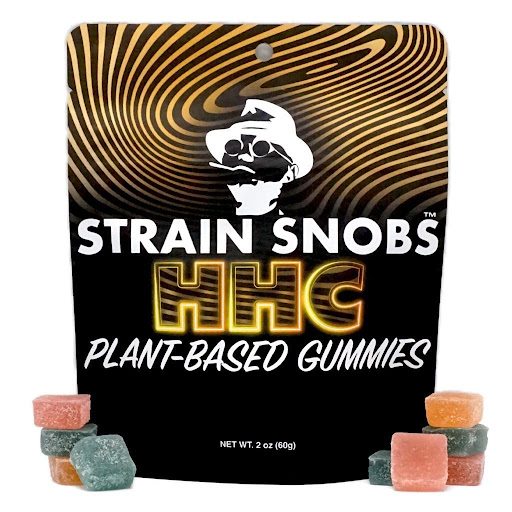 What is HHC?
HHC stands for Hexahydrocannabinol and was first created in 1944 when American chemist Rodger Adams added hydrogen molecules to THC. These days, HHC can be derived from industrial hemp, making it compliant with the Farm Bill. All Strain Snobs products are crafted using federally legal hemp and fall within the guidelines of the Farm Bill.
How Potent is HHC?
HHC is extremely new on the market, which means there are not a lot of reliable studies its potency or effects. HHC is described as having similar affects on the body as traditional delta 9 THC, but HHC is often said to be less potent milligram to milligram than delta 9 THC and its more on par with Delta 8. Many customers report feeling a euphoric, sativa-type high from HHC products. Each Strain Snobs HHC Gummy has 50mg of HHC and can be cut into pieces to ease into dosing until you know how HHC will affect you individually. Because these gummies are so potent, they have a slightly bitter taste.
Strain Snobs great tasting Delta 9 THC full spectrum gummies
25 count/125mg per bottle
10 count/50mg per bottle
5mg per gummy
Less than 0.3% Delta 9 THC
Derived from non-GMO Hemp
Vegan
Each batch that is produced is sent to a 3rd party lab and results are consistently updated here: Active CBD oil Test Result Page.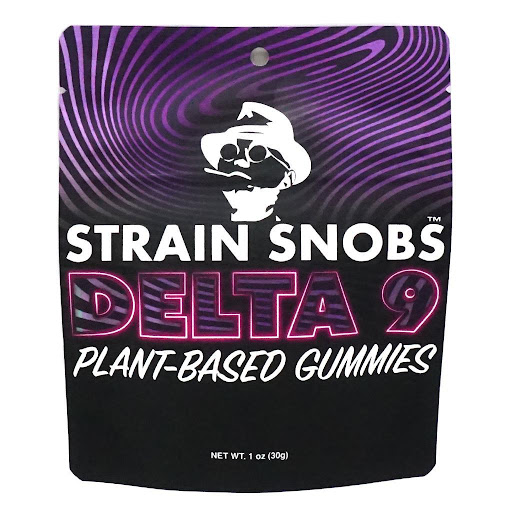 Full Spectrum+
Strain Snobs Full Spectrum+ Gummies are crafted using hemp derived delta 9 THC below .3% and are farm bill compliant. Each gummy contains 5mg of hemp derived delta 9 THC allowing you to fully take advantage of the entourage effect. Adding Strain Snobs Full Spectrum+ Gummies to your daily CBD regime ensures that you are utilizing all the major cannabinoids found in the hemp plant.
Yes, Hemp Derived Delta 9 is Legal
Based on the 2018 Farm Bill, hemp-derived cannabinoid extracts are legal- this includes Delta 9 extracted from hemp. As with all of our full-spectrum products the concentration of Delta 9 THC will not exceed 0.3% as specified in the legislation. Strain Snobs brand products are all manufactured using non-GMO hemp from Colorado.
Delta 9 Warnings
As with all products that contain THC- Keep this product away from children. Delta 9 THC may cause intoxicating effects; do not use if you are pregnant, nursing, or if diagnosed with any health conditions. Since this product is full spectrum and does contain Delta 9 THC, do not use if you are subject to drug tests. Consult your physician prior to using this product; in rare cases Delta 9 THC may affect blood pressure, heart rate, and/or intraocular pressure.