SUSTEX – Blockchain and Technology Innovation for Climate Action – Shaping UAE's Sustainability Future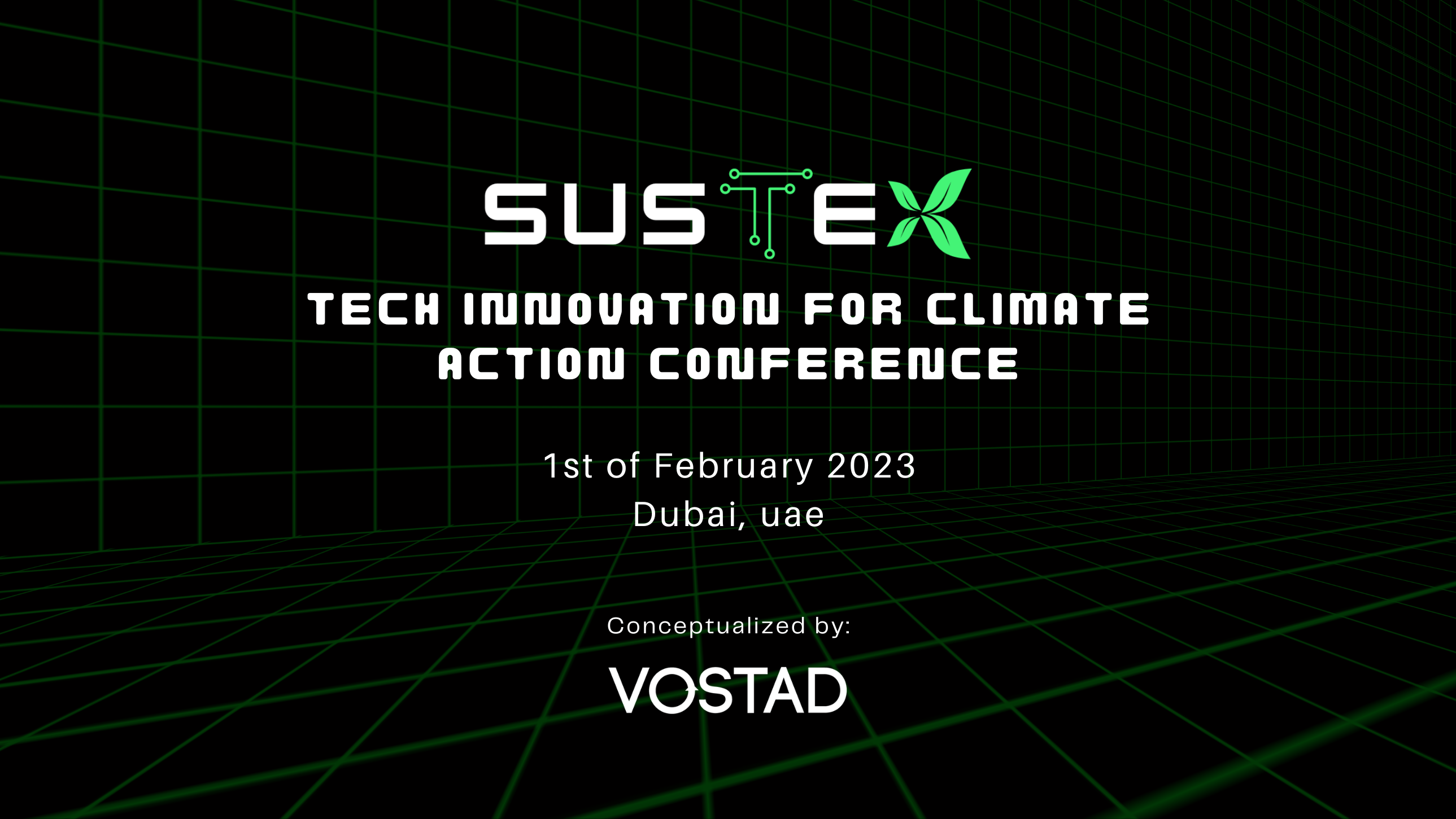 Bangalore, India, 16th December 2022, ZEXPRWIRE, The Climate Action revolution is well and truly upon us. Stakes are high, for all entities involved, be it governments, the industrial sector, or the private sector. We are as a community heading towards a global sustainability revolution supported by technological innovation and digital transformation. Our efforts to achieve net zero, decarbonization, and drive positive climate action will depend on the strategic implementation of emerging technologies such as blockchain and other new-age innovations.
Sustex -Blockchain & Tech Innovation for Climate Action, the second part of the Sustex series returns to Dubai with a vision to create an impact in the climate action ecosystem. The event is hosted by Vostad and is aimed at promoting tech for sustainability across the entire public and private domains. The conference is designed to offer the necessary support and a platform for strategic opportunities, networking, and knowledge dissemination to multiple communities that want to nurture technological innovations for a sustainable future.
What's happening Sustex – Tech Innovation for Climate Action? At this year's event, attendees will enjoy sessions delivered by tech and climate action experts and regional stakeholders. This will be followed by insightful panel discussions with leading thought leaders; product & tech innovation showcases from leading technology enterprises. The one-day event will focus on the following areas of importance; – Tech relevant ESG initiatives which will pave the way for a sustainable economy – Critical actions which will be instrumental in driving the future of climate action – Insights from key decision makers, sustainable technology experts from across the entire governance & industry ecosystem – Creating a framework to align core strategies to spearhead net zero roadmaps from a national and international perspective.
The event will be held on the 1st of February 2023, in Dubai, from 9 am to 4 pm. You can apply online at www.sustex.world now to reserve your spots at this exclusive event.
About Sustex
Sustex is a dedicated and curated community for technology in the sustainability space. The concept is conceptualized and managed by Vostad- A company that is in the business of creating progressive opportunities. Sustex is designed to support the Tech for Sustainability ecosystem and is involved in the widespread adoption of futuristic innovation and technologies to drive sustainability.
About Vostad
Vostad is a leading global event, business excellence, and industry catalyst. Which is focused on building a connected ecosystem of industries, technology, and the future of our community. The company is committed to delivering curated platforms for a broad spectrum of business sectors with relevant solutions & knowledge that they aspire for.
Media Contacts
Company Name: VOSTAD
Zahid Mir
Co-Founder at SUSTEX
Email:-[email protected]
Company Website:-https://www.sustex.world