Synapse Network to Revolutionize Cryptocurrency Investment Ecosystem with Cross-Chain Technology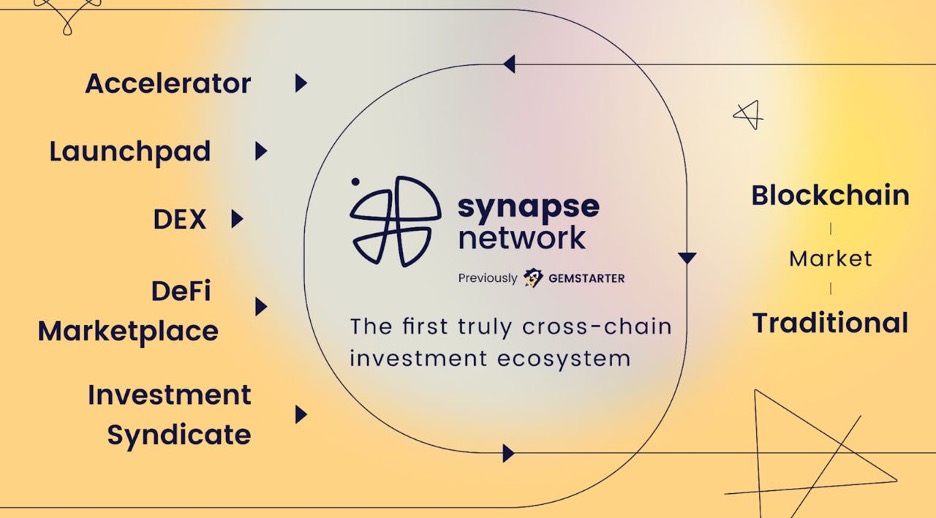 Partners in the Synapse Network include Black Dragon, Dutch Crypto Investors, Moonwhale, Chainlink, OIG, ICO HUB, Crypto Weekly, Minted Lab and CSP DAO.
London, 2 July 2021, ZEXPRWIRE,  Synapse Network is a unique cross-chain ecosystem which bridges the gap between traditional and crypto markets between start-ups and private investors. In the decentralised world of investment, Synapse Network allows its users to continually monitor the development of chosen projects and keep track of their investments. It grants access from alternative investment to retail investors to participate in supporting projects, which solves a big problem that start-ups run into, which is acquiring early customers. Crypto offers a unique advantage, gives piece of early ownership to early customers and helps to build a community around a new product. Synapse Network is the bridge to a new world of fundraising across all smart-contract-based blockchains thanks to it's innovative cross-chain solution, a strong step up from the multichain system.
Start-ups and small entrepreneurs often face issues of accessibility to funding and contracts. Therefore, they stay at the "idea"phase of their project, whereas private investors do not have the possibility to invest in early rounds and are faced with insufficient information and are unable to perform careful examination of start-ups and founders. In a climate which values freedom of information, accessibility and transparency, this barrier of access to capital, results in lower social mobility and hinders innovation as a whole.
In short, Synapse Network is civilising the fundraising space and creating the fairest launchpad in the world by providing a fundraising layer for the entire investment technology ecosystem and celebrating the power of internet and technology.
In addition, it has raised nearly $2,000,000 from venture capital and community funding rounds; current partners include Black Dragon, Dutch Crypto Investors, Moonwhale, Chainlink, OIG, ICO HUB, Crypto Weekly, Minted Lab and CSP DAO.
Synapse Network Co-Founder PawełŁaskarzewski is a Technology executive and Enterprise Solution Architect with a demonstrated history of over 20 years of experience in the IT industry. He is skilled in large scale projects with strong problem solving and business development skills, bridging the gap between technology innovation, business, and operations. Paweł has worked for several international companies, including Citibank, EuroSport and B/E Aerospace. He also co-founded several successful startup companies including Molecule.one, Kiwi Jobs and Absolvent Group.
His Co-Founder, serial entrepreneur and investor MichałDomarecki, has founded and run several successful companies internationally in the areas of IT, transport and logistics. He has been involved in cryptocurrencies for over six years, actively investing in and advising blockchain startups and working with brands such as Crypto.com and founding Gems Reviews.
Synapse Network Co-Founder PawełŁaskarzewski commented, "The cross-chain revolution is the next big step of blockchain evolution, so we are thrilled to be the only player in the market to offer this technology. Cross-chain means you can choose any chain you want, or even several at a time, for any investment that you desire."
About Synapse Network
Synapse Network is developing a cross-chain investment ecosystem including a launchpad plus an investment and startup acceleration ecosystem based on blockchain technology combining multiple high-value tools to create an entire Investment Syndicate ecosystem.
All projects launched from the Synapse accelerator and launchpad platform will be backed with Synapse technology, fast-tracking the entire Synapse ecosystem to the mainstream market with seamless smart contract integration, fast data gathering ability and strong security guarantees.
For more information, please visit:
Synapse Network: https://synapse.network
Synapse Network Twitter: https://twitter.com/SynapseNetwork_
Synapse Network Blog: https://synapsenetwork.medium.com/synapse-network-integrates-chainlink-vrf-price-feeds-and-keepers-to-enhance-its-ecosystem-42473200b501
Synapse Network Telegram: https://t.me/Synapse_official
PR Contact-
Name- Somnath Karmakar
Company- News Coverage Agency
Email- [email protected]