"Techfest, IIT-Bombay Unveils Theme and Official Website for its 27th Edition"
Dates:
The dates for this year's 27th edition have been decided as 27th, 28th and 29th December, 2023.
Mumbai, India, 12 September 2023, ZEX PR WIRE, Techfest, IIT Bombay's Annual Science and Technology Festival, is here with its 27th Edition. With a footfall of over 1,75,000 and pan-India reach across 2500+ Indian colleges and 500+ International  Universities, attracting participants and audiences from the country and worldwide.The wait is finally over! We are thrilled to announce the much-anticipated 27th edition of Techfest, IIT Bombay, set to be held from December 27th to 29th, 2023. Techfest has always been at the forefront of celebrating innovation and human ingenuity. With each passing year, we push the boundaries of what's possible and redefine the limits of imagination. This year promises to be no different, as we dive into a world of cutting-edge technology, awe-inspiring competitions, mind-bending workshops and many more.
Theme: "The Mystical Realm: Where Imagination meets reality"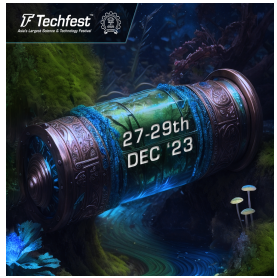 Witness the spectacle of enchantment as illusion and innovation merge seamlessly to create celebration of human ingenuity. At the heart of the 27th edition lies the synergy between Magic and Technology – an uncharted territory where mysteries unravel, and the unimaginable becomes reality. Delve into the unknown as we bridge the gap between these two seemingly distinct worlds, giving birth to innovation that appears straight out of the pages of a fantastical tale. Techfest, the magnum opus of innovation and creativity, is all set to captivate your senses with, as it unveils the theme that blurs the lines between the possible and the impossible – "The Mystical Realm": where Imagination meets reality."
As the anticipation builds, participants, sponsors, and partners are encouraged to stay tuned forfurther announcements and updates regarding registration, event schedule, and speaker lineup.
For more information about Techfest 2024, please visit our official website: www.techfest.org
In case of any queries or suggestions, please feel free to contact the undersigned
Shriya kajrolkar
Media and Marketing Head
Techfest 2023-24, IIT Bombay
+91 8828283803 | shriya.techfest.org