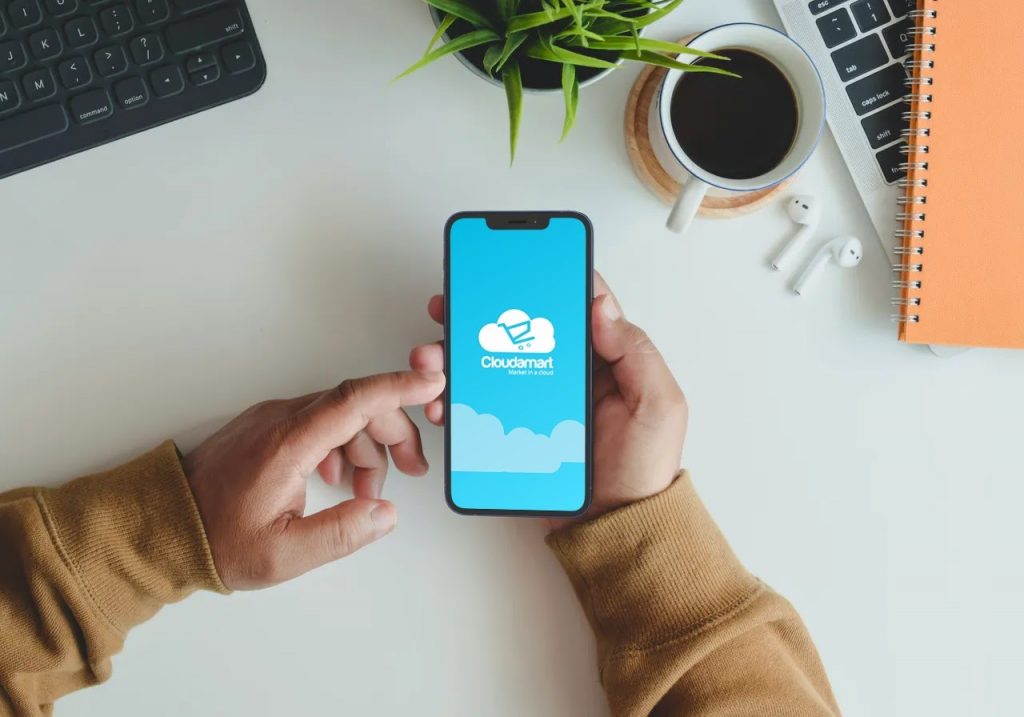 (ZEXPRWIRE) The pandemic has accelerated the shift towards a more digital world and triggered changes in the world of online business behaviors that are likely to have long-lasting effects. Cloudamart is an online marketplace app available on IOS & Android; a platform that revolutionized the online business trend and made it easy to buy and sell products with an on-demand fulfillment service experience, It's a marketplace on the cloud. They bring all the businesses to the platform to showcase their products without having the cost of overhead expenses. They cover all the expenses by giving this platform to the businesses that they partner with.
The Co-Founders of the platform, Thameem Ghouse, Jahanzeb Bakali & Dhillon Singh started with the e-commerce grocery delivery platform in 2015 under the name YOURBOX Inc. Operated as (FRESH2GO) and then merged into a mobile commerce platform (CLOUDAMART) to enhance the user experience by providing them with more than one service on the platform. The Co-Founders always had a vision to create an on-demand online Marketplace using the businesses within the vicinity as suppliers for all different categories of products, which eliminates the unnecessary expenses of warehousing & fulfilling the products. The services that are now available through the app are:
● Food delivery
● Grocery delivery
● Pharmacy delivery
● Retail delivery
● Ride Sharing
● Courier (Parcel delivery or pickup)
Given the severe impacts of the Covid-19 pandemic on the local businesses, this platform was designed to help the local businesses to cut heavy costs of operating an online store such as: hiring drivers, purchasing delivery vehicles/insurance/repair and maintenance, customer service etc. By partnering with Cloudamart through the platform the business will instantly be able to go online, start accepting orders & have access to the on-demand drivers to deliver the goods to their customers. COVID-19 has enhanced the value of digital sales and customer relationships, when you sell online the businesses will have the ability to be open 24/7/365. This will allow more exposure to the businesses and ensure a smooth sales flow so consumers can buy anything, anytime, anywhere.
All vendors near the user will display on the platform with their hours of operation & product catalogue. Business owners access their store through the Cloud Vendor App & Cloud Vendor Portal, Enabling business owners the freedom to monitor their business progress all on the go. All major vendors will be available and updated monthly on the platform. You can search for your favorite products, with over 100,000 products on the platform, partnered vendors will only charge the user what they would pay in the store, & checkout with comfort ofStripe payment processing partnership.All adjustments and product information will be given to the users in an invoice with original receipt uploaded to the order. Once the order is at your doorstep, the user will have to exchange a 4 digit pin code OTP with the Cloud Agents in order to securely confirm the order.
This start-up was successful in raising initial seed capital funding at a valuation of C$3M. The start-up is now being valued at around $10M and currently in progress to raise additional growth capital to fund this enterprising Canadian Entity. The platform currently has 40+ local business partnerships & 500+ drivers registered with the platform. These numbers are increasing day by day due to the popularity of this business model during these times. For more information please visit the website or install the app. Cloudamart