Trendy DeFi: A New Solution For Secure Crypto Storage & Earning with CertiK Audit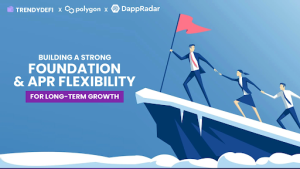 London, UK, 4th September 2023, ZEX PR WIRE, Trendy DeFi team is happy to introduce itself: an Open Network for Hassle-Free Cryptocurrency Storage and Earning. Audited by CertiK, Ranked Top 43 on Coinbase WEB3/EARN, and 3501 in DeFi on DappRadar 
Trendy DeFi, an open network for hassle-free cryptocurrency storage and earning, aims to make waves in the DeFi ecosystem. Despite the recent downturn in the crypto market, the platform has continued to grow in popularity and has been audited by CertiK. Trendy DeFi has also been ranked in the top 43 on Coinbase WEB3/EARN and 3501 in DeFi on DappRadar. 
With a staking program for MATIC tokens, generating passive income with an APY of up to 127.75%, Trendy DeFi is committed to security, with a high Code Security score on CertiK. 
Away from Traditional Financial Systems
Trendy DeFi breaks away from the traditional financial systems by giving power back to its users. Unlike other projects that focus on issuer authority, Trendy DeFi prioritizes inclusivity and transparency, empowering users. 
With this shift, a new era of financial collaboration and decision-making is heralded, fostering an equitable and accountable ecosystem. Trust that Trendy DeFi is paving the way for a more democratic financial landscape, where all participants can fully participate in shaping their financial future.
Trendy DeFi's DAO Mechanism Shaping The Future
Decentralized Autonomous Organization (DAO) is at the bottom line of Trendy DeFi. Through on-chain voting, users have tremendous power to shape the project's direction. The community directs the monthly interest rates using the DAO mechanism, ensuring that the platform evolves in line with their interests.
From MATIC to TREND: The Bridge to Trust and Growth
The platform offers a comprehensive staking program for $MATIC tokens, with rewards including MATIC and Trend tokens, with an APY of up to 127.75%. Since its launch in March, over 600,000 $MATIC has been allocated to staking pools, with users putting in over $100,000 monthly. 
Unique to Trendy DeFi's staking pools is the additional TREND token in the Staking Pools Ver2.0. 
Passive Income
Trendy DeFi offers an interest-paying staking mechanism that allows users to generate returns while also contributing to the security of the network. With monthly rates ranging from 7% to 10.5%.
CertiK Audit: Rock-Solid Foundation of Security
Trendy DeFi's commitment to security is validated by its impressive Code Security score on CertiK. This score evaluates the steps taken by the team to ensure the project's code and development are secure and reviewed. 
According to CertiK data, TrendyDeFi's score on Certik now stands at a high 90. With over 3,500 audits and $300 billion secured, CertiK's formidable reputation speaks to Trendy DeFi's ironclad safety measures. 
Long-term Growth & Development
Trendy DeFi recently unveiled an ambitious set of plans that includes the release of a Trendy NFT Collection, which will be powered by TREND Token. Additionally, the platform is set to launch an AI-powered prediction tool for token price forecasts and has proposed a DAO voting system to launch a new Pool Stake for the next two tokens. 
By Q2 2024, TREND Token aims to be listed on the top 10 major CEXs on CoinMarketCap, while also updating the Trendy DeFi Dapp to version 3.0 for major expansions by Q4 2024.
About Trendy DeFi
Trendy DeFi is a pioneering decentralized finance solution that empowers users with unprecedented control, transparency, and passive income opportunities. With its innovative DAO mechanism, strategic MATIC integration, and a comprehensive audit by CertiK to guarantee security and investment safety, Trendy DeFi is poised to reshape the global financial landscape. 
Visit Trendy DeFi's official website for more information: www.trendydefi.com
Social Media:
Telegram: https://t.me/trendydefi 
Twitter: https://twitter.com/TrendyDefi 
Media Contact:
Organization: NEW TREND FINANCE LTD
Contact Person: Sunday Chima
Location: UK/London
Email: [email protected] 
Website: https://trendydefi.com